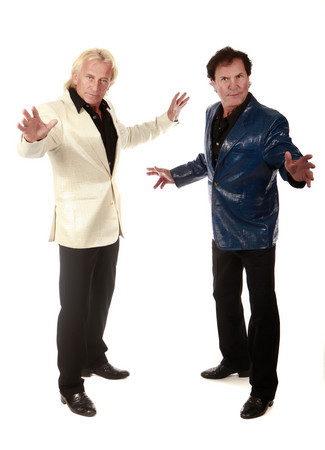 Siegfried and Roy's retirement left a wide open vacancy on the Strip for blond and dark-haired European magicians who perform illusions with white tigers.
But now that gap has been filled by "Untamed Illusions" at Planet Hollywood, according to Ferdinand Fercos, the brown-haired half of a magical European white-tiger-handling duo.
The show, which opened at Planet Hollywood Tuesday and runs through Jan. 3, features the Fercos brothers, Ferdinand and the blond Tony, performing illusions with three white tigers, a lion and a black panther. And just to mix things up, they have 12 dancers and two specialty acts, as well.
The brothers, originally from Czechoslovakia, started performing in Las Vegas in 1986. It quickly became apparent that the Strip just wasn't big enough for two similar shows, so the Fercos took their act on the road.
"We are similar performing with the animals, but we were different," Ferdinand says in accented English. "Our show has to be dynamic with not much talking."
Their signature illusion? All of them, Ferdinand says. They make tigers appear and disappear and talk about endangered species.
"We never do card tricks, our style is more fast," Ferdinand says. "We have many illusions."
The brothers got their start in show business as jugglers and acrobats, so they incorporate those skills into the show, as well.
Contact reporter Sonya Padgett at spadgett@reviewjournal.com or 702-380-4564.
Preview
What: "Untamed Illusions"
When: 8 p.m. Friday through Sunday, Tuesday and Wednesday and Jan. 1-3, with additional 4 p.m. shows Saturday and Sunday and Jan. 2 and 3. Dark tonight and New Year's Eve.
Where: Theatre for the Performing Arts at Planet Hollywood, 3667 Las Vegas Blvd. South
Tickets: $49-$99; two-for-one promotion for locals is $74; Golden Circle package costs $175 and includes a front-row ticket and a meet and greet (800-745-3000, Ticketmaster.com)