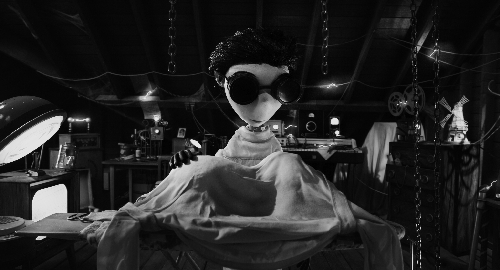 Tim Burton reminds us of why we love Tim Burton with "Frankenweenie," a feature-length version of the 1984 short that revealed early glimmers of the director's darkly humorous style.
Beautifully detailed and painstakingly rendered in 3-D, black-and-white, stop-motion animation, "Frankenweenie" is a visual and thematic return to the best Burton has offered in his earliest films, such as "Edward Scissorhands" and "Beetlejuice." And it is a welcome return, given the reheated, unfocused nature of some of his more recent films such as "Dark Shadows."
Burton has said he had always intended for "Frankenweenie" to be a full-length, stop-motion-animation feature, but he didn't have the means; instead, he made a 30-minute, live-action short featuring Shelley Duvall, Daniel Stern and a young Sofia Coppola (credited as "Domino"). Both films are about the powerful bond between a boy and his dog, one that goes on even after death – a heartrending subject, to be sure, but one that Burton infuses with his trademark mix of lively energy and macabre laughs.
Even then, you could see Burton's sympathetic, protective portrayal of an outsider, an affectionate skewering of the sanctity of suburbia and a deep love of monster movies.
Along those lines, this animated version begins the exact same way as the original: with a 10-year-old boy projecting his latest makeshift horror flick for his parents in the living room. Young Victor ("Charlie St. Cloud" co-star Charlie Tahan) is a loner: a smart, quiet kid whose only real friend is his bubbly bull terrier, Sparky.
Then one day, Sparky runs into the street to chase a ball and gets hit by a car. Victor is understandably devastated. But then he gets an idea while studying the effects of electricity in science class: He could bring Sparky back to life.
The big, explosive lab scene takes place in the attic and is straight out of "Frankenstein" – which also happens to be his family's last name in one of countless nods to classics of the genre. It's loud and thrilling and frightening all at once, but as is the case in the best of Burton's work, the outcome has a fundamental sweetness.
Although, this is really not a movie for little kids. Just the look of the film with its menacing angles and intimidating grown-ups is probably enough to frighten young ones.
But that is precisely what makes "Frankenweenie" such a consistent wonder to watch for the rest of us. It's beautifully bizarre, full of characters with hilariously exaggerated features.
Revisiting the past – his own and that of the masters who came before him – seems to have brought this filmmaker's boyish enthusiasm back to life, as well.
Review
"Frankenweenie"
87 minutes
PG; thematic elements, scary images and action
Grade: B
At multiple locations