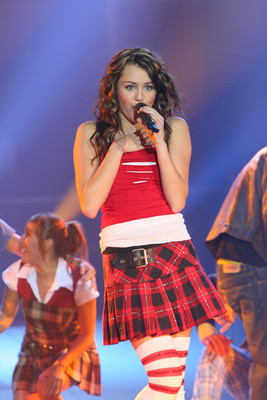 Faked deaths and filed lawsuits, what a mother wouldn't do.
No one would ever contest the maternal instinct, that fierce, unremitting drive to protect one's children, to nurture them through sickness and health, and most importantly, to score some decent Hannah Montana tickets.
At all costs.
In recent months, parents have taken increasingly extreme steps to land ducats to the wildly successful "Best of Both Worlds Tour" featuring teen singer/actress Miley Cyrus and her TV alter ego, Hannah Montana.
Some have filed a class action suit against the Hannah Montana fan club for its inability to provide concert tickets to all club members who sought them.
And then there's the Texas mom who helped her daughter win an essay contest for a trip to see Hannah Montana live by falsely claiming that the girl's father had died in the Iraq conflict.
But in Vegas, moms have it easy.
Though all three Hannah Montana shows this weekend at the MGM Grand are nearly sold out, the secondary market for the concerts, which has been prohibitively expensive in most cities, is flush with tickets, at deep discounts in many cases.
"What's really shocking is to see how low these prices are, and really, they'll continue to come down, because we have no less than a few thousand tickets for each show," says Sean Pate, spokesman for online ticket resale site Stubhub.com. "I'm seeing lower level seats on the floor for face values. That's just an unbelievable occurrence. If I compare the Vegas shows to the other shows that she's playing — even in the same week — it's definitely a much different resale dynamic."
Indeed, the Vegas numbers are pretty staggering.
Stubhub alone has more than 7,000 tickets for the three Vegas shows, with the least expensive ticket for the entire tour — $14 — sold for the Hannah Montana show tonight.
Whereas Vegas is usually a city where ticket prices tend to be higher than in other markets, for Hannah Montana, the opposite has been true: Of the 69 dates on the "Best of Both Worlds Tour," the average resale price for tickets in Vegas on Stubhub are the second cheapest of any market, behind only Salt Lake City, where she's performing in a venue twice the size of the MGM Grand.
Vegas seems to have been hit by overspeculation, people buying up tickets in large quantities with the intent of reselling them, only to find few buyers.
"We had many parents who decided that they wanted to capitalize," says Ken Solky, owner of the Nevada Tickets resale agency. "They were going to go out and buy six or eight or 10 tickets, so that they could try to get their tickets for less money or for free, and many of those people have been coming to us to sell their tickets or to buy them for what they paid for them."
It's not hard to see why so many people would want to get in on the Hannah Montana windfall.
The tour has been a smash hit, with a current average ticket resale price of $254 on Stubhub, which is higher than big name acts such as Bruce Springsteen, Van Halen and The Police have garnered.
A top price of $3,479 was paid for a single front row seat at a Hannah Montana gig in Uniondale, N.Y.
"Best of Both Worlds" is the first tour to surpass the $10 million mark in sales on Stubhub, outselling The Police, 2007's top grossing concert act, by 39 percent and tripling the Stubhub revenue of the Rolling Stones' recent "Bigger Bang Tour," the top grossing tour of all time.
In New Orleans, the market with the highest average resale value for Hannah Montana tickets on Stubhub, the average price is $533.
In Vegas, it's $118.
This booming secondary market is largely attributable to a different kind of buyer for Hannah Montana tickets than is the case for most large concert tours.
"What's occurred is that you've had a new demographic of ticket buyer shopping for her seats," Pate says. "You have the soccer moms of the world trying to buy four tickets for their daughters and friends and get them in a group.
"When you have an act like The Police or Van Halen who fetch a couple hundred dollars a ticket on average, the people who are buying tickets to those shows are used to seeing those types of prices," he continues. "I think they feel that the inherent value of those tickets are worth that. When you're talking about moms and dads trying to buy tickets to what amounts to the latest preteen fad, I don't think they can rationalize those prices."
Really, it's hard for anybody to rationalize Hannah Montana ticket prices.
Ticket brokers have feasted on the tour, so much so, that the attorneys general of Arkansas and Missouri have taken action to examine whether ticket resale sites have violated scalping laws by using technology that allows brokers to get access to tickets online before the general public.
"When the Internet came along and these ticket brokers learned how to shortcut the line and jump in front of the fans, that's when it really came to the forefront that, 'Hey, this is wrong,' " says Miley Cyrus' showbiz dad, country singer Billy Ray Cyrus. "This concert tour is for the fans and for these kids. It's not for the ticket brokers that have absolutely nothing to do with Miley."
In Vegas, a lot of these issues have been sidestepped.
Why?
Much of it has to do with market size.
This is the only stop on the tour where Cyrus will be performing three shows, so the ticket supply is large, especially for a medium-size city.
In the past two years, only a pair of acts have attempted three night stands in Vegas arenas, the Spice Girls and Tim McGraw and Faith Hill's Soul II Soul Tour, both of which played the smaller Mandalay Bay Events Center and neither of which sold out their shows.
Plus, January is a hit-or-miss month for tourism in Vegas, so the onus is on the locals to fill the shows.
Combine this with inexperienced moms and dads trying to hawk scads of extra tickets, and you've got a surplus of seats on the secondary market as of last week.
But what's bad for speculators is good for mom: In Vegas, there's no need to pretend dad's dead to see Hannah Montana.
"If you didn't wake up last month at 10 a.m. on a Saturday to get tickets, and you still want to go to the show, you have so much choice," Pate says. "You can literally name your price at this point."
Contact reporter Jason Bracelin at jbracelin@reviewjournal.com or (702) 383-0476.
who: Hannah Montana/Miley Cyrus
when: 7 p.m. today, 4 p.m. Saturday and Sunday
where: MGM Grand Garden arena, 3799 Las Vegas Blvd. South
tickets: $26-$66 (891-7777)