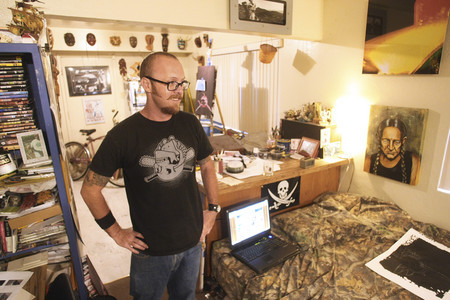 JW Caldwell, 35, reaches for a tube of blue Liquitex acrylic paint. It's hiding between the empty Bud Light can and the Maker's Mark bourbon bottle on his kitchen counter.
"That's crucial," he says. "The Maker's Mark is crucial."
The blue is for the ocean behind a great white shark being born beside his refrigerator.
Caldwell — the JW doesn't stand for anything — has exhibited in the Trifecta Gallery and the Winchester Cultural Center. But he has no new shows in the works and isn't working on a commission.
"I just like sharks," he says.
Judging from the dozens of canvasses propped against the walls of his one-bedroom apartment, he also likes butterflies, skulls and cowboys — especially cowboys — painted using not only acrylic paint but gunpowder, blood and coffee.
"I was pretty anti-Western art growing up," says Caldwell, who hails from rural Banning, Calif. "It was the norm where I was a kid, and I found it really boring. It was all Russell and Remington."
Caldwell rebelled into cubism and abstract expressionism while studying art at San Diego's Point Loma Nazarene University — until a sculpting professor pointed out that his work was "not very personal."
"He was right," Caldwell said. "I realized I didn't have to rebel against my heritage."
When he retrained his artistic sights on the hunting, fishing and rodeoing of his youth, though, Caldwell's penchant for the abstract came along for the ride. His cowboys giddy-up against minimalist backgrounds reminiscent of Mark Rothko.
"I want people to say, 'Oh, I didn't know that I liked pop art until you did a cowboy in pop art,'" he says.
Caldwell moved here six years ago from San Diego, where the art scene was more happening but the rent too expensive. In Vegas, he pays $430 per month to reside in one of the more interesting sections of downtown — the block right behind the Olympic Gardens strip club.
"It's actually not that bad," he says. "You get a few hookers walking down Oakey, but I don't care."
Caldwell's day job rubs his nose a little in his lack of mainstream success. As an art handler for MCQ Fine Art Advisory, he installs pieces created by others into gazillion-dollar mansions and galleries, including the Bellagio Gallery of Fine Art.
"I've installed a couple of my pieces," he says, "but not enough to pay the bills."
Still, at least he doesn't have to wear a suit, like his artist friends back in San Diego for their day jobs.
"If you don't make any money, but you're happy," he says, "that's better than making a ton of money and putting a gun in your mouth when you get home."
Contact reporter Corey Levitan at clevitan@reviewjournal.com or 702-383-0456.