Car lovers revved up, ready to roll in Henderson
September 20, 2012 - 1:05 am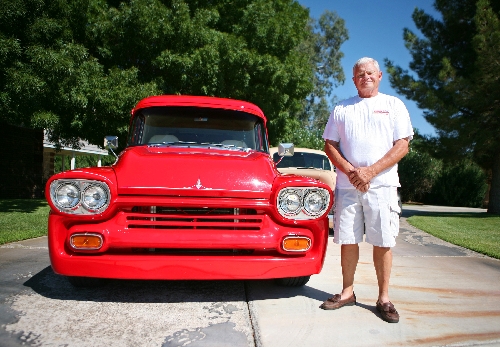 If you go to the Super Run Classic Car Show, you will see Bob Tolman there, doing what every other self-respecting gearhead in the valley is doing this weekend: checking out cars.
Nothing is more appealing to him than the craftsmanship of a superior weld, a well-constructed frame or the rumble of a powerful engine. With more than 1,000 cars on display through Sunday , he will have plenty of eye candy to feed his hot rod habit.
But Tolman isn't going to Super Run for the cars. He's going for the people.
"I just really love meeting people. I'm kind of a gabber," says Tolman, who has been entering his own cars in Super Run off and on since it started in 1983. This year, he will display his 1959 Chevy panel truck in the show.
It would be a special treat to win some of the $15,000 prize money that's up for grabs, Tolman says, but the competition is really just an excuse to hang out with like-minded people, make new friends and bond over a love of cars.
That's how the Super Run show first started, says one of the founders, Art Kam. In the early 1980s, classic car collectors gathered at a couple of local drive-in restaurants on Friday nights just to show off their classic cars and talk. One of those car guys worked at the Tropicana.
Back then, the Tropicana had a golf course that was mostly empty during the hottest part of the summer, Kam says. So the hotel asked Kam to hold a car show on the 99-acre golf course. That led to the creation of the nonprofit Las Vegas Cruisin' Association, which hosts Super Run.
The show moved around to various properties over the years before ending up in its current home of Henderson in 2000. Super Run kicks off at noon today at The District in Green Valley. Friday through Sunday, the show will be held on Water Street in downtown Henderson.
The show is open to all ages and admission is free. In addition to the car exhibits, there will be several competitions, including a slow drag burnout; hubcap art display and silent auction; roaring engine contest; live entertainment, and more. Vendors will be selling food and other items, too.
Contact reporter Sonya Padgett at spadgett@reviewjournal.com or 702-380-4564. Follow @StripSonya on Twitter.
PREVIEW
What: Super Run Classic Car Show
When & where: Noon to 8 p.m. today , The District, 2275 Village Walk Drive, Green Valley 8 a.m. to 9 p.m. Friday; 8 a.m. to 8 p.m. Saturday; and 8 a.m. to 1 p.m. Sunday, Water Street, Henderson
Admission: Free (for a full schedule, visit superrun.com)