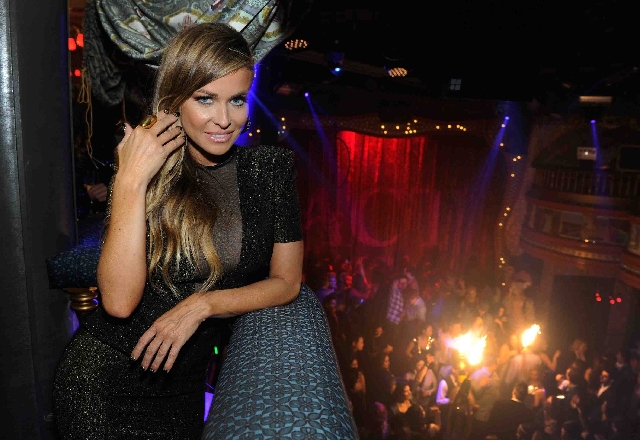 Carmen Electra tells me her new song — explicitly titled "Bigger (Expletive)" — is not about her exes, who range from Dennis Rodman to Dave Navarro and Otep guitarist Rob Patterson.
"Ohhh no, no, no, it's not about that," she says and laughs.
(My editors would go out of their minds if I told you the title of this song. But I can say she sings the line, "I gotta bigger (expletive) than you.")
So what is this little ditty about?
"It's about taking control of your life, standing up for yourself. I think we've all been in a situation, whether it's a relationship or a working situation, where finally you can't take it and you stand up for yourself."
Electra is starting to hear support from empathetic housewives, as word of the song leaks across the Internet along with an unofficial YouTube video of her performing it in concert.
"To me, it is almost like girl power, and not putting up with less than you deserve," Electra says. "It's also a really catchy, bold way of saying that."
The song doesn't even come out for another month or so, but it has created this year's Carmen Electra resurgence (She resurges once a year, it seems).
Electra recently sang "Bigger …" at Palms Springs' gay White Party and at the Coachella music fest, convincing London's Daily Mail to call her "Electra-fying." In Touch said she upstaged Carly Rae Jepsen at the White Party.
Electra will appear tonight at Crazy Horse III strip club and at the Posh lounge there, but she won't be singing.
As usual, she will bring friends and just hang out.
"What more could you ask for in a place like that?" she says.
Officially, she will be at Crazy Horse III, starting at 11 p.m. tonight, to celebrate her birthday — though her birthday was April 20.
If you didn't catch that, I said her birthday was on 4/20, the date that has become the national holiday of pot smokers.
Does she celebrate 4/20 in that way?
"Um. No. I personally don't," she says. "But obviously I have many friends that do. Even people that I haven't really spoken to in a long time will remember 4/20 and reach out to me on my birthday because of the meaning."
I like hearing that potheads remember anything on 4/20.
OH NO, IT'S HEATHER GRAHAM
Just the other day, Heather Graham was bashing Las Vegas in a British OK magazine interview while promoting "Hangover 3."
If you live in or visit Vegas, here is what Graham thinks of you:
"People seem phony. They're spending all their money, and it's sad. And it's also so cold with this permanent air conditioning everywhere. I'm more the person who wants to be outside and look at a tree. I don't want to look at a machine."
And yet, Graham is returning to Vegas in a few days to promote her image on the cover of Vegas magazine.
So. Who's the phony?
If you see her at the magazine party on Thursday night at the Mandarin pool, you might want to bring her some candy because in that interview where she hates on Vegas she says she loves candy:
"I'll eat candy, but because I feel better if I don't, I don't usually do it. But if I go to Italy or somewhere that has the best bread ever, I will eat it, but I don't eat a lot of white flour on a daily basis."
Oh, child.
Doug Elfman's column appears Mondays, Tuesdays, Thursdays and Saturdays. He also writes for Neon on Fridays. Email him at delfman@reviewjournal.com. He blogs at reviewjournal.com/elfman.