Celebrity agent books Coolio in Finland and Nelly in Vegas
November 18, 2014 - 7:40 am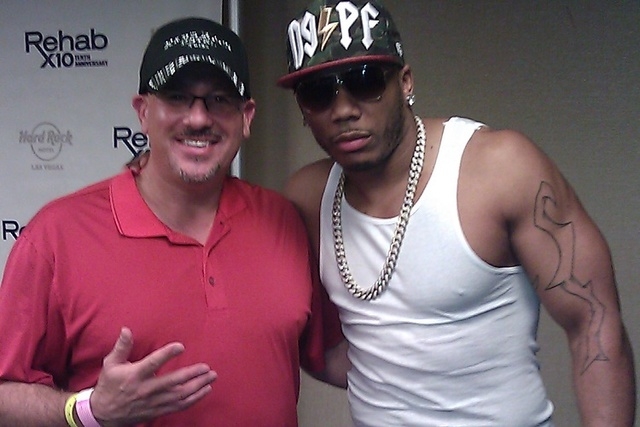 Celebrity agent Mike Esterman looks like a celebrity agent. He has a shaved head and Ethan Hawke's goatee. He calls his industry "the shark tank of showbiz," and he swims in it gleefully.
Esterman, founder of Washington, D.C.-based Esterman.com, flew to Vegas to accompany his popular client Mario Lopez for Sunday's Rock 'n' Roll Marathon.
I asked Esterman to pitch me someone else he represents, "Kill Bill" actress Vivica A. Fox.
"She just did the latest 'Sharknado.' All of a sudden, there's a cult following," Esterman said.
Esterman's business goes like this: Companies hire his famous clients to make personal appearances in Vegas and around the world, to host events and do other jobs.
Among his clients are Christina Milian, Scott Disick, Sheryl Underwood, Tito Ortiz, Nelly, Stephen Baldwin, Traci Bingham of "Baywatch," Vincent Ward of "The Walking Dead" and 1980s pop icon Tiffany.
Shockingly, no one ever requests these celebrities wear fun costumes to paid events.
"There's gotta be a Saudi Arabian prince that would pay a million dollars to Vivica Fox to dress in some 'Kill Bill' outfit," I said.
"And you know?" Esterman said, laughing. "She would do it gladly. If you're gonna get paid a lot of money, throw on the hammer pants if you're 'Hammertime.' "
What celebrity would get the biggest paycheck for a simple midweek event on a nonholiday?
"Justin Timberlake is going to be $2 million or $3 million" for a few hours of hosting an event, Esterman speculated, but he doesn't rep Timberlake.
"Everybody wants a Charlie Sheen, but he's $200,000 or $250,000, plus he had a private jet," Esterman, who doesn't handle Sheen, estimated.
"Bill Clinton does speaking engagements for $400,000 or $500,000, in advance, God bless him."
Traditionally, a singer or rapper (minus a road crew and tour trucks) will vocalize to prerecorded instrumental tracks at special events.
But there's a predictable trend going on with celebrity appearances: DJing.
"These days, you have celebrities turning into DJs because the buyers' market wants more for their money. They want them to do something more than just stand there," Esterman said.
Oh, I said, that's like how businesses now hire Paris Hilton to DJ, whereas she used to just hang out, say hi to the crowd and take photos with VIPs.
"Right," Esterman said. "Instead of standing behind a bottle at a table, now she's standing behind a DJ booth," Esterman, who doesn't rep her, said.
(Hilton has reportedly been getting paid $347,000 to a million bucks for an hour or a gig, and French youth station NRJ just named her "Best Female DJ." How about that?)
Esterman is fond of saying there's a market in every part of the world for one star or another.
So he booked Nelly at the Hard Rock Hotel this summer, but also, Coolio gets booked from Denmark to Finland.
Frustratingly, Esterman refused my repeated attempts to price clients for me, one by one. But he gave me an indication.
"I book Ne-Yo all the time on after-parties on his tour. Bret Michaels — same thing," Esterman said. "He (Michaels) is still getting $15,000 to $20,000 for that."
Esterman said client Scott Disick gets loads of cash in places we'd never guess, like in Trinidad three months ago because he's part of the Kardashian crew.
"You're buying — not the pandemonium — the experience that your town, or bar, or whatever is creating this sensation-hype. People are talking, 'Oh my God, it's Scott Disick in Trinidad,' " he said.
"I've had people in Vegas say, 'I want (Disick) to come out and be our guest. We just want him to party with our boys.' This would be somebody who has a lot of money and wants to have a great birthday. He'll spend $25,000 or $30,000."
One of Esterman's new clients is Hyundai Korea, which hopes "Interstellar" director Christopher Nolan will film a two-minute ad for many millions of dollars.
And Esterman, who works hard for his 10 percent, got excited recently, because he met Republican presidential aspirant and New Jersey Gov. Chris Christie.
But he's not putting all his eggs in Christie's basket or anything like that. Be real, he's an agent.
"I've got a picture with Hillary (Clinton), too. I'm covered either way," he said.
Doug Elfman's column appears Tuesdays, Thursdays and Saturdays. Email him at delfman@reviewjournal.com. He blogs at reviewjournal.com/elfman.