Amazing Johnathan says emotional goodbye
October 24, 2014 - 6:14 am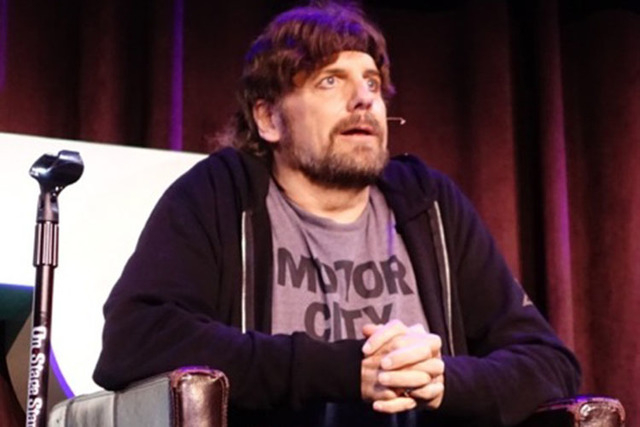 Amazing Johnathan was back in his element: on stage, in glorious form, in front of a roaring full house. Then he delivered a line that silenced the room.
In a heartbeat, it was clear he was saying goodbye. What followed was one of the most dramatic and emotional moments seen on a Las Vegas stage.
Seated in a chair, he was the last speaker near midnight Tuesday at a two-hour entertainment event called Entspeaks. Producer Andy Walmsley came up with the format: Six entertainers tell their life story in 15 minutes at the Inspire Theatre in downtown Las Vegas.
Around the 10-minute mark, the 56-year-old comedic magician, whose last name is Szeles, told a story about doing a show in front of President Ronald Reagan while "stoned on ecstasy."
"What was funny," he said, "I got a call from the Secret Service, and they said, 'Do you want to do a show,' and I said no and hung up because I thought it was a friend of mine (pulling a prank)."
The phone rings again, and it is his agent, who says, "What are you doing hanging up on the Secret Service?' "
His agent cut to chase: "If you want to do the show, be at 58th Street and Broadway (in New York City) at 6 in the morning.
"You fly there at your own expense," his agent said.
"I did," said Szeles. "I'm standing there in the cold, and a black van pulls up. Door opens, I get in and inside is (comedians Jerry) Seinfeld and Yakov Smirnoff. They obviously got the same call."
The performance took place at the Statue of Liberty Bicentennial celebration on July 3, 1986.
When the laughs died down Tuesday, Szeles turned serious while reflecting on a life well- lived.
"The greatest time of my entire life has been here," he said of his 13-year run in Las Vegas.
"I made millions of dollars. Had two beautiful houses, and everything came crashing … (a six-second pause) down when I was told I had a year to live.
"So, umm … (another pause as he choked up). I promised I wasn't going to cry. It's very scary."
A single clipped laugh was heard. You could have heard a pin drop.
"No joke," he said.
"My heart is failing. I can't do shows anymore because my legs lock up and my hands lock up, and that's kind of (crappy) for a magician."
He added, "Even though I'm sad about it, I got a beautiful wife. Just got married. Made sure she signed a prenup just so I know she loves me."
So, he said, "Don't feel sorry for me, because I've had the best, most incredible life that you could have. Everything I ever wanted I got. There's a lot to be said about devil worship."
The 25-classic car collection, "and all this other stuff, means nothing to me now," he said.
He thanked the crowd for coming out and, as he walked off, said, "Peace. I'll see you on the other side."
Szeles went public with his heart problems in 2007 and told me in June, "I'm hoping (to last until) next year."
THE SCENE AND HEARD
Caesars Entertainment addressed the Jennifer Lopez residency rumors on Thursday. TMZ.com reported Lopez is working on a deal that would have her share the same venue at Planet Hollywood Resort with Britney Spears. TMZ said Lopez is considering a two-year, 72-show deal worth $26 million. "Caesars Entertainment is always engaged in conversations with a number of artists to potentially perform at its properties in Las Vegas and around the country," according to a company statement, "but at this time Jennifer Lopez has not been presented with any offer to perform at Planet Hollywood Resort &Casino."…
Nov. 5 has been declared "Britney Day" to honor Spears in a ceremony at The Linq. The first 100 Britneys, no matter the spelling, who check in at the High Roller at 8 a.m. will receive a pair of tickets to Spears' show and other gifts. They must have a valid government-issued ID. According to a news release, Spears is receiving the proclamation for her "tremendous impact" on Las Vegas since her residency began last December. Fans of all ages are invited to the event, which starts at 5:30 p.m. …
Spanish chef Jose Andres is hosting a viewing party for the El Clasico matchup between Real Madrid and FC Barcelona at 9 a.m. Saturday at Umami Burger, Beer Garden &Sports Book at SLS Las Vegas.
SIGHTINGS
The Sacramento Kings, dining at Crush (MGM Grand) on Thursday night. … Shania Twain, visiting Daryl Hall &John Oates after their show Wednesday at The Colosseum (Caesars Palace). … Teller of the Penn &Teller headlining act, dining with friends Wednesday at Chayo Mexican Kitchen + Tequila Bar.
THE PUNCH LINE
"Politicians in Miami have passed a resolution to split Florida into two states. Yeah, the two states would be known as Geezerville and Methylvania." — Conan O'Brien
Norm Clarke's column appears Sunday, Monday, Wednesday and Friday. He can be reached at 702-383-0244 or email him at norm@reviewjournal.com. Find more online at www.normclarke.com. Follow Norm on Twitter @Norm_Clarke.