'Aquaman' star Jason Momoa discusses family, superheroes
December 9, 2018 - 9:59 am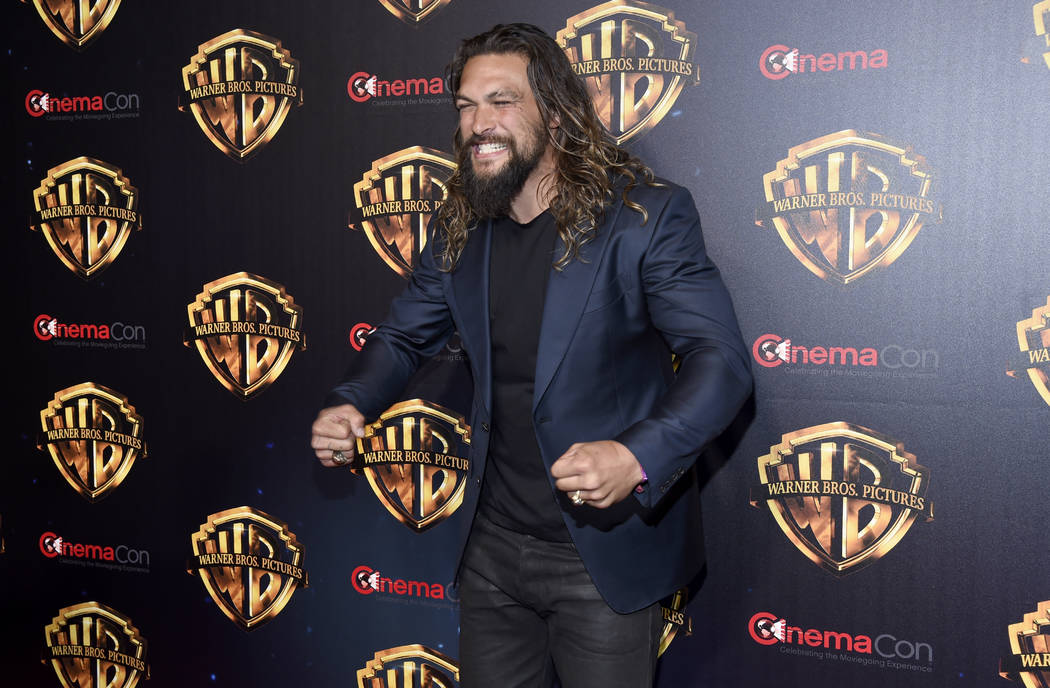 Jason Momoa is an easy cry. Just mention his two kids with wife Lisa Bonet and the hulking 6-foot-4 "Aquaman" star plays misty for you. "I just never thought I'd be a superhero," the 39-year old from Hawaii sniffed. "Just the idea of my kids sitting in the audience next to me … and being proud of Daddy."
Someone bring Aquaman a Kleenex.
He raises one hand, the size of a catcher's mitt, to dab his eye. It doesn't matter if he gets a little emotional underwater as Aquaman in the new big-screen adventure that tells the comic book icon's origin story. Momoa takes on the dual roles of Arthur Curry/Aquaman in the story of a banished Queen Atlanna (Nicole Kidman), who has a half man, half water creature son born to command the ocean.
Review-Journal: What's a great Sunday?
I always wanted to be a father, so now I'm living a dream come true. Sunday is about spending time with the people I love the most — my family. Family means everything to me. I just want to play — indoors, outdoors, games, races, riding bikes. It doesn't matter what we do as long as my children (11-year-old Lola and 10-year-old Nakoa-Wolf) know their papa is right beside them.
Have you seen "Aquaman" with the kids?
No. I wanted to wait to see it myself because it will be the first time I'll be able to watch something with my kids. I'll be really emotional — holding their hands, and explaining later that Daddy is one of the first mixed-race superheroes.
Director Zack Snyder first cast you as Aquaman for "Batman v. Superman: Dawn of Justice." What went through your mind when you got that call?
I thought he was calling to cast me as a villain. When he said it was Aquaman, I really couldn't believe it. It was such an honor because the perspective was so radical.
What is the appeal of Aquaman?
What I also liked about Aquaman is that he has lost people, which gives him a reason to want to save people. He comes with some baggage. He's not really accepted on earth or land.
Where does he draw his strength?
He has a strong woman behind him in the form of his mother, who is the queen but is shunned because she has this half-breed son with a normal human man. He also has a human father who has always believed in him. That's what makes a king — a man with people behind him.
You have something in common with Aquaman when it comes to straddling two worlds.
I was born in Honolulu but moved to Iowa with my mom when I was really young. I did tap into that feeling of being a fish out of water, pardon the pun. I'm also someone who literally came from two different cultures. I didn't feel as alone as Aquaman because I was accepted. But just like him, I was also raised by a single parent like a lot of kids now are. Later in life, I ran very far away from Iowa but eventually came back to my roots in Hawaii. Another Aquaman connection.
Word has it you spend two hours a day in the gym, six days a week.
You just have to crush it in the gym. You push limits. If you're not working your (butt) off, you're not doing it right.
What did it feel like the first time you put on the costume?
I thought it was a really beautiful suit. One day it was finally time for me to put it on. I saw the look on (director) James (Wan's) face. There was absolute joy, like a kid seeing something wonderful for the first time. I couldn't wait to run back to my trailer and grab my tablet to FaceTime my kids. They were just blown away.
What was your first "pinch me" moment!
It was when we filmed "Justice League." I was sitting on the Batmobile, which was amazing. Making it even better was I was staring at (Ben) Affleck, who was dressed like Batman. A few feet away, there was Gal (Gadot) as Wonder Woman. I acted cool, but my mind was screaming, "It's the coolest thing ever!" It was the day that my kids came to the set. They were looking at me in this way that said to me, "My dad is actually supercool." It was one of those life moments.