Baking is serious business for singer, actress Carnie Wilson
November 11, 2017 - 12:19 pm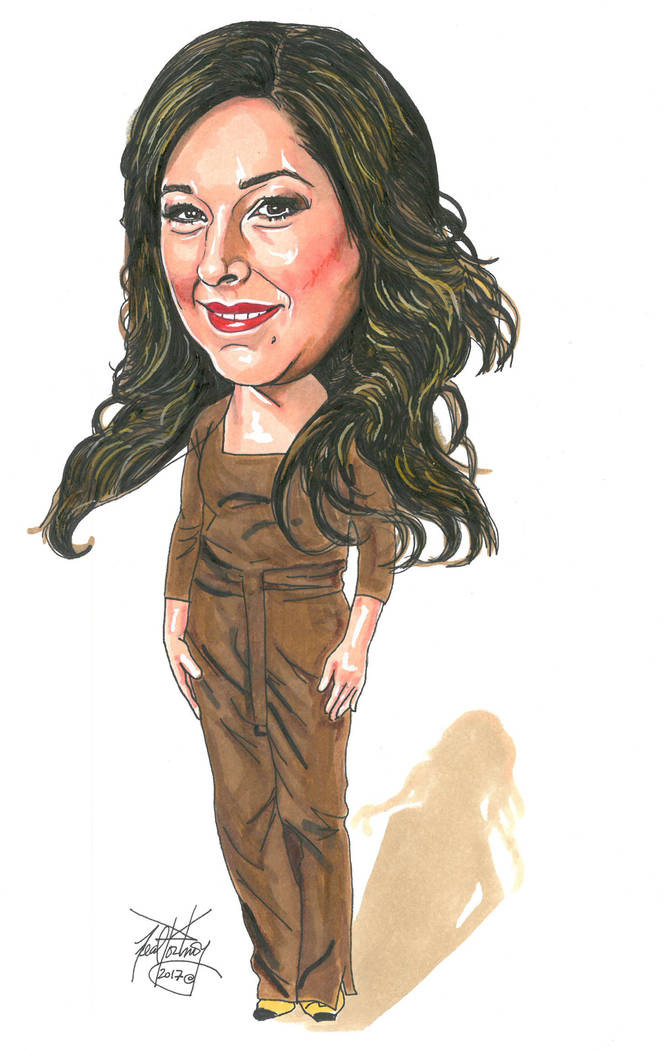 Carnie Wilson has done it all — platinum selling recording artist, actress, talk show host and mom to two daughters. There was one thing missing: She always wanted to bake — and not just for her family. Cut to this summer in Oregon where her first commercial kitchen and flagship store opened for Love Bites By Carnie, a dessert line that allows you to have your cake and diet, too. "I cried for three days. I couldn't stop," said Wilson of standing in her own work kitchen for the first time.
Then the crowds began to gather — and haven't stopped.
"The customers walk in and I'll sit in a corner and watch them look at the menu. I'll hear them say, 'I'll take a four pack of Luscious Lemon Cheesecakes' or 'I need a Peanut Butter Pound Cake.' When I hear them say the names of my babies, I feel a lump in my throat and I'll think, 'Thank you. This is my dream.' "
Wilson put down her whisk to perform recently with Wilson Phillips at the Henderson Pavilion, and can be seen co-hosting "The Talk." Her Love Bites By Carnie will soon be available online. The RJ caught up with her backstage at "The Talk" during a break.
RJ: What's a typical Sunday like for you, husband Rob and your daughters?
CW: Sunday is so nice because we can spend time doing activities with the kids. We'll go to an art store or go see grandma. It's hard because I do a lot of traveling, so Sunday is really precious to me. The kids are very musical, so sometimes we just jam together. They also love to be in the kitchen. My daughter Luci will be dicing tomatoes and Lola is the baker.
What is a typical Sunday breakfast at your house?
One of my favorite recipes that kids love is to scramble eggs in a bowl with a touch of cream. Then I add some diced or crushed green chili peppers, a bit of onion if the kids aren't watching, crushed tortilla chips and some mozzarella cheese. Cook it in a pan. It's delicious. I
also do a brioche French toast soaking the bread in egg, vanilla
and cinnamon and then cooking
in a pan.
You just performed in Henderson with Wilson Phillips. What was the vibe of that show, which came soon after the
Oct. 1 tragedy?
That show was so special to us because people were really seeking something to make them feel good or better. There we were in beautiful Vegas on a cool fall night in this large tent playing music where you knew the words. People began to sing. To dance. At first, you could feel that the audience was really raw because of the tragedy and just hearing music made them feel some joy. It really took my breath away to see how music can help people heal.
Love Bites allows people to have something delicious in two or three bites for not a lot
of calories.
I love sweet treats. Creating Love Bites was a way for me to enjoy dessert without eating full-size portions. My rule is if I'm going to eat something sweet, it better be better than good. If I'm going to put my stamp on it, it better be killer.
How did you develop the company?
I developed the company with my best friend Tiffany. We have a 14,000-square-foot facility and flagship store in Oregon where we make over 1,000 desserts a week. We've only been open two months.Soon you'll see Love Bites in many places. One day we might even have a store in Vegas.
What's your favorite?
I have to say that one of my favorites is just the classic cinnamon crumb cake. It's a cake bottom with spices and a crumble topping that's heaven. I did a cinnamon caramel on the top that's very moist. And the raspberry cream cheese brownies.
Are you like a mad scientist coming up with dessert recipes in your own kitchen?
I'm in my kitchen each night and I go through so many versions of each dessert. I was really serious about having delicious, gluten-free options. My latest recipe is a vegan cookie. It's made with fresh bananas and cocoa powder.
Word is you love Vegas. Why?
I'm obsessed with Vegas. I mean, if Elton John is in town, I'm there, but mostly I like to gamble. Give me roulette and slots. Blackjack, too. I love the energy of the people at the tables.
What was your biggest win?
I won $2,800 once in Vegas with four twos. My best friend was with me and she won that exact amount of money with the same hand of twos on that trip. I mean, what are the chances? Then we went on a cruise for Love Bites, visited the ship casino, and both of us won again with twos… and we each won $2,800 again. That was pretty crazy.
How do you juggle two kids, "The Talk," touring with Wilson Phillips, a husband and the rest of it?
I'm tired! Who knows how we juggle it all? Today after 'The Talk,' I'm going home to do English homework with my daughter and then I'll be up past midnight making snacks for school. I love driving my kids to school and picking them up. It's so important that we make a happy environment for our families while all this scary stuff is going on in the world.
What vibe do you get from baking?
It's so gratifying and satisfying to smell what's coming out of your kitchen. When I feed everyone, it fills my soul. It's like singing. It really is that deep for me. I want people to know how seriously I take it. I wouldn't just put my name on a brand.