Before she became Marilyn Monroe, the movie star got divorced in Vegas
Updated April 26, 2023 - 12:42 pm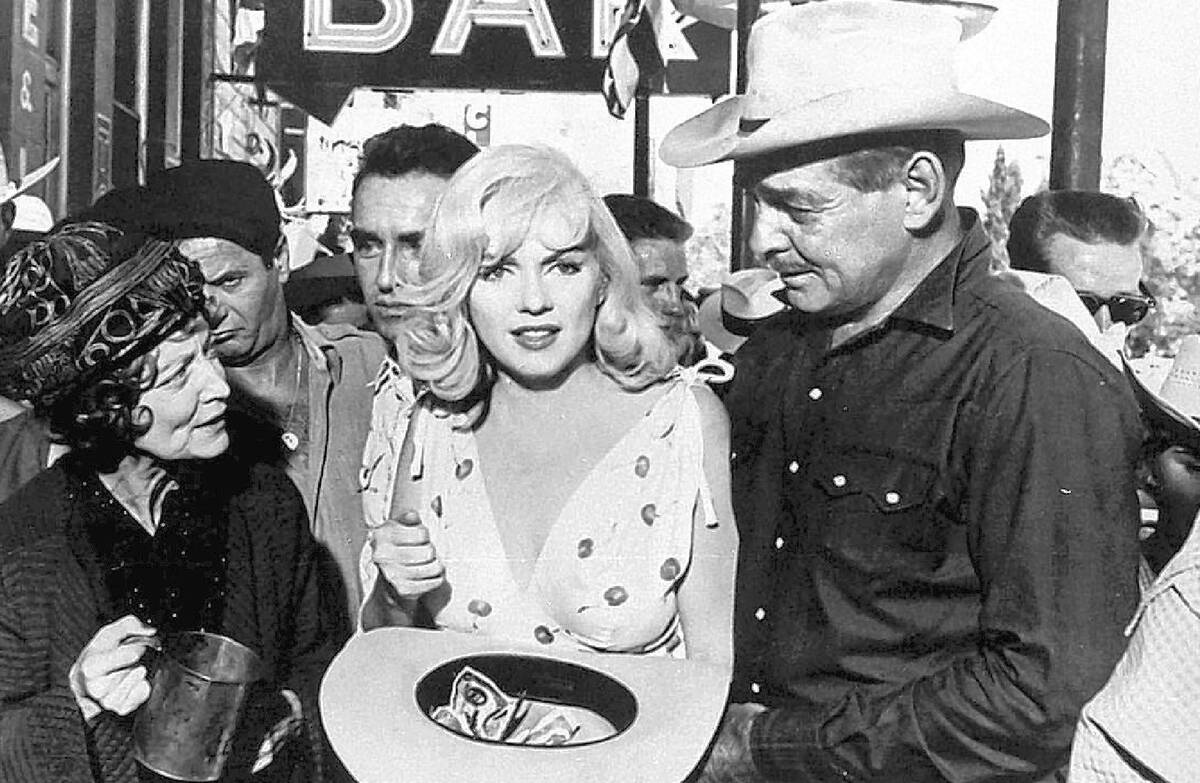 Months before she adopted her stage name of Marilyn Monroe, a young Norma Jeane Dougherty spent six weeks in Las Vegas in 1946 to establish residency to file for divorce from her then-husband, Jim Dougherty.
According to author David Spoto, Jim Dougherty married her when she was 16 in 1942, at a time when she faced another round of foster care. Dougherty was a Merchant Marine sailor overseas who didn't like the expenses incurred by her modeling, and his wife thought he interfered with her movie career plans.
With the freedom afforded by her pending Las Vegas divorce, she progressed remarkably fast as a cover model in national magazines and contract actress with a Hollywood studio. She had listened to what her L.A. agent, Emmeline Snively, told her — the movie studios don't like married women, who might get pregnant while under contract, according to Spoto.
Norma Jeane Dougherty's brief, historic time in Las Vegas, where she would spend her 20th birthday on June 1, can be traced to at least seven specific places, based on historical accounts.
Here are the locations she is known to have visited:
Union Pacific Station
(1 Main St. at Fremont Street)
She arrived in Las Vegas from Los Angeles on May 14, 1946, most likely by passenger train. Grace McKee, her foster mother in L.A. who urged her to go to Las Vegas to divorce her husband, suggested she spend her residency at the downtown Las Vegas home of Minnie Willett, McKee's 69-year-old aunt, according to Spoto.
Las Vegas Hospital
(201 N. Eighth St. at East Ogden Avenue)
She arrived suffering from "trench mouth," sores on her gums from poor hygiene or perhaps from having her wisdom teeth removed, according to author Carl Rollyson. The treatment was an agonizing wash of hydrogen peroxide. Norma Jeane would return to that hospital a few weeks later during a bout with the measles.
Aunt Minnie's house
(604 S. Third St. at Bonneville Avenue)
Marilyn lived in a room at this 1920s-era house (since demolished), according to Spono, sunning herself in the backyard. As she would write in a May 25 letter to Snively, "having lots of rest and I'm getting tan," as quoted in the letter sold at an auction by New York-based Sotheby's in 2005.
Third and Fremont streets
Her trip coincided with the annual "Helldorado" Old-West-themed festival and parade down Fremont from May 23-26. "Las Vegas is really a colorful town," she wrote to Snively, adding that she met cowboy actor Roy Rogers who was the star of the in-production Republic Pictures film "Heldorado" ("Hell" altered to appease censors). Rogers pulled her up to take a ride on his palomino stallion, Trigger. "What a horse!" she wrote.
City Park
(off Fifth Street and Bonanza Road)
Rogers and company filmed "Heldorado" on Fremont Street and the rodeo grounds of City Park. "In between shootings," Norma Jean wrote to Snively, "a couple of fellows from Republic Studio walked over to me and asked me if I would meet some actors … they asked me to have dinner with them at the Last Frontier."
Last Frontier Hotel
(3120 Las Vegas Boulevard, South)
After dinner, they went back to City Park where "we went to the rodeo," she wrote. "What a day! Ever since I've been signing autograph books and cowboy boy (sic) hats. When I try to tell these kids I'm not in pictures, they think I'm just trying (to) avoid signing their books, so I sign them…"
Clark County Courthouse
(Second and Third streets, Carson and Bridger avenues)
Norma Jean completed her residency on July 5 and promptly filed for divorce, according to Spoto. After she left for Los Angeles to resume modeling, a picture of her in a bathing suit enveloped by five magazines with her photo on the covers, all in the same month, appeared on Page 8 of the Las Vegas Review-Journal on July 11. On Aug. 26, she signed a movie contract with 20th Century Fox and soon went by her stage name, according to Spoto.
County Courthouse
On Sept. 13, she returned for her divorce trial while her husband was unable to attend. After Aunt Minnie testified that she had lived with her for the six weeks, the judge immediately granted the divorce, according to Spoto.
She left Las Vegas for L.A. on her way toward iconic movie stardom, a top box office draw in Hollywood throughout the 1950s until her drug-related death in 1962.
At the end of her May 1946 letter, she noted that "It's quite lonely here in Las Vegas…Miss Snively, I would love to hear from you and hear what's new….I didn't know six weeks could pass so slowly. I will write again soon. Love, Norma Jeane."
Contact Jeff Burbank at jburbank@reviewjournal.com or 702-383-0382. Follow him @JeffBurbank2 on Twitter.