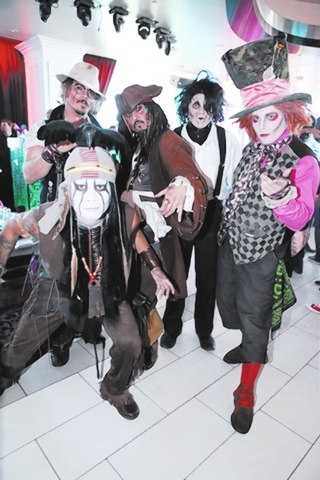 Nearly a year after Britney Spears confidently proclaimed "this is my city right now," there are signs that she's taking steps to live up to that promise.
Known to be painfully shy, the pop star has kept a low profile until recently.
Interaction with the local media has been almost nonexistent during the past year, but there have been more Spears' sightings in recent weeks than in previous months.
During the last week of October, she went on outings with her dancers, with photos showing her serving them at a Buca di Beppo restaurant and on Friday, partying with them at Beacher's Madhouse at the MGM Grand.
A flashy event this week suggests there's a corporate strategy in play to elevate her brand to help fill the void created by the departure of Celine Dion, the city's biggest attraction over the past decade. Dion isn't due back until March after taking time off to spend time with her husband and longtime manager, Rene Angelil, who has been dealing with health issues.
Caesars Entertainment and her camp may see an opportunity to have her evolve into the face of Las Vegas.
Wednesday has been proclaimed "Britney Day," with Spears getting a ceremonial key to the city in front of a crowd of Britney fans at The Linq.
After the key ceremony, a Blair Farrington production is planned. He produced her December arrival in front of Planet Hollywood. The open-to-the-public event will take place on a stage near the High Roller observation wheel.
She will cap the event by riding the 550-foot high attraction, the world's tallest Ferris wheel. There will be some surprises, I'm sure.
The first 100 women who showed up recently with proof they are named Britney, however the spelling, are getting two tickets to Spears' "Piece of Me" show at Planet Hollywood and a ride on the High Roller.
The press release said Spears is being honored for her "tremendous impact" on Las Vegas. She is reportedly on the verge of a contact extension after strong sales of her "Piece of Me" show at Planet Hollywood.
One of Spears' major achievements is likely to be topped with an announcement today that Taylor Swift's record sales for "1989," her new album, sold more than 1.3 million copies through Nov. 2.
That would surpass the one-week record for an album by a woman. Spears's debut album, "Oops!…I Did It Again" in 2000 sold 1.319 million copies, according to Nielsen Soundscan.
Just as impressive, it could be the biggest sales week for any album since 2002, when Eminem's "The Eminem Show" sold 1.322 million copies in its first week.
THE SCENE AND HEARD
A year ago, Caesars' headliner Shania Twain let it be known she was looking for a top producer to help her fire up a comeback. So eyebrows were arching when Grammy-winning producer Joseph Henry "T Bone" Burnett attended the final show of her latest run. He's an industry giant. …
Planet Hollywood founder Robert Earl's TV career is branching out. He will be on three different TV shows today: "Varney &Co." on the Fox Business Network, his own show, "Robert Earl's Be My Guest" on the Cooking Channel, and the premiere episode of the new season of "Vanderpump Rules." ….
House of Blues headliner Carlos Santana will be signing his new book "The Universal Tone: Bringing My Story to Light" at 12:30 p.m. Tuesday at Barnes &Noble, at 2191 N. Rainbow Blvd. He will be performing for the first time with Latin Grammy winner Pitbull during the The Latin Recording Academy on Nov. 20 at the MGM Grand Garden. Books go on sale at 9 a.m., with wristbands handed out on a first-come, first-served basis.
SIGHTINGS
Actress Eva Longoria, on the red carpet with unbeaten welterweight boxer Chris Algieri before hosting the Dia de los Muertos celebration at Tao (Venetian) on Saturday. They met earlier in the evening and shared a VIP table at the nightclub. Algieri is fighting Manny Pacquiao on Nov. 22. … One of the cleverest Halloween costume ideas paid off for five men on Saturday at the Palms' ghostbar day club. The quintet split the $5,000 first-place winnings by dressing as five different Johnny Depp characters for the "Day of the Killer Costumes" party, with Flo Rida presiding. … Actor Shane West, who starred in the spy drama "Nikita," belatedly celebrated his birthday on Saturday at Katsuya (SLS) and The Sayers Club, where he was presented with a birthday cake. His 36th birthday was June 10.
THE PUNCH LINE
"Former major league player Jose Canseco accidentally shot his finger off while cleaning his gun. On the bright side, he's taken so much human growth hormone that the finger grew right back." — Craig Ferguson
Norm Clarke's column appears Sunday, Monday, Wednesday and Friday. Reach him at 702-383-0244 or norm@reviewjournal.com. Find more at normclarke.com. Follow @Norm_Clarke on Twitter.