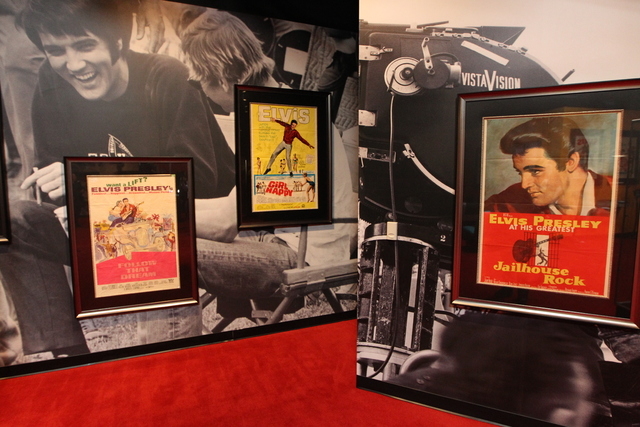 Problems surfaced early between the Elvis Presley exhibit and Westgate Las Vegas Resort management, according to a former exhibit employee.
"Graceland Presents: Elvis the Exhibit" closed in February, less than one year into a 10-year deal.
Mary Elizabeth Mancuso, one of the first staffers hired, said she quit five months later after a series of "disappointing" and perplexing moves by Westgate management.
"There was a lot of concern from the beginning," said Mancuso, who moved to California.
Among the issues, she said: Customers complained they were told by Westgate personnel that the exhibit "did not exist;" the ticket office did not open until 1 p.m.; exhibit personnel were not allowed to hand out promotional fliers on hotel grounds.
When it rained, old pipes would leak. On hot days those pipes "would sweat," which caused misting because of the air conditioning, she said. One day a pipe broke.
"There were days that we had no customers for hours," she said. The busiest day in an eight-hour workday saw 90-some customers. The lowest daily attendance was in the 40s.
At the time, Elvis Presley Enterprises criticized the Westgate for "aggressive actions" and added there was no "legitimate legal basis" for seizing the 350 artifacts in the third-party dispute.
The tenant is Exhibit A Circle, a Delaware limited-liability company with offices in New Jersey.
A spokesman for Westgate couldn't be reached for comment late Tuesday.
'Trumpiest' Trumpster
Richard A. Snowden, the former Las Vegas strip club owner who attended Donald Trump rallies around the country, got back to me after Sunday's item about him.
He filled in some blanks: During his 15 years here he owned Rick's Tally Ho on Highland Drive and Rick's Elephant Bar on Maryland Parkway.
When he bought the strip club "it had bullet holes in the door."
He owned eight gentlemen's clubs, most of them back east, before getting out of the business five years ago after he "ran into some problems with employees."
Snowden, 64, has been described as "the Trumpiest of the Trumpsters." He's been first in line at many Trump rallies since August and met the Republican presidential front-runner 20 times.
"The passion of my life is presidential politics," he said.
'Scouting for Diamonds'
The highlight of my annual trip to Arizona for a week of Cactus League games is often about hot prospects.
This year was a little different. This time the buzz at the seventh annual Scout Party, hosted by Denver businessman David McReynolds, was a documentary about the people who find the diamonds in the rough.
Producer Molly Secours hopes to win an Academy Award in the documentary category for her independent film project "Scouting for Diamonds."
Between interviews, Secours shared some exciting news: Actor Bill Murray had agreed to be an investor and narrator.
"When I started, people said there was no way I'd get Wade Boggs and Willie Mays and George Brett," Secours said.
She didn't just get Boggs on camera. Boggs broke down four times during his interview, said Secours, while talking about the scout (George Digby) who bird-dogged him for years and ultimately talked the Boston Red Sox into drafting him in the seventh round of the 1976 major league amateur draft.
Boggs won five American League batting titles, including four in a row in the 1980s.
Secours' interview with Kansas City Royals scout Art Stewart produced an unexpected personal "magical moment" that she's saving as a surprise. Stewart convinced the Royals to take Brett in the second round and Bo Jackson in the fourth.
Bob Schaeffer, special assistant to Washington Nationals' general manager and president of baseball operations Mike Rizzo, was among the many who donated to Secours' project.
"The scouting fraternity is very close," he said.
RIP Pat Goodwin
Pat Goodwin, longtime host at Piero's Italian Cuisine, died March 23 at Nathan Adelson Hospice.
Her funeral will be at Palm Mortuary, 7600 S. Eastern Ave., on Monday, a day before what would have been her 80th birthday.
"Customers really loved her. She was a star," said Linda Kajor, former general manager at Piero's.
One of her favorite photographs showed her seated in a booth with then-Sen. John F. Kennedy, before he became president.
Goodwin worked for Freddie Glusman for more than 50 years, first as a dress buyer for his clothing stores and later at Piero's as the door manager.
On this day
March 31, 1955: Famed tenor Mario Lanza, booked for a two-week, $100,000 gig to open the remodeled New Frontier, is a no-show on opening night. Other stars cover for the over-imbibing opera star, who leaves Las Vegas the next day and never returns.
The punch line
"Over the weekend, the Rolling Stones performed in Cuba. Cuban fans said, 'We're excited to see a rock band that's even older than our cars.'" — Conan O'Brien
Norm Clarke's column appears Sunday, Monday, Wednesday and Friday. He can be reached at 702-383-0244 or norm@reviewjournal.com. Find more online at www.normclarke.com. On Twitter: @Norm_Clarke