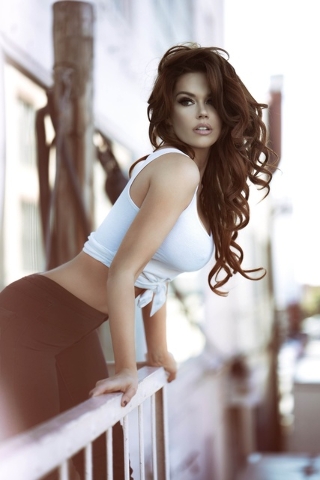 Model Jessa Hintonlost trust in men while cocktailing in Las Vegas for six years. She was married at the time, and she wore her ring. If only male clients had kept theirs on.
"Living in Vegas and cocktailing made me dislike the opposite sex just a little bit more, because I would see these married men take off their wedding rings, put it in their pocket, and ask me (or a VIP host) to bring girls to the table, and they would go home with these girls," Hinton tells me.
Part of Hinton believed, "To each their own, I don't know their situation."
Another part of her grew distrustful.
"Continuously seeing this over and over again, it does put a little seed in your head," Hinton says.
She moved away in 2012, and lives in Sherman Oaks, California.
L.A. didn't exactly restore her faith in relationships.
"You see it in L.A. too. Everybody's 'single,'" she says, and she finds herself thinking or saying, "I know your wife and you're hitting on me."
No matter where you live, you're going to have dishonesty and creepy guys, she said.
"This is the (female) L.A. mentality: If guys are going to cheat, because they are, you might as well be with a guy who's rich, so at least you're taken care of."
Hinton's boyfriend is a personal trainer and model.
How's her trust level?
"I let him move in with me, and we've been together seven months. If you see the potential in somebody, you can build an empire together. I wouldn't want to be with a guy that has money already, because that's his money, not my money, and I don't deserve any of that."
Where did she find this independence?
"My parents always taught me how to be hard working and live on my own without anybody else's means."
Hinton returns to Vegas when she hosts "Sexy de Mayo" 6-9 p.m. Thursday at the Luxor's Tacos & Tequila for Cinco de Mayo. She'll be letting loose.
"I haven't had anything to drink" in three weeks, she says, "nor will I until Cinco de Mayo, so things might get a mess."
This is a different Hinton than the one from Light. The red-headed model has 3.5 million social media followers. She and her boyfriend star in ads for Wynn's new Intrigue nightclub.
Hinton's modeling career was cemented by Playboy. Now her other career as a social media influencer is cemented by uncensored outspokenness.
While talking about how many Playboy Playmates turn to prostitution, she says she saw that happen with other Playmates, in addition to women signing up to be kept by older rich men.
"That's one of the reasons I got out of Playboy," she says. "Playboy did open a lot of doors for me. I am thankful for them and the experience. But as I got older, I was seeing so many girls — 18, 19, coming here from Alabama or wherever — thinking they're going to be a big star.
"They use up all the money they get within the first month of 'fame.' Then they start hooking. Or they start going on 'atmosphere' jobs where they're basically sitting at a table with a guy and they have to make the table look good, and they're getting paid $1,000."
Hinton says she was never pressured in any capacity by Hugh Hefnerto go the route of other women. He never hit on her. She never slept with him. She never went to a mansion party. He was sweet. And Hinton likes both ex-Heffer Holly Madison and Hef's wife, Crystal Harris Hefner, as well as Playmates generally.
Hinton misses the people of Vegas.
"I feel that whatever your career or job is in Vegas, you own it. If you're a stripper, you say you're a stripper. If you're a casino host, that's what you are," she says.
"But in L.A., you're always an agent, or a director, or an actor, but really you work at Cheesecake Factory," she says. "It's very sad when people are ashamed of who they are. If they're working toward something, there's nothing to be ashamed of."
SIGHTINGS
Lionel Richie's daughter Nicolesaw his Planet Hollywood show Sunday night, as did Cameron Diaz, and brothers Joel and Benji Madden.
Attending Saturday's Richie show: TV's Hoda Kotb, Tyra Banks, Leeza Gibbons, and actress Maggie Q.
After Saturday's show, Lionel Richie ate at Strip House in Planet Hollywood.
Kip Wingersaw "Frankie Moreno — Under the Influence" Sunday at Planet Hollywood.
Australian band Sheppard and Australian magician PiP saw "Absinthe" at Caesars Palace on Sunday.
Brandon Bassof the L.A. Lakers celebrated his birthday at STK steakhouse in the Cosmopolitan hotel on Saturday with friends, family and 12-year-old Macallan whiskey.
Doug Elfman can be reached at delfman@reviewjournal.com. He blogs at reviewjournal.com/elfman. On Twitter: @VegasAnonymous