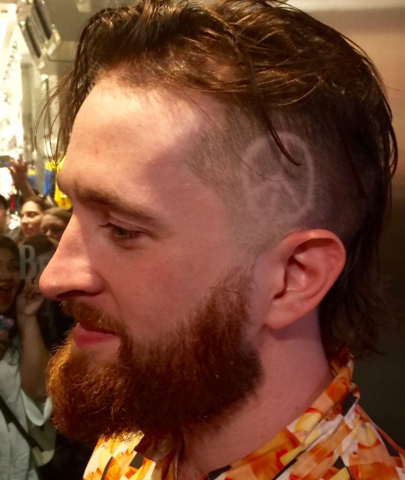 Imagine Dragons drummer Daniel Platzman showed some love at the 10th anniversary celebration of "The Beatles Love" on Thursday at The Mirage.
Platzman had a peace sign shaved onto the left side of his head. It was a hit on the red carpet that included Beatles icons Paul McCartney and Ringo Starr.
"I thought it would be appropriate for the occasion," said Platzman, who was with bandmate and bassist Ben McKee.
McCartney left photographers sputtering with frustration when he and his wife, Nancy Shevell, did a quick pose or two before rushing away minutes before showtime.
Also on the red carpet were Yoko Ono, the widow of John Lennon, and Olivia Harrison, the widow of George Harrison.
Ono told Mark Gray, who was covering for People magazine, she thought the longevity of the Beatles would continue "over the next century."
ANGEL CALLED OUT
R-J colleague Mike Weatherford filed this follow-up Thursday on the kerfuffle between magicians Criss Angel and Brett Daniels.
"A magician wants to take his beef with Criss Angel to a new place — a cage, specifically, for a mixed martial arts brawl.
"A lot of people want to see this fight happen," Daniels says in a video challenge to the Luxor headliner. "A lot of people want to see you get your ass beat. I'm one of them."
"It's about time somebody called him out," Daniels added by telephone. "What can I do, say, 'Let's do card tricks'?"
The two once were friends and prospective partners for a packaged tour of magicians similar to the Broadway partners and touring show, "The Illusionists." But Daniels said they could never come to terms on a contract, and he claims Angel proceeded to use illusions Daniels has the rights to for both the touring show "The Supernaturalists" and the new edition of his Luxor showcase.
Daniels also shared a July 12 email he says he sent to Angel: "Tell me why you didn't ask me before you put my levitation efx in your new show?" he wrote. "I see your many posts with Chuck Lidell (sic), Randy Couture — all of the MMA guys. … Your countless tweets of you in the gym — you're in shape, buddy!
"I'm challenging you to a full-contact 3-round MMA fight. Las Vegas, 2017. You and me — hey — I'm a 55-year-old man … out of shape and never got into a fight in my adult life.
"But for you — I'll learn to fight," he concluded. "We'll do it for charity. It'll be fun."
Angel responded to Daniels' challenge in a Thursday email: "I have already schooled this wannabe in the Palms parking lot. No need to waste time doing it again." He added, "This is the last time I'll address such pettiness."
SIGHTINGS
Also on the "Love" red carpet: Joe Walsh of the Eagles and a part-time member of Starr's All-Starr Band; Academy Award winner Mira Sorvino; director and producer Ron Howard; actor and comedian Kevin Nealon; Chris Harrison, host of ABC's "The Bachelor"; actors Josh Hutcherson, Cary Elwes, Kevin Dillon, Kristoff St. John of "The Young and the Restless"; comedian Ron White; English choreographer Arlene Phillips; Dot Jones of "Glee"; Mark Foster, founding member of Foster the People; Peter Asher of Peter and Gordon fame; musician Chris Holmes; actor, director and screenwriter Christopher Backus; 2008 Olympic gymnastic champion Nastia Liukin; child actress Aubrey Anderson-Emmons of "Modern Family"; and Emmy Award-winning choreographers Tabitha and Napoleon "Buddy" D'umo, formerly of Las Vegas.
THE PUNCH LINE
"A restaurant in China forces customers to solve complex math problems before they can order their meal. The restaurant has no plans to expand to the United States." — Conan O'Brien
Norm Clarke can be reached at 702-383-0244 or norm@reviewjournal.com. Find more online at www.normclarke.com. On Twitter: @Norm_Clarke