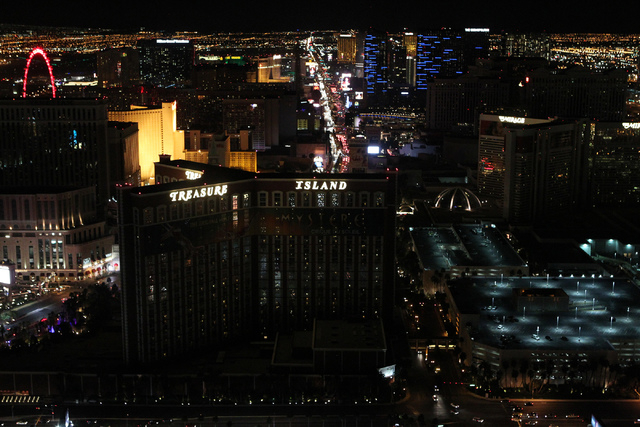 After playing a big role in making DimLights4Tark happen, Tony Cordasco fittingly ended up with the ultimate view of what he helped create.
The longtime UNLV supporter was invited to see the lights-dimming tribute to coaching legend Jerry Tarkanian aboard a helicopter.
It was surreal, said Cordasco, who teamed up with friend Scott Gulbransen on the tribute.
Not only was the Strip dark, "but you couldn't see The Orleans, the Palms or the Rio. You couldn't see Red Rock. I looked over to the east, and Boulder Station's lights were out."
All across the city, Las Vegas displayed Rebel pride.
On the Strip, crowds gathered on parking garages. They gathered on the steps at the Thomas & Mack Center.
Cordasco said "fans were chanting 'Jerr-ee, Jerr-ee,' " when the lights came on at Mandalay Bay after a delay.
Cordasco had planned to spend the tribute with Gulbransen and the Tarkanian family, after arranging for them to watch the rare event from the Foundation Room at Mandalay Bay. But then came "the opportunity of a lifetime."
A friend, Bryan Kroten of Maverick Helicoptors, offered a seat next to a still photographer and a videographer.
Later, Cordasco learned PT's Pubs throughout the valley not only turned off their exterior lights but inside as well.
"They sent out a picture of people in the dark holding up lighters to honor Tark," he added.
"I heard everything was dark downtown. City Hall. Zappos. Insert Coins said they were going to turn off their video games," said Cordasco.
Reno and Carson City joined in, as well, he said.
"The crazy thing is DimLights4Talk and UNLV were trending at No. 1 and 2."
Meanwhile, at the Foundation Room, members of the Tarkanian family were brought to tears by the arrival of UNLV greats Larry Johnson, Moses Scurry and Anderson Hunt, members of the 1989-90 national championship team.
Cordasco said, "It was such a euphoric feeling. That's the way we used to feel here, and this brought it out again. All politics were put aside."
DANCING ON
Nancy Houssels, who traveled the world as a ballet star and later co-founded Nevada Ballet Theatre, celebrates her 80th in style tonight at The Smith Center for the Performing Arts.
She danced in the duo "Francois Szony and Nancy Claire" (her middle name), which was in such demand they turned down invitations to dance for Britain's Queen Elizabeth and at the White House.
Houssels arrived in Las Vegas in 1966.
"We signed a six-month deal with Casino de Paris and stayed for two years," she said.
The schedule was so grueling — 15 shows a week, including three on Saturday — she vowed she would never return.
Las Vegas is lucky she did.
She came back to perform in "Folies Bergere" at the Tropicana. She caught the eye of J. Kell Houssels, president of the Trop. He asked her out for dinner. She had a Coca-Cola. He had spaghetti.
"I called my folks and said, 'I just met the man I'm going to marry.' That was 1968. We were married in 1970."
After retiring from dance, she and "Folies" lead dancer Vassili Sulich co-founded the Nevada Dance Theatre. The name was changed to Nevada Ballet Theatre in 1997.
THE SCENE AND HEARD
Comedy legend Jerry Lewis will play the father of Nicolas Cage's corrupt-cop character in the Las Vegas-set film "The Trust." It would be the 73rd film credit for Lewis, who turns 89 on March 16. Lewis' first film was "My Friend Irma," in 1949, when he and Dean Martin made their big screen debut three years after forming their comedy team.
SIGHTINGS
Actress Melissa Joan Hart, meeting with Britney Spears before her show Wednesday at Planet Hollywood Resort. Hart, in town to debut her boys clothing line King of Harts, starred in Spears' 1999 music video "(You Drive Me) Crazy." Hart and her girlfriends stayed for the show. … Jax Taylor of "Vanderpump Rules," hosting an Excalibur after-party for the clothing brand.
THE PUNCH LINE
"I want to tell you something about that dog show. If I want to see rolling over and playing dead at Madison Square Garden, I'll go to a Knicks game." — David Letterman
Norm Clarke's column appears Sunday, Monday, Wednesday and Friday. He can be reached at 702-383-0244 or email him at norm@reviewjournal.com. Find more online at www.normclarke.com. Follow Norm on Twitter @Norm_Clarke.