Dwayne 'The Rock' Johnson rose from poverty into Hollywood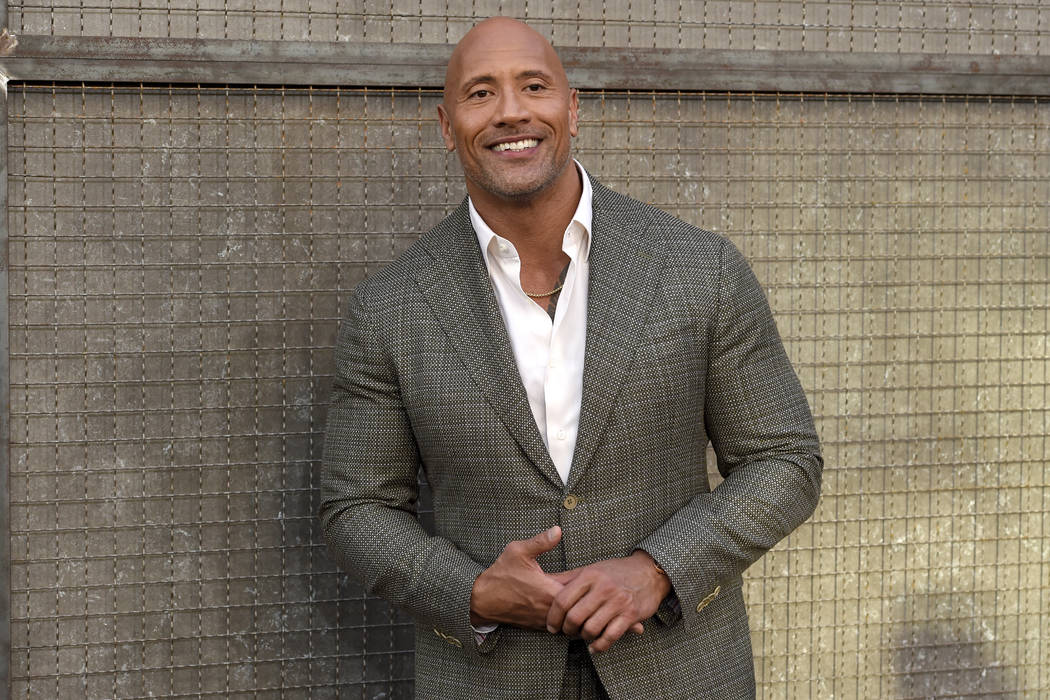 He remembers the days when he was between The Rock and a hard place. Dwayne Johnson suffered a football injury in college that left him impoverished. "The worst time was maybe that night when I didn't have a bed, so I drove around. I ended up at this dumpster behind an hourly-rates motel. I found the mattress that looked the cleanest — which wasn't that clean — and took it.
"Then I bought a sheet set and a lot of Lysol," he said, laughing.
The Hawaiian native knew that there was only way one to go: Way up. He went from broke to pro wrestler to major movie star whose "Jumanji" is one of the biggest hits of the year — to the tune of nearly $1 billion in worldwide box office receipts. He stars in the current monster flick, "Rampage," and has a summer film coming called "Skyscraper."
Born into the world of pro wrestling where his grandfather was a legend and his father, "Soulman" Rocky, was also a champion, Johnson grew up hard. "I grew up where when a door closed, a window didn't open," he said.
Johnson is the father of three — 2-year-old Jasmine and new baby Tiana Gia Johnson with longtime girlfriend Lauren Hashian, and 16-year-old Simone from his first marriage.
Review-Journal: What's a typical Sunday like?
Johnson: It's all about spending time with family. We have a place in L.A., a farm on the East Coast and a place in Hawaii. You can find me playing with the kids or in a pick-up truck listening to country music. I'm not that guy looking for the party. I'd rather be at home with my family just hanging out in front of a fire or watching a movie. I tell my kids "I love you" about a million times a day. Maybe a million and one. And I really mean it.
What makes a great dad?
You lead with love, while you protect and guide your children. I've been so blessed to bring strong girls into the world. As their father, my plan is to be a great example.
Why haven't you become an ego-driven, pain-in-the-butt star?
I struggled for a long time to get to this place. I don't have any complaints now that I'm here. I'm just a guy who is grateful that my family doesn't have to struggle.
How did your struggles form the man you are now?
I know what it's like as a kid to have your (family's) car repossessed. I saw the look on my parents' faces. It haunts you. Even when we didn't have a lot, I was still told that the world was at my feet. I was told I could do anything I wanted in life if I just worked hard at it. I guess I knew from that early age that I wanted to have a different kind of life.
How did the movies figure into all of this struggling?
When I was a kid, I saw Rocky Balboa get his ass kicked and put those gloves back on. He swung again and again. For me, it wasn't just about going to the distance. I wanted to win. I also saw a lot of Clint Eastwood movies and he never gave up either. He just clenched his jaw and kept pushing on.
How does someone take step one past the struggle?
I believe in goals. One of mine was to graduate from college. I also really wanted to be successful enough to buy my parents a home because we always lived in apartments. And I wanted to fix my grandmother's situation because she had a rough life and had always been the matriarch of our family. She had even been homeless. It makes me proud to say that I accomplished those goals.
You've been mixing family films with action movies. What's your favorite?
As much as I loved all the family films and found a place in my heart for those scripts, I'm thrilled to do the action movies. I want to do movies that make your pulse pound because those are my escape films. The action genre is my home because I've always been a physical guy. But I still want to have a diverse career.
The best part of being in the "Fast and the Furious" franchise is …
Besides looking so handsome in those movies! No, seriously, I love fast cars. But I'm not so much the sports car guy. I'm Ford tough. Give me a souped-up truck and some big, wide road I'm a happy guy.
What's the biggest challenge of doing an action film like "Rampage?"
It's a challenge to hold an audience in an action film. People have seen all the car chases and the stunts. They want to see your attitude and you have to give them everything you have.
You've talked about months of training in the gym. How do you control your eating when you're getting ready for a big film?
When I was broke and young, I lived on bites of fried chicken. You are what you eat — and I wasn't feeling very good when I ate those kinds of meals. I do eat really clean now and feel great. Of course, I've been known to have a slice of pizza with my daughter. You have to give yourself a break and enjoy life, but then you get right back on your healthy eating plan.
It can't hurt to get rid of the sugars and bad fats in your life and base your diet on lean proteins and healthy vegetables.
What's your 30-second eating advice?
If you eat lean protein and vegetables, you have energy. That energy fuels you to do things including go to the gym. You don't feel sluggish and tired because bad eating is making you want to take a nap.
Can you still do that perfect arched eyebrow?
(Lifting his brow) It's captivating, isn't it?