Fall Out Boy bassist Pete Wentz loves Las Vegas audiences
September 15, 2018 - 1:43 pm
Updated September 16, 2018 - 5:06 pm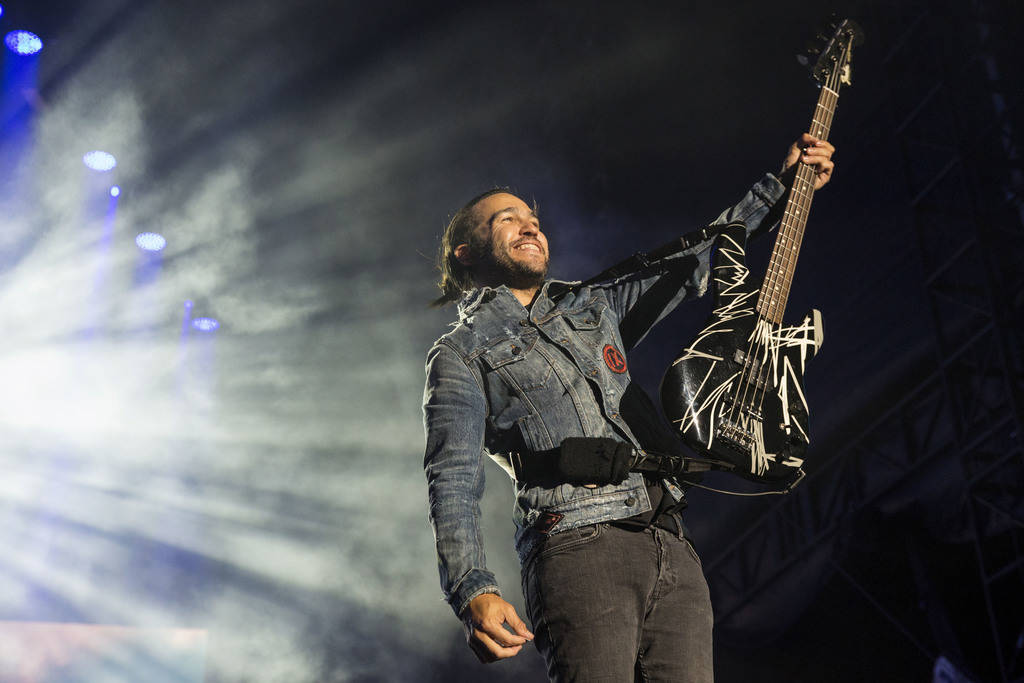 Pete Wentz of Fall Out Boy is a walking chorus. "Yeah, yeah, yeah," he rushes before many sentences. Well, make that most sentences, which is just a Wentz thing. The bass player is a naturally excitable guy.
Ask the 39-year-old Wilmette, Illinois, native about bringing the alternative rock/pop punk band to the MGM Grand Garden Arena in Las Vegas on Sept. 28.
"Yeah, yeah, yeah," Wentz said. "There is an underground culture to Vegas that I really love. Vegas is the best. You think it's just the Strip, but there is so much more about Vegas. People in those audiences really like music. They travel there for the music. You can't give a bigger compliment to a band."
The bassist will be joined by lead guitarist Joe Trohman, drummer Andy Hurley and lead vocalist Patrick Stump to sing hits including "Centuries" and "Uma Thurman" from "American Beauty/American Psycho," their sixth studio album that debuted at No. 1 on the Billboard album chart in 2015. They will also play tracks from this year's "Mania" CD, which also debuted at No. 1.
Review-Journal: What defines a great Sunday?
Pete Wentz: It's hanging out in my house and doing nothing in general. If I do leave the house, I'll go to a movie. I think we spend so much of our time on our phones or documenting something for our phones or looking at our phones to see what others are doing. On Sunday, I try to put down the phone. It's great to just sit there and exist. I suggest this to anyone because it's actually a super freeing to lose your phone for a day.
Will you tailor the show a bit differently for Vegas?
Yeah, yeah, yeah. Come to think of it, we haven't done a ton of huge shows there, which is part of the reason we're really excited to play in Vegas this month. You never know what will happen in Vegas, which is part of the thrill. I don't want to say too much, but you'll know that this was the show you saw in Vegas. We're pretty excited that we have some new visuals for this tour.
So, Pete Wentz has a half day free in Las Vegas … fill in the blank.
I have a good friend who has a house in Vegas. He has all kinds of weird, fun stuff there like foam balls and this pit. I love off-the-grid stuff. And I'm not a big gambler, honestly. So, I'll go to my friend's house and we'll have a foam ball war in his pit. Last time, I came to town, I went to see "Avengers: Infinity War."
Tell us about the new album "Mania."
It took us a bit of time to figure it out. There were some stops and starts. It was a longer process than anyone would have expected it to be. But the way it turned out made that time worth it. We're all pretty proud of it and love how people have reacted. I love when you make the videos. It creates identities for the songs.
You grew up in the posh, but conservative town of Wilmette, Illinois. How does one even think about becoming a rock star there?
I was always about creating my own course. You have to find your own way. There are always plenty of people in life who say to you, "It has to be this way," or "Do it in this order." I always tell kids to figure it out yourself. If people say, "You can't do it that way," I truly believe that you're onto something. Think about it. You may be the first person to do it. Don't take the group route to figuring out your life.
What is it like to step onstage to the roar of the crowd?
It's a really good feeling. You feed off the crowd's energy. If you're out there and playing to people who are not energetic, it's sometimes hard to find that energy yourself. But you hear and feel the roar of the crowd, the music comes to life. The crowd has come to life. You never know what's going to happen in rock 'n' roll until it starts happening.
Are you recognized everywhere?
I haven't been to a mall by myself while on tour in 15 years. I do go to the farmers market by my house and no one cares. I don't roll with a big entourage. I just walk around.
What is your rock out, motivation song?
I listen to "Versace" by Migos. They basically say one word again and again. I love high-energy music.
Do your kids, Bronx, Saint and Marvel, think you're cool?
My kids are very uninterested in my life as a rock artist. … They just want me to be that guy who makes great pancakes and takes them to a water park.
You've acted, written a book and host the TV show "Best Ink." Why is it important to branch out?
Yeah, yeah, yeah. I got a crazy sense of just wanting to do things. My mind goes a million miles a minute. I'm working on a fashion line with a company from Japan right now and an animated series. There are so many different things on the horizon, plus the band. Doing everything is really fun for me.