Fight knocks out six Cirque du Soleil shows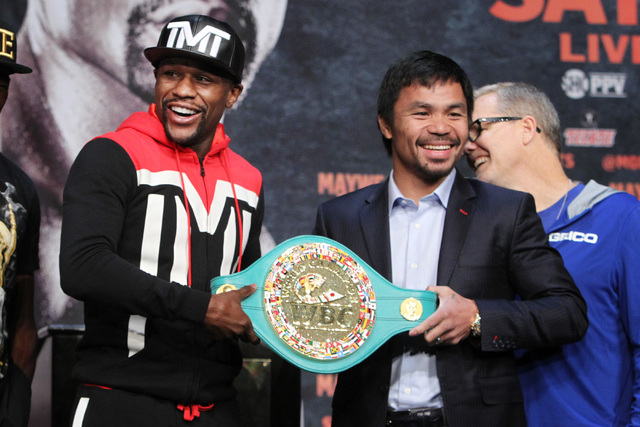 In a first for Las Vegas, six of eight Cirque du Soleil shows will shut down Saturday to serve as sold-out venues for the closed-circuit broadcast of the megafight between Floyd Mayweather Jr. and Manny Pacquiao.
Demand was so feverish that 18,000 seats for the six Cirque du Soleil show venues were sold out.
"It's not going to be an entertainment crowd anyway on Saturday," said Jerry Nadal, senior vice president of Cirque du Soleil. "People are in town for one reason — the fight."
Only the aquatic themed "O" at Bellagio and "Mystere" at TI will remain open, Nadal said.
As mammoth as the Mayweather-Pacquiao fight has become, a Muhammad Ali superfight would beat it.
"If Ali was fighting today, they'd be delivering his money in a Brinks truck because of closed-circuit TV. That's where the money is today," said Gene Kilroy, Ali's business manager for a decade.
"The media is 80 percent larger today," said Kilroy, a Las Vegas resident.
The projected numbers are staggering: pay-per-view, 3 million buys (previous record, 2.4 million for Mayweather vs. Oscar de la Hoya in 2007); and $74 million in gate revenue, compared to the previous record of $20 million (Mayweather vs. Canelo Alvarez in 2013).
Saturday's fight should generate more than $400 million in revenue for the fighters, with Mayweather banking about $160 million and Pacquiao taking home $120 million.
PRETTY IN PINK
If that pink vintage sports car that delivered Mariah Carey to the entrance of Caesars Palace on Monday looked familiar, think "The Great Gatsby."
A sister model of the 1936 Auburn Boatail reportedly appeared in the 2013 remake of the classic, starring Leonardo DiCaprio.
Carey's driver for the welcome ceremony was Ryan Hamilton, a co-owner of Celebrity Cars Las Vegas and a 1998 graduate of The Meadows.
Carey, who opens her run at The Colosseum on Wednesday, encouraged Hamilton to drive faster, "but we were stuck in first gear behind 18 trucks (signifying her 18 No. 1 hits).
Hamilton's company provided Taylor Swift with a 1969 Cadillac convertible for a grand entrance at the iHeart Radio concert at MGM Grand in September.
The Boatail is priced at $131,500. Celebrity Cars sold ailing chef Kerry Simon's silver Porsche 911 last fall for $21,000.
THE SCENE AND HEARD
If you were planning to see the "Duck Dynasty" inspiration, "Duck Commander Musical" at the Rio, you best get the lead out. I'm hearing it's operating on a wing and a prayer. It opened two weeks ago. …
You gotta wonder how big the Mayweather-Pacquiao crowd would be if they held the fight outdoors. I'd wager it would be double the Nevada record of 29,214 for largest crowd at a boxing event. That featured Larry Holmes and Gerry Cooney outdoors at Caesars Palace on June 11, 1982. …
There are rumblings that a big-time high-roller known for his ostentatious ways may be involved in a scandal that could put a local powerhouse company — not a casino — on shaky footing. …
Chloe Crawford, wife and stage assistant of headlining magician Murray Sawchuck, will be appearing Saturday on "Britain's Got Talent." She's performing as a magician.
SIGHTINGS
Entertainment legends Jerry Lewis and Steve Lawrence, dining at N9ne Steakhouse (Palms) on Wednesday. … Pacquiao's wife, Jinkee, shopping Wednesday at the Fashion Show mall and stopping at Red Velvet Café for a bite. … ESPN's Kenny Mayne, who played quarterback at UNLV, drinking Coca-Colas while noshing with friends at La Cave Wine &Food Hideaway (Wynn) on Thursday. … Model and actor Tyson Beckford, with a group at Surrender (Encore at Wynn) on Wednesday. His group included ESPN host Stan Verret, who tweeted a photo of the group with the comment, "When @TysonBeckford hangs with the crew, I have to settle for 2nd best looking." … Oksana Baiul, the gold medal figure skater at the 1994 Lillehammer Winter Olympics, meeting the cast of "Rock of Ages" (Venetian) on Wednesday. Baiul, a Ukraine orphan, lives in the Las Vegas area.
THE PUNCH LINE
"This year (the NFL draft) will be simulcast on ESPN and Court TV." — Conan O'Brien
Norm Clarke's column appears Sunday, Monday, Wednesday and Friday. He can be reached at 702-383-0244 or email him at norm@reviewjournal.com. Find more online at www.normclarke.com. Follow Norm on Twitter: @Norm_Clarke