Fox 5 host talks about favorite interviews
December 16, 2017 - 11:10 am
Updated December 16, 2017 - 5:59 pm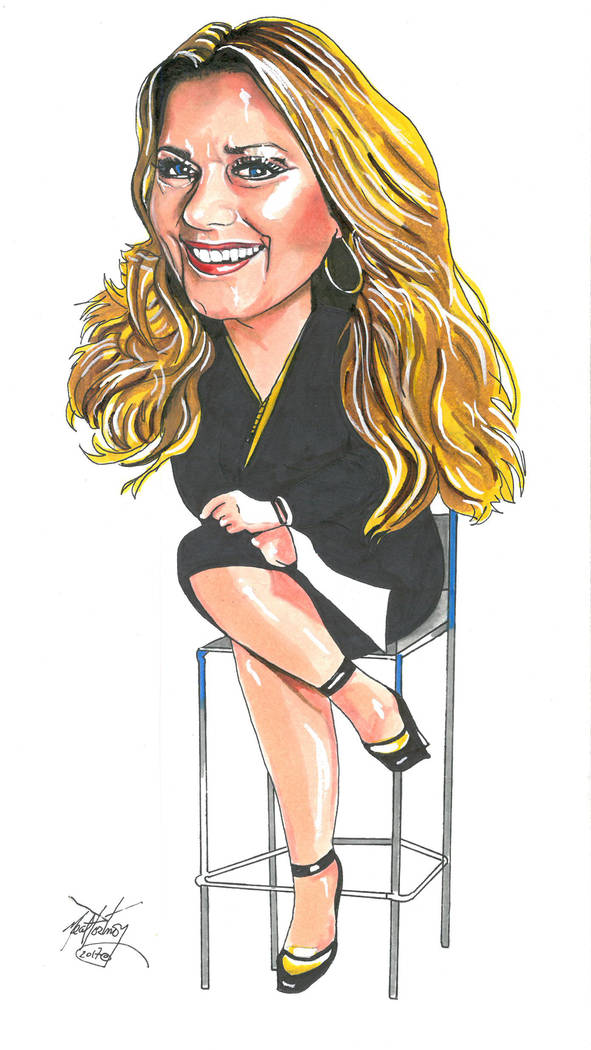 It almost sounds like a movie. Rachel Smith was a wide-eyed 12-year-old when she rolled into Las Vegas for the first time. Her ride wasn't a limo, but a four-door Audi borrowed from her grandmother because it had air conditioning.
"My dad was a junior high school history teacher, and we drove from our home in Idaho to Disney for a family vacation. We stopped in Vegas at midnight to fill up and get snacks." Smith stretched her legs, took one look at her twin sister, Jennifer, and shook her head. "I stood under all of those Vegas lights and said, 'We're not in Idaho anymore.' "
Vegas made an impression, and the same can be said of Smith, who spends her days on the air in the entertainment capital of the world talking about, what else, but entertainment. She is the two-time Emmy award-winning host of "More" and "More Access," two daily entertainment shows on Fox 5. Smith has been the host since the show debuted 12 years ago and is also the station's film critic. That's why stars from Matt Damon to The Rock see her on the red carpet and shout, "Hey, Vegas."
RJ: How does a busy entertainment reporter spend her Sunday?
RS: I wake up a little early, pour a big cup of coffee, get back in bed and watch "CBS Sunday Morning." Afterward, I'll try to get in a workout or play tennis. I love catching up with family and friends.
And then there is your Best Buddy Michelle.
I've been involved for 10 years with Best Buddies, an organization that creates one-on-one friendships with people who have special needs. Michelle and I will get a mani-pedi or play a round of golf. She's such a doll. We're actually the longest-running match in the state. I promise you that I've gotten more out of this than she has. It's a pure joy being her buddy.
Tell us a bit about your background.
I grew up in Idaho with my twin. My mom worked in medical management. I think my love of the arts came from Dad, who always loved music and movies. As a girl, I told everyone my goal was to be on "60 Minutes."
As a twin, did you ever pull a switch-a-roo on dates?
I'll never forget one sophomore year prom in high school where we weren't enjoying being on a double date, so we switched places. By the way, the guys noticed.
What was your first TV job?
In high school I worked for the local TV station and then I went to college at Washington State University. My first job out of college was in the Tri Cities of Washington where I carried my gear, shot my own stories and then edited them. I went home to Idaho Falls for Christmas that year and my old station, where I worked in high school, had an anchor job open. I did that for about a year. It was really sweet because my great grandmother never turned off Channel 8 because she didn't want to miss me.
How did you get the job on Fox 5?
I was an evening news anchor in California and came to Vegas to anchor the evening news at another station. Fox recruited me and said that they were going to start this entertainment show.
Where do you like to hang out when you're not working?
I really love a mix of local spots and the Strip. You can find me at Downtown Summerlin or at the District. I love Green Valley Ranch and Caesars Palace. You can't beat Gordon Ramsay's Pub. It's got a great energy. I love the Bellagio fountains because they're mesmerizing. There is nothing like the energy of the Cosmo. The ice skating rink is so much fun.
Your dad is in town this weekend. What's the plan?
I love the Vegas Golden Knights, so we'll be at the game. You can find me on Sunday afternoon with my dad cheering for Vegas. I'll never forget being outside by T-Mobile at the first home game. I wanted to Facebook Live the opening ceremonies for the people who couldn't be there. There was a huge crowd and everyone was hugging each other and rubbing each other's backs as the first responders were brought out. I was in tears. We were just local people, neighbors and friends talking and hugging. It was one of the most beautiful nights I had ever spent in Vegas.
Who is your favorite interview?
My all-time favorite has always been Matt Damon because he's down to earth, so relatable and is always a class act. He remembers you and loves Vegas. I've interviewed him over a dozen times now. I also love Sandra Bullock who is so fun and witty. Hugh Jackman is always high-energy and fun. I've always idolized Dolly Parton and Olivia Newton-John. They say you don't want to meet your heroes, but that's not true in my case. When my mom was going through breast cancer treatments, Olivia wrote her a personal note and sent her a signed CD.
You love boy bands, Rachel, but it's time to commit. Favorite?
Backstreet Boys, of course.
What did the legendary Dolly Parton tell you?
Dolly is just everything you hope her to be and more. I was the first interview of the day for her once and there she was in the hallway in an all-leather jumpsuit. We started talking and I said, "Dolly, you're so thin!" She said, "Honey, I haven't had a carb since 1970!"