Golden Knights' singer Carnell Johnson reveals emotional moments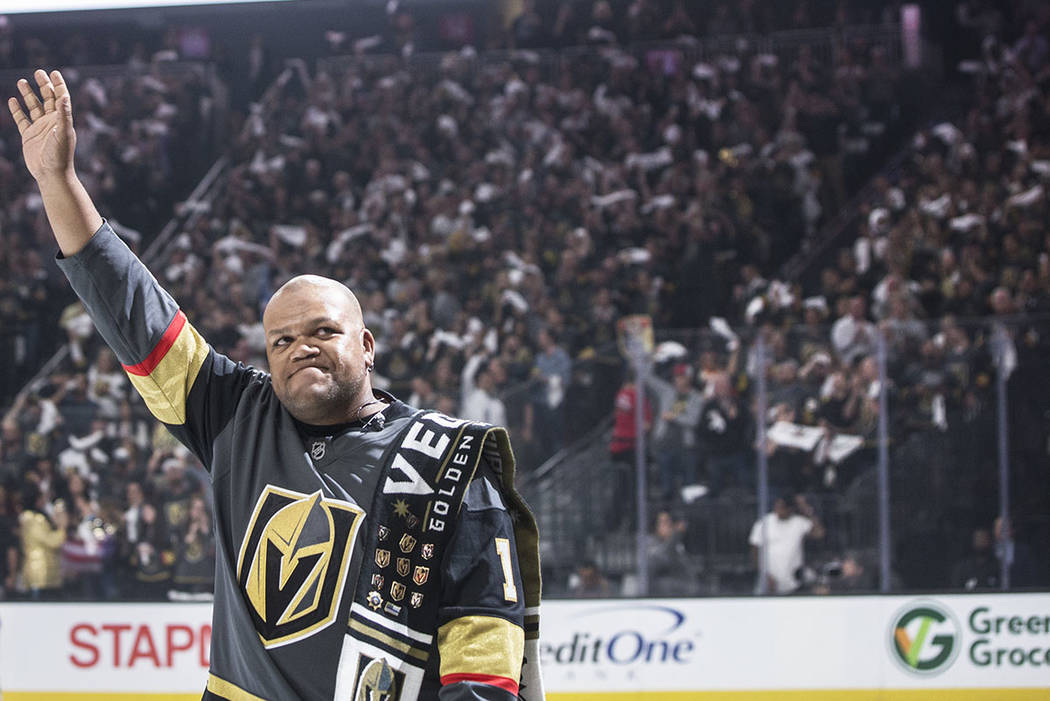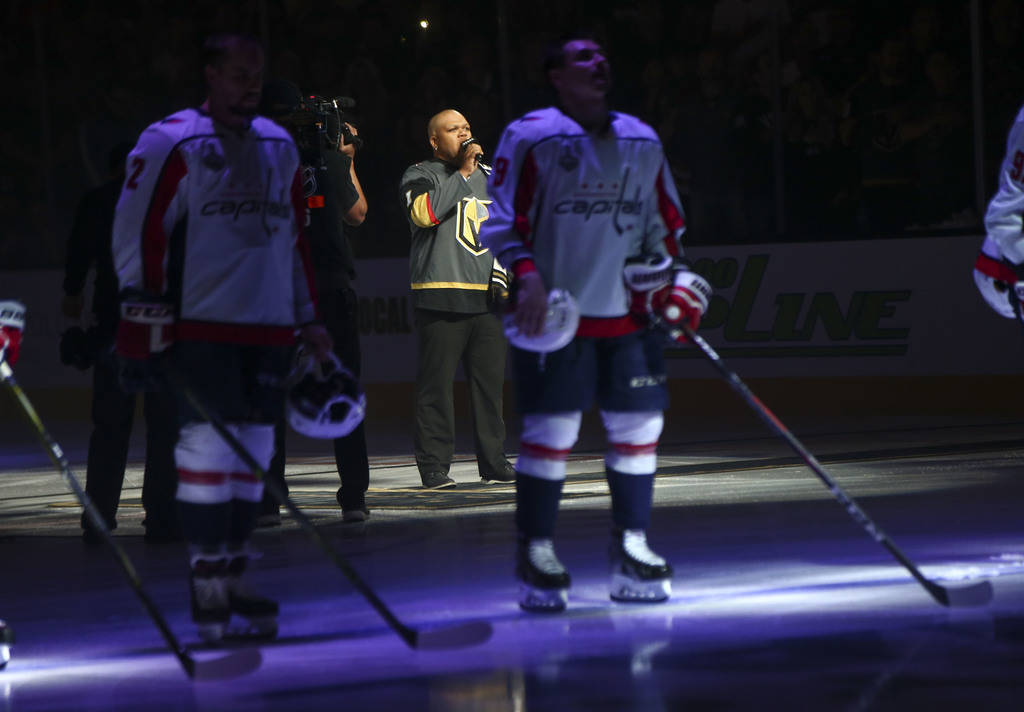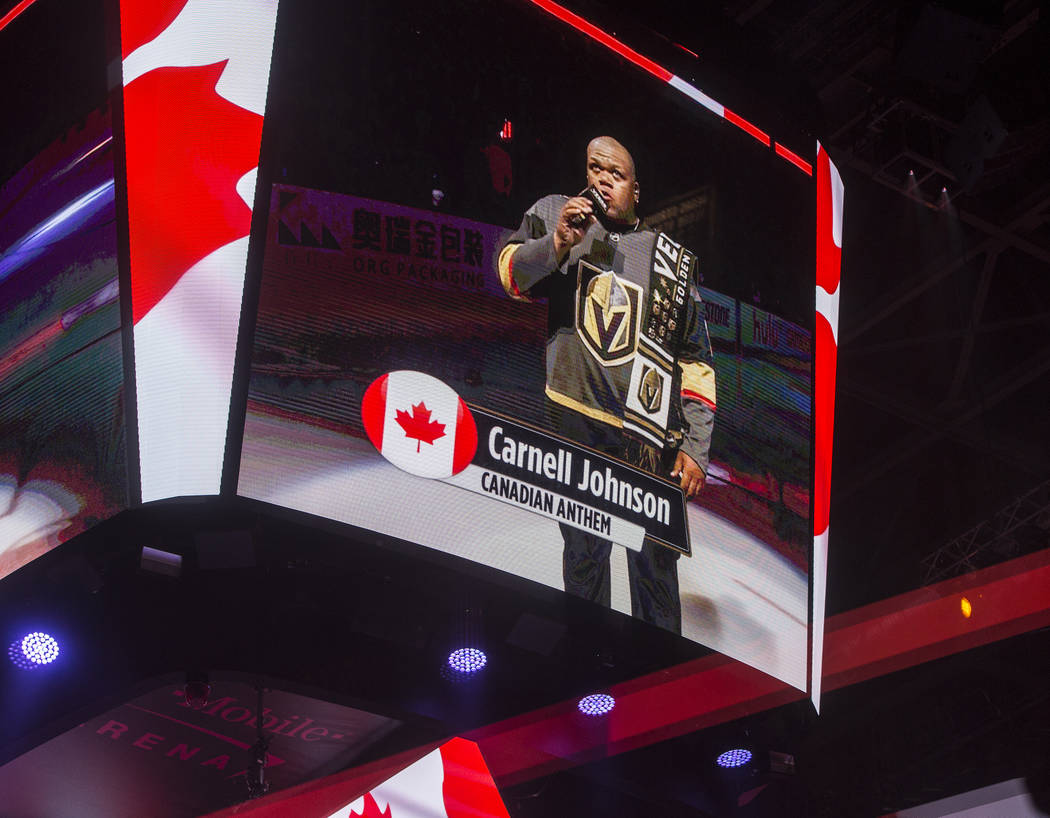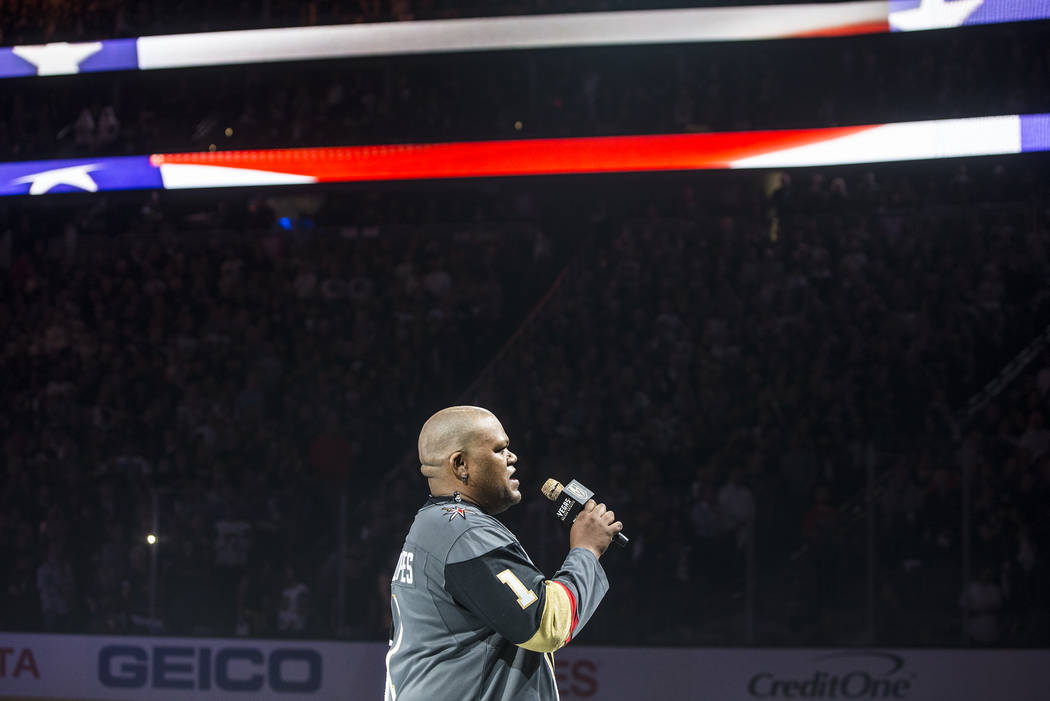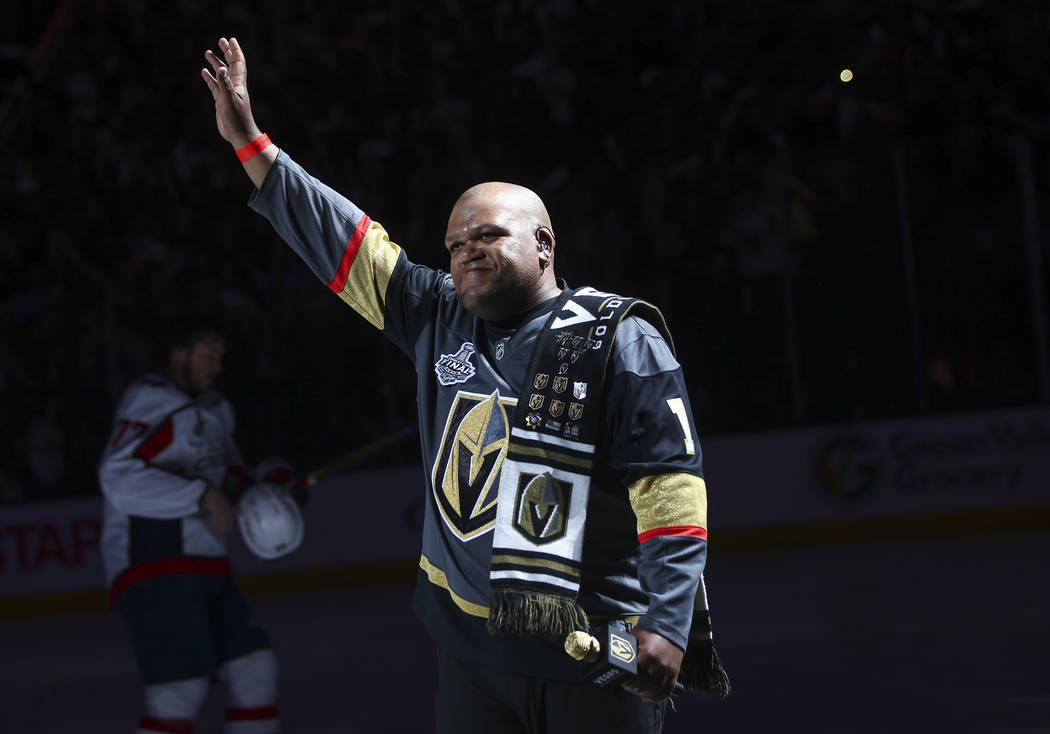 Not every singer gets the entire T-Mobile Arena crowd to rise to its feet for his first song. Carnell Johnson — dubbed Golden Pipes — gets that kind of reaction before, during and after he sings the national anthem at Vegas Golden Knights games.
His thoughts on a potential Stanley Cup: "When the Knights came in after Oct. 1, it brought this city something positive all of us could get behind. I think the Stanley Cup win is one of the most positive things this city has ever been through," Johnson said. "Oh man, just to be part of it is amazing."
Review-Journal: What is your perfect Sunday?
Johnson: No. 1 would be sleeping in. I'd get up, probably have a little breakfast. I'm a bacon, eggs and coffee guy. I'm open to anything after that. I work so much that it's rare that I get a day off. I do like to watch a bit of TV from the DC comic universe like "Supergirl" and "The Flash." I love them.
Who was the first to notice you had this voice?
I was born and raised mainly around Summerlin. There are tapes of me as a toddler with my mom singing along to the radio. Mom would have me sing with her. I can remember some of it. When I got older, we moved to Green Valley and I spent my teen years at Green Valley High School. I was always involved in music, especially choir.
When did your voice get that deep?
I was in sixth grade going into seventh. I had a high range and could sing up to the top of the piano. But that summer, right after sixth, my voice completely changed and deepened. The good thing is we were on break and my voice didn't crack too much at school. No one could make fun. I went back to school and the choir director said, "I guess you're not doing the high notes anymore."
On your audition for the Vegas Golden Knights, some might think it's a one-in-a-million shot.
I saw a notice on Facebook and sent in a video to the VGKs. It was me singing a musical theater song from "Les Miserables." I was asked to come in and do a live audition and then got an email saying, "Congratulations, you've been chosen to sing at a game. We'll send you another email." Then I didn't hear anything for five months. Meanwhile, I sat by and watched the Knights do all of these amazing things. Finally, I emailed them back, writing, "Hey, I got this email from you in August and wondered if there was a game I'd be singing at in the future?" A week later, they had a singer cancel due to sickness. I got the call.
How did you learn to adapt to the fans screaming out "Knights" during the anthem?
I had friends who had been to the games before I sang that first time. They told me about the fans so I decided not to sing the word "night" because you wouldn't be able to hear me. So, I just stop, take a breath while the fans do their thing and slide right back into the song. I love it. I know the people love it. It shows our love and respect for our home.
Carrie Underwood and some big stars have made it known they want to sing the national anthem for the Knights, but the fans want you and the team has supported you singing it. How does that feel?
It's a real testament to this city wanting to remain local and not sell out. People come to Vegas thinking we're just a bunch of partygoers and drinkers and there is all this debauchery. Not true. We have a real sense of community here. This is our hometown. The people have said, "What we want is the local singer singing the anthem. He was born here. He was with the team even before the playoffs." It's an incredible feeling.
What's it like when you hear the crowd cheering when you step onto the ice?
When the stadium erupts, there have been a few times I've had to hold back tears.
After the anthem, do you get to hang out with the team?
No, I'm actually given two tickets. I get to sit in the lower deck right behind the goal. Most of the time I take my son, who is 11, or my girlfriend.
Do you ever talk to the players? Got any faves?
I haven't met a single player yet. The fans have met more Vegas Golden Knights than I have. But I do love all the players because they're doing such great things. If I had to pick my favorite, it would be Jonathan Marchessault, although my son loves Marc-Andre Fleury.
Your day job is working as a gondolier at The Venetian and a supervisor/usher/audio descriptive technician at The Smith Center. Besides the gig with the Knights what is your dream job?
I would love to be on Broadway. I would love to do voice-overs for video games and animated movies from Disney, Pixar or DreamWorks.
The Review-Journal is owned by the family of Las Vegas Sands Corp. Chairman and CEO Sheldon Adelson. Las Vegas Sands operates The Venetian.