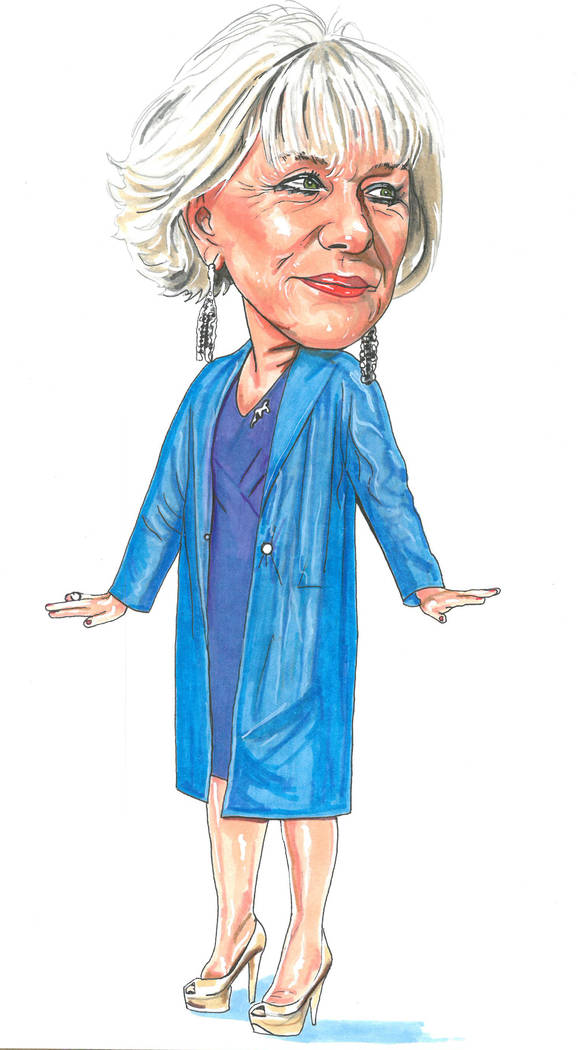 She's played a gun-toting hit woman, a teacher from hell and, of course, Queen Elizabeth II. Dame Helen Mirren says that no matter the role, she has a sure-fire way to wind down from all that emoting. "I love to watch those home improvement shows. I used to love to watch 'The Martha Stewart Show.' I'd sit there with a note paper thinking to myself, 'Oh, that's how you clean windows.'
"It's such lovely domestic information and I love it," Mirren says. "I was actually on her show once and we repotted something."
And yes, she won an Oscar in 2007 for "The Queen," but Mirren adds, "To repot with Martha was also a dream come true."
These days, Mirren has home on the mind in the supernatural horror film "Winchester" where she plays the eccentric firearm heiress who builds a fortress-style house with fake walls and endless passages because she believes that her home is haunted by the souls of the people killed by the Winchester rifle.
Review-Journal: How do you like to spend a free Sunday?
Helen Mirren: I love being able to have a lazy day with my wonderful husband (director Taylor Hackford) and friends. We'll make breakfast and take a long walk. You keep moving. That's the key. Then I love to spend time in my garden. If I have a few free hours, I love to dig around in the dirt. It's so calming and worthwhile.
What sparked your interest in playing Sarah Winchester, whose ultra-strange house in San Jose is a tourist attraction?
I had never heard of the house or Sarah Winchester before this script came to me. It was truly an extraordinary story. The challenge was she was a mysterious woman. We do know that she lost her beloved husband and a baby at a very young age. She married for love and suddenly it was all gone. She was left a very isolated woman in 1881. She had a fortune and built this strange Victorian mansion with so many oddities. Doors and stairways went nowhere. Some feel she was haunted by the people who died from the guns. Perhaps she felt as if she had to pay a price.
You also star in the spring film "The Leisure Seeker" opposite Donald Sutherland. It's the story of a couple who take the family RV on a last road trip to Key West. What resonated with this one?
This couple has gone through having the family. The kids are grown. Even the grandkids are grown. They're both struggling with physical ailments and decide to take their final road trip in their very first RV from the 1970s. It's the ultimate bucket list moment for the two of them. It's actually about the pursuit of dignity.
Was it hard to be cooped up in an RV?
(Laughs) I've spent almost my whole life in a trailer as an actor. I love the idea of making a cup of tea in your car.
Is it true that early on in your career you went to a fortune teller?
I was 22 when a palm reader told me that my greatest success would be after age 40. At the time, I thought this was terrible news. I thought, "Great, I'll be a success, but I can't wait that long! I want it now!" That's a very British thing.
What sparked your interest in acting?
When I was young in England, we couldn't afford cinema or theater. I didn't have much early exposure to art. We didn't have a TV. I do remember being taken by my mum to see an amateur production of "Hamlet" when I was 14. It was a wonderful time to be introduced to Shakespeare because at that age you're so full of dreams and desires. I was like a sponge. I went home and started reading the works of Shakespeare. It pulled me into a world of imagination. I felt drawn to it. I couldn't resist it. I wanted to be a great theater actress because I could be in Camelot. I could be a sniper outside a house in the snow. I could be in the Russia of my grandparents' photographs. It was fantastic because I grew up in a small town in England and I loved the escape of it all.
You won CinemaCon's Career Achievement Award in Vegas a few years ago.
It was quite thrilling and an honor for me to come to Vegas and receive that award. I never imagined that I would be in exciting Las Vegas being honored. Your mind flashes to that little girl who just wanted to be on stage in England and now was receiving this award in America. I received it with great pleasure. It also made me reflect on all the roles. It has been an amazing career and I want it to continue.
You have such a healthy view of aging. What's your secret?
I think there has been a sea change in people's attitudes about aging and a change in perception. An awful lot of people look and feel fabulous into their 60s, 70s and 80s. We should be encouraged and applauded for our ages. I embrace my age because there is no point in drawing a veil over the reality of life. I accept the absolute reality of what is happening to me as the years pass. The reality is if you're very fortunate, you do live long and get older.
You look so amazing, but always say you have no set fitness routine.
I'm far from being a traditional workout person. I have feet of clay and knees and a bottom of clay just like anyone else. The truth is I don't work out all the time. I try to take care of myself, move and eat right. I work out when I can. I've been blessed with great genes.
Several years ago ­— but not that many — there was a famous picture of you in a red bikini snapped by the paparazzi. Bravo!
That was just me posing for a picture for my husband when we were on vacation. The paparazzi happened to be nearby and caught me at the exact right time. Thank goodness!
And finally, you have a great Super Bowl story. Please tell us.
Once when my husband was making a film, it was Super Bowl Sunday. Taylor set up a TV in another room, so the crew could watch football between takes. Eventually, Taylor came to the end of the shoot that evening and found that most of the crew was in the TV room watching "Age of Consent" (1969). There was me … naked. On the screen. Nudity on film. It always comes back to bite you in the bum!