Imagine Dragons gives surprise Strip show
November 9, 2014 - 9:10 am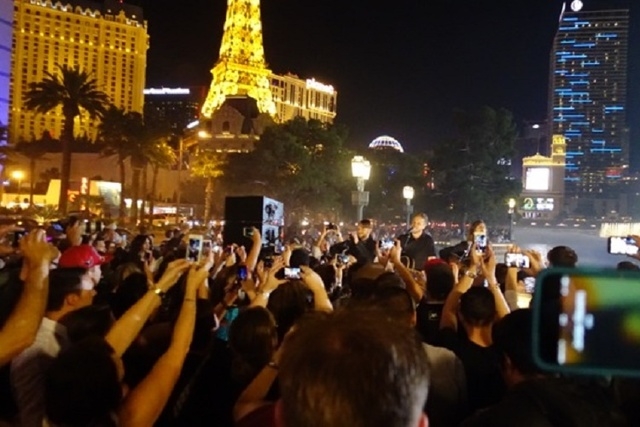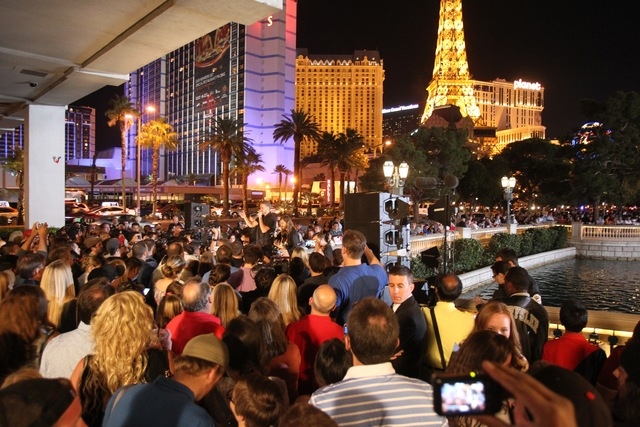 Evoking memories of the surprise rooftop performances of The Beatles and U2, Imagine Dragons put on a three-song pop-up show Saturday next to Bellagio's dancing fountains.
Thousands had gathered along Las Vegas Boulevard about dusk, curious about the large police presence, metal barricades and illuminated stage at the north end of Bellagio's lake.
They shot a video in front of the resort's dancing fountains, performing in front of sidewalks jammed with surprised tourists.
The Las Vegas band, formed in 2008, is made up vocalist Dan Reynolds, bassist Ben McKee, drummer Daniel Platzman and guitarist Wayne "Wing" Sermon.
Unannounced, they arrived at the stage and peformed "It's Time," "I Bet My Life" and their monster hit "Radioactive," which was nominated for two Grammy Awards: Record of the year and best rock performance. They won the latter category this year.
The event was a collaboration of R&R Partners on behalf of the Las Vegas Convention and Visitors Authority, which partnered with Sony Crackle to host the pop-up performance with the Las Vegas superstars. "I Bet My Life" is the latest single on the group's upcoming second album.
U2 filmed its "Where the Streets Have No Name" video on the roof of a liquor store in downtown Los Angeles on March 27, 1987, as a nod to The Beatles' final concert on Jan. 30, 1969, on the roof of their Apple headquarters in London's business district.
The Beatles played five songs in the final public performance before being shut down by police, ending with "Dig a Pony."
Police showed during the U2 performance at the Republic Liquor store at 7th and Main streets in Los Angeles but didn't shut down the show.
MEDIA UPDATE
CBS affiliate KXNT-AM (840) FM (100.5) on Monday launches "Dayna and Diaz," a morning news talk show built around three former TV personalities.
The co-hosts, Dayna Roselli and Carlos Diaz, will be joined by Nate Tannenbaum, the news anchor on the 6-9 a.m. show.
Diaz is the former host of the syndicated news magazine "Extra." Roselli was at KLAS-TV Channel 8 for eight years, the last two as a morning news anchor. Tannenbaum has been a meteorologist at local stations for decades.
"It's a news talk show," said Diaz, who has owned a home here since 2005. "Dayna and I are the talk, and Nate is the news."
Tannenbaum will be "the backbone," Diaz said. "Nate is amazing at what he does because he's got a great dry sense of humor and he's got the authority of being in this market now since 1989, so he knows Vegas almost better than anyone I know."
Roselli, who joined KXNT a year ago, said the station is pushing the FM side "because it's the only news talk radio on FM."
Diaz brings a sports, entertainment and news background to the show. He has worked for ESPN, Headline News (HLN) and won a Peabody Award for his coverage of the Indianapolis Colts as a sports anchor.
"This is not a stop," he said. "This is something I want to do for the next 10 years."
The rest of the team: former KLAS-TV Channel 8 reporter Melissa Duran, producer Mark Thomas (sports) and Lisa McKenna (traffic). Former co-host Joe Gillespie remains as news director.
Other media news:
■ Kevin Wall, who replaced Alan Stock three years ago in the 3-6 p.m. slot at KXNT-AM and FM, was let go before Friday's show. He was replaced by Jim Villanucci, who recently left KXL, a Portland, Ore., news talk station. "It was their decision — not mine," Wall tweeted.
■ The Beazley Broadcasting's KKLZ-FM laid off six employees on Oct. 15, including Jim Tofte, a longtime member of the morning team with host Mike O'Brian and Carla Rea.
■ "The Dennis Bono Show" has a big growth opportunity. The show has been signed by the California-based CRN Network, which expands the potential listening audience to more than 11 million homes nationally. The one-hour show, in its 10th year, is taped before a live audience at the South Point.
SIGHTINGS
"Sons of Anarchy" star Mark Boone Junior, requiring extra security measures due to surging fans at the D Las Vegas on Thursday. A barrier was formed in the casino's Longbar to keep fans at a distance while the TV star met with the D's owner, Derek Stevens, and his wife, Nicole. Spoiler alert: Boone Junior, who played outlaw motorcycle gang member Bobby "Elvis" Munson, was killed in Tuesday's episode in what is the seventh and last season of the FX series. … Rick Harrison of "Pawn Stars," called to the stage by rocker Bret Michaels at the D on Thursday for the finale, "Nothin' but a Good Time." Michaels, the lead singer of Poison, and Harrison have teamed up before at Sturgis, S.D., during the motorcycle rally. … Andre Agassi, putting on a tennis exhibition on Thursday at the opening of Lifetime fitness in Green Valley. … Kris Jenner and Scott Disick, filming "Keeping Up with the Kardashians" at Sapphire strip club on Friday. … Comedian Roseanne Barr, with her family at Tao Asian Bistro on Friday. … TV host Wendy Williams, with friends at Joe's Seafood, Prime Steak and Stone Crab (Forum Shops at Caesars Palace) on Thursday. She's in town to host the Soul Train Awards at The Orleans.
THE PUNCH LINE
"For the first time in years, Burger King has beaten McDonald's in sales. They attribute it to their new offering: chicken fries. That's why today McDonald's is offering burger shakes." — Conan O'Brien
Norm Clarke's column appears Sunday, Monday, Wednesday and Friday. He can be reached at 702-383-0244 or email him at norm@reviewjournal.com. Find more online at www.normclarke.com. Follow Norm on Twitter @Norm_Clarke.