'Instant Family' director Sean Anders on adopting his own brood
November 3, 2018 - 1:10 pm
Updated November 4, 2018 - 3:41 pm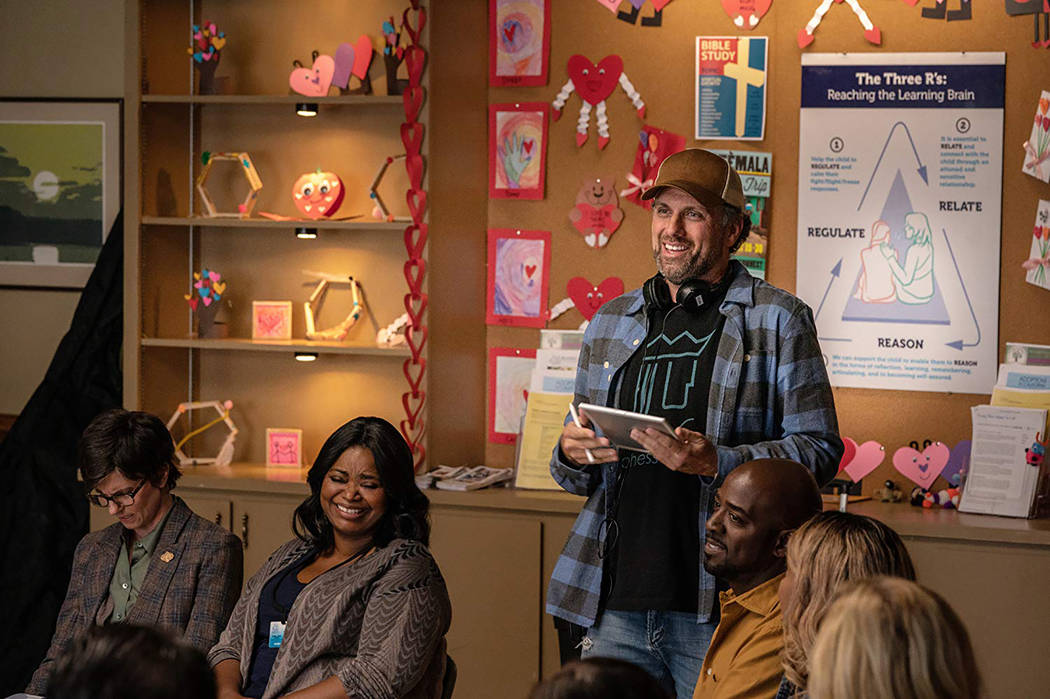 Sean Anders was a DINK: dual income, no kids. The film director and his wife, Beth, finally decided to add some small faces around the table, but there was one issue: "I did feel like I was a little past my baby-making prime. I didn't want to be one of those dads who couldn't throw the ball to his 15-year-old."
Anders joked with his wife, "Why don't we adopt a 5-year-old? It will be like we got cracking five years ago."
That's exactly what they did, adopting siblings who were 6, 3 and 18 months. His real-life story is now the fodder for the comedy-drama "Instant Family," starring Mark Wahlberg and Rose Byrne as Pete and Ellie, adoptive parents trying to figure out how to expand their family without losing their minds.
Review-Journal: Describe a typical Sunday.
Sean Anders: The chill Sunday is our favorite. My kids are 13, 9 and 8 now. A lot of times, I'll come up with something and go, "Hey, you want to go here?" And I'll hear, "No, we want to stay home and play or hang out." During the week, the kids are at school and sports. They just love their hang time. We love being low-key, hanging out around the house and then later watching a movie together. We're a pretty casual family.
How tough was it to decide to direct a fictional story based on your life?
It wasn't tough to decide to tell it. The tough part was to decide how to do it. At first, it didn't feel like it could be a comedy to me, but then my producing partner said, "You've told me so many funny stories about adoption and what went on in your home." The thought of doing an adoption story as a comedy became interesting to me because there have been so many intense dramas on this topic. Unfortunately, those movies sometimes add to some of the negative stigmas about these kids or how families are formed.
Tell us how your adoption story began. Once we started talking about adoption, we (looked) at a website just like the characters do in the film. It took a while for us because we had to figure out where to go online. It's one of the reasons at the end of the movie, I refer people to instantfamily.org. There are so many different organizations, and we want to point people in the right direction. The next step was to take classes, which is a good thing because it gives you time to really think it through. We were certified, but just then I got a movie to direct for Adam Sandler called "That's My Boy," which was being shot in Boston.
Then what happened?
I was gone for a few months. The very last day of shooting, I got a call from our social worker saying, "OK, are you ready to jump in?" I was in postproduction while we were being matched with kids.
In the film, the couple adopt a teenager. That's different from your story.
We nearly adopted an older child. My wife and I went to an adoption fair. We did meet a teenage girl there and her two siblings. We were afraid of teenagers, but those three kids were all very sweet. (They) had been in care for four years, but the oldest one was still very connected to her birth mother and holding out hope she was coming back. The agency told us the teen girl was not willing to go along with (an adoption). It was heartbreaking, but then our social worker said, "There are these other three kids who are 6, 3 and a year and a half. They had been in care for over a year." And those are now my kids who I love dearly.
How was bedtime the first night?
Madness. One of the things you don't think of is, "Oh, right, we have to bathe these people. We have to clip their toenails." It's a very weird thing. It's not baby-sitting. You are the parents, and you start on Day One.
When were you called Dad for the first time?
Beth and I didn't want to force the kids to call us Mom and Dad. Then, one day, our son Johnny said, "Hey, is it alright if I call you Mom and Dad?" (His eyes well up). We tried to be cool about it and said, "Sure, if you're comfortable with it. Whatever you think." Of course, we were both like, "Oh, my God!" Johnny actually went outside, came back in and was just trying it out because he had never called anyone Dad before. He goes, "Hey, Dad, can I …" When I answered to it, the floodgates opened and it became, 'Hey, Dad… Dad, look at this… Mommy… Daddy…" It was a good day.
You worked with Mark Wahlberg before in the "Daddy's Home" films. How did you get him on board for "Instant Family"?
I wrote Mark this passionate email explaining why this was so important to me. I attached the script, too. Mark gets up really early in the morning. He called me first thing and said, "Yes, I'm in. I'm doing it." Mark met a lot of kids in foster care over the years, and this was something that was important to him.
Last question: Ever bring the kids to Las Vegas?
We did take the kids on a road trip to Vegas. We just threw them in the back of the car. Quick story: When I was a little kid, my family drove from our home in Wisconsin to California. We were sleeping in the back of the station wagon and my dad woke us up in the middle of the night as we were driving through Vegas. He wanted us to see all the lights. I never forgot that. I did the same thing. We drove to Vegas, woke up the kids and said, "Look at this!"