Jason Statham, star of 'The Meg,' is an adrenaline junkie
August 10, 2018 - 4:20 pm
Updated August 12, 2018 - 11:32 pm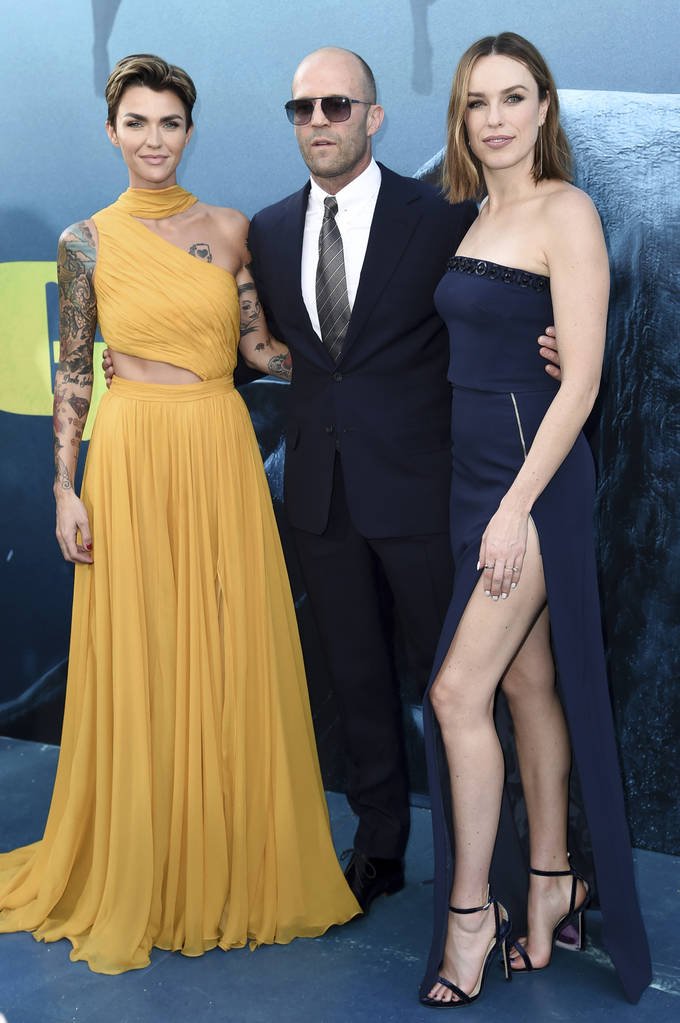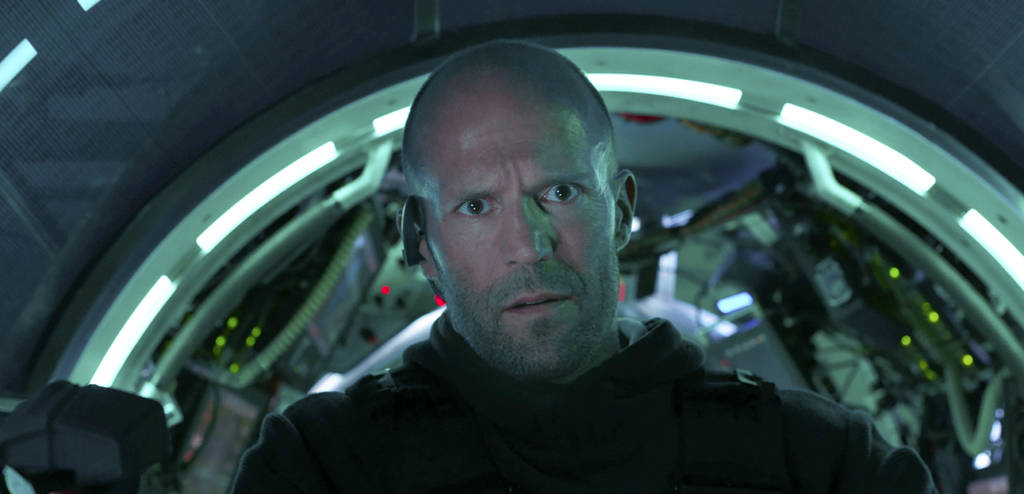 Actor Jason Statham would rather make war than love. Give him a building to blow up and the guy is delirious. Force him to strip down to just bulging biceps and do a scene in the sheets and he gets all girlie on you.
"Love scenes are tough. Falling off a building is easier," insists Statham, who plays tough and tender this weekend in "The Meg."
"Rolling around naked while making a movie is much more difficult than most men imagine. You have a roomful of people in places they shouldn't be."
He's also in places man shouldn't go in "The Meg," where the 51-year-old Brit portrays emotionally wounded diver Jonas Taylor, who loses some of his crew when a monster shark, a 70-plus-foot Megalodon, starts to terrorize the ocean blue. He has a yen for a fearless scientist (Li Bingbing) that has to wait while they save the world from prehistoric finned wonders.
At home, the tough guy logs far less dangerous times with significant other, actress Rosie Huntington-Whiteley, and their 1-year-old son, Jack Oscar.
Review-Journal: What is your perfect Sunday?
Statham: It's all about spending time with the family. I love what I do, but the best Sunday is just running around the house chasing after my little man. He's fast on his feet and I'm running around like crazy. We love him so much. There's nothing better than a day at home just chilling out.
Are you recognized when you go out, or to Vegas for CinemaCon?
Some people come up and might say, "You look like that action guy, but obviously you're not him." That's because when I'm not working, I dress so scruffy.
Does it make you smile that the biggest shriek from audiences during a test screening of "The Meg" was when you took off your shirt?
It's a lovely compliment.
You were an Olympic diver for the British National Team before you became an actor. Did you have to reacquaint yourself with the water for this film?
Before filming began, we had a couple of free dives to help me figure out how to relax and retain my breath in the water. I can hold my breath for about three minutes, which isn't that hard. …People can actually hold their breath for seven minutes because it's a reflex action. You can hold your breath underwater longer if you relax because it's like being in the womb.
Are you ever afraid in the ocean?
Anyone who has been out in the open ocean and has fallen off a boat has had the same first thought. I know I immediately think, "Am I going to get eaten by a shark?" You worry about your feet. "What's that brushing against your foot? Does it have teeth?" I think my biggest fear is not knowing what's underneath me in the ocean.
Have you done any shark diving?
I went to Fiji to dive with 30-foot bull sharks in the open water. Before you get into the cage, someone feeds them by throwing this bloody chum into the water, so the sharks circle around. I think the biggest moment of fear for me was before I got into the water. All my fear was left on the boat. From that point on, it was fascinating.
At 51, do you worry about doing your own stunts?
I feel great. There are days when the joints don't agree with what the mind tells me. The key is you do more maintenance. You don't eat all the crap. You service the car more and don't wait for the warning lights to go on.
Do you ever count your bruises?
I do have my fair share of knocks and bruises. … At a certain age, you find that you tend not to heal so quickly. … I'm like the Michelin man. Just keep knocking me down and I get up.
Are you an adrenaline junkie?
I like to do movies that get the heart going. It makes me feel alive and I hope the audience feels alive, too.
Before becoming a star, you sold fake perfumes and bootleg watches on London streets. You also had this idea to act. Did people tell you that you were crazy?
My thing in life is to always do a little better than I did the last time around. I'm still that guy who is trying to take it up a notch. That's just me.