Jimmy Kimmel sent audience to Letterman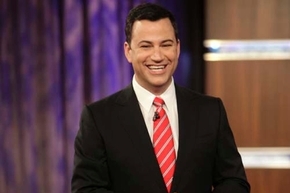 Jimmy Kimmel did something unheard of in the often-cutthroat world of late-night television.
The ABC host told viewers to switch channels on Wednesday and tune in to David Letterman's farewell show on CBS.
ABC went along with Kimmel's wishes and aired a rerun of his show.
Kimmel made his hometown proud with the magnanimous gesture.
He grew up in Las Vegas idolizing Letterman. The license plate on his car was "L8Nite" and one of his birthday cakes was designed after Letterman's logo.
A choked-up Kimmel told his audience on Tuesday, "The reason I have this show is because the executives at ABC saw me when I was a guest on Dave's show — and hired me to host this show. So I want to thank Dave and his writers and producers.
"Dave is the best and you should see him," said Kimmel, whose obsession is drawing pictures of Letterman on textbook covers.
He also wore a Letterman varsity jacket.
"My friends who also loved the show would come over — my parents would be asleep — at midnight and we would drink soda and watch the show," said said. "Looking back, I figured out why none of the girls at school wanted to have sex with me."
ROCK AND REELING
OK, I stand corrected.
In Wednesday's column, I mentioned $64 pizzas as the most agregious example of high prices at the Rock in Rio USA festival.
I was off a tad. Turns out there was also a $70 specialty pizza.
But, to be fair, I heard from some vendors who said the prices overall compared favorably to the going rate at other major festivals.
Water, sodas and Red Bull were in the $4 to 5 range. Wine by the glass went for $9, and mixed drink cocktails were $12 and $14.
Twenty-four ounce cans of Corona and Modelo were $12. I've paid $12 for a 12-ounce beer at a Las Vegas megaclub.
Out of the 34 unique food vendors, prices ranged from $5 edamame and egg rolls to $18.50 lobster rolls.
"I know the $70 pizza was a shock," one vendor said, "but just wanted to let you know that didn't represent the entire picture. Roughly 80 percent of the food items fell between the $8 to $12 range."
The festival's three pizza vendors sold slices of pizza for an average of $7 to $8, with most whole pizzas going for $42 to $48 (six slices per).
"Those are typical prices for a festival," the vendor said.
Now, to the most-asked question I got all week: "What the hell was on the $70 pizza?"
It was an extra large, meat-loaded, 12-piece Sicilian style behemoth.
MARIAH'S INCREDIBLE CAKE
It didn't take long for a former contestant on TLC's "Cake Boss: Next Great Baker" to land an A-list client in Las Vegas.
Mariah Carey's manager contacted Kai, a celebrity cake creator, to put together a Mother's Day cake for the Caesars Palace headliner.
It was topped with Kai's specialty, an extreme sugar sculpture in the shape of a stiletto shoe.
Covered with edible 24-karat gold, gold glitter and Carey's signature butterfly, the cake was "a last-minute piece that took over 18 hours straight" to make, said Kai, who doesn't give out her last name.
Her celebrity cakes have cost as much as $18,000, she said. She moved her company, Kailava, from Utah last month.
A relative of Hawaiian singing legend Don Ho, she and her aunt, Rox, were big hits on Season 4 of "Next Great Baker" last year with "Cake Boss" Buddy Valastro. He opened Buddy V's restaurant and Carlo's Bakery in the Palazzo last year.
THE SCENE AND HEARD
An unhappy Lauren Michaels Bernard resigned from KLUC-FM, 98.5's "Chet Buchanan and the Morning Zoo" on Thursday. In making the announcement on Facebook, she wrote: "I believe that everyone deserves to be in a situation where they are happy." She added, "I'm not leaving Las Vegas and will definitely be on your radio again the future." Hmmm, that last sentence has a familiar ring. Mark DiCiero, half of the longtime KMXB-FM, 94.1 duo of "Mark & Mercedes in the Morning," said something similar when he resigned in mid-December. His six-month noncompete expires next month, and many believe it's a done deal that he's moving to Beasley Broadcast's KGVS-FM, Star 107.9, formerly Bob FM. …
The screening of the film "The Misunderstood Legend of the Las Vegas Moulin Rouge" will be held at 2 p.m. Sunday at the West Las Vegas Library Theatre, 951 W. Lake Mead Blvd. The event coincides with the 60th anniversary of the opening of the first racially integrated hotel and casino in Las Vegas. There will be a discussion featuring UNLV historians Dr. Michael Green and Claytee White and Stan Armstrong, one of the filmmakers.
SIGHTINGS
Rap legend 50 Cent will be hosting at Sapphire's pool and dayclub from 2-5 p.m. Saturday. … Actor-model Tyson Beckford, in the audience at Britney Spears' show at Planet Hollywood Resort on Thursday. … Bally's headliner Veronic DiCaire and her dancers, taking in Carey's show on Wednesday at The Colosseum (Caesars Palace). … German film star Martin Kaps married Julia Niederbroke on Thursday at the Little Church of the West.
THE PUNCH LINE
"We'll be debuting our new act at Caesars Palace with our white tigers." — Letterman, on what he and his longtime band leader, Paul Shaffer, plan to do next.
Norm Clarke's column appears Sunday, Monday, Wednesday and Friday. He can be reached at 702-383-0244 or email him atnorm@reviewjournal.com. Find more online at www.normclarke.com. Follow Norm on Twitter: @Norm_Clarke