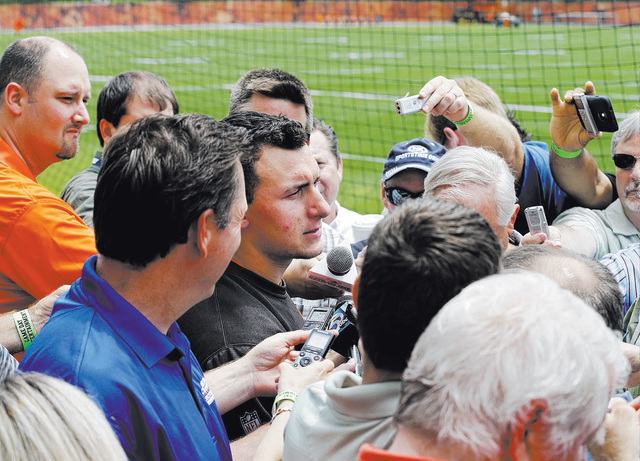 The national debate has raged all week: Will a weekend of partying in Las Vegas be Johnny Football's downfall?
Judging by the howls, you'd think Johnny Manziel one-upped Prince Harry's famous game of buck-naked billiards.
We know scandal. This one didn't move the needle. So far, anyway. Johnny Football was a saint compared to other Vegas headline makers of recent vintage.
He didn't have a 55-hour marriage (a la Britney). He kept his knickers on (and in this social media age we'd know otherwise by now). He didn't party here until sunup on the day of a playoff game (like an NBA player — a starter – who was quietly sent packing when word got around).
But it was such a hot subject that #johnnyinvegas was trending on Twitter. The hashtag topic, by the way, was created by NFL Network.
"JohnnyinVegas will put #TebowMania to shame!" tweeted BarberShopSports.com.
Former NFL MVP Rich Gannon sided with those who said it was a mistake on Manziel's part.
"I don't see how that weekend helps Johnny," Gannon said. "Look, he didn't do anything wrong or bad. But all players aren't created equal. You're held to a higher standard as the face of the franchise."
Can't wait for Joe Namath and Jim McMahon, who were known to have a good time, to weigh in on that point. Or Adrian Peterson, the Minnesota Vikings All-Pro running back, who was in town over the weekend.
"Johnny Manziel went to Las Vegas. So what?" Yahoosports.com yawned in a headline.
"When there's some proof of Manziel doing something wrong or his life off the field (is) getting in the way of his career, let's revisit the situation," Frank Schwab of Yahoo Sports wrote.
Manziel's only mistake, wrote John Breech of CBSSports.com, was "having his picture taken with Pauly D from Jersey Shore. A picture with Snooki would have been better. Actually a picture with anyone would've been better."
FAMOUS GOWNS
Jan Jones Blackhurst, Las Vegas' first female mayor, put her finest gowns on display for a good cause Wednesday at her home.
About 160 women in the gaming industry paid $100 to attend "The Power of the Purse," which featured about 20 outfits Jones Blackhurst wore to major events.
The outfits included a black beaded Bob Mackie gown worn to President Bill Clinton's first inauguration, a Chanel for a dinner hosted by President Barack and first lady Michelle Obama and a Versace for an event in which Jones Blackhurst met Prince Charles.
Jones Blackhurst is executive vice president of communications and government relations for Caesars Entertainment Corp. The event was a fundraiser for the Global Gaming Women Charitable Education Fund, which provides scholarships.
PAT BOONE'S 80TH
Celebrity impressionist Rich Little will be on the dais Sunday for a benefit roast featuring singing legend Pat Boone on his 80th birthday at the Beverly Hilton in Beverly Hills.
Talk show host Larry King will emcee the benefit for Ryan's Reach in honor of Boone's grandson who suffered a traumatic brain injury in 2001.
Little was a fixture during the golden days of roasts, when Dean Martin hosted them on NBC specials in the 1970s and 1980s from the MGM Grand's Ziegfield Room.
"I recently saw a photo with 20 of us roasters in it, and the only three people still alive were me, Ruth Buzzi and Don Rickles," said Little, who is putting the finishing touches on his new show "Little by Little." It features true stories of five U.S. presidents he's known over the years.
SIGHTINGS
Kate Walsh, who stars in the TV hit "Fargo," at "Michael Jackson One" (Mandalay Bay) on Wednesday. … Current UFC heavyweight champion Cain Velasquez, ordering a bison cheese steak at Greens and Proteins on Thursday.
THE PUNCH LINE
"Casinos in Las Vegas are now taking bets on when Kim and Kanye will divorce. I think that is outrageous. It's terrible. But if I were betting man, I'd put 20 bucks on 'fall sweeps.' " — Craig Ferguson
Norm Clarke's column appears Sunday, Monday, Wednesday and Friday. He can be reached at 702-383-0244 or email him at norm@reviewjournal.com. Find more online at www.normclarke.com. Follow Norm on Twitter @Norm_Clarke.