Judge orders Johnny Depp to stay away from estranged wife, Amber Heard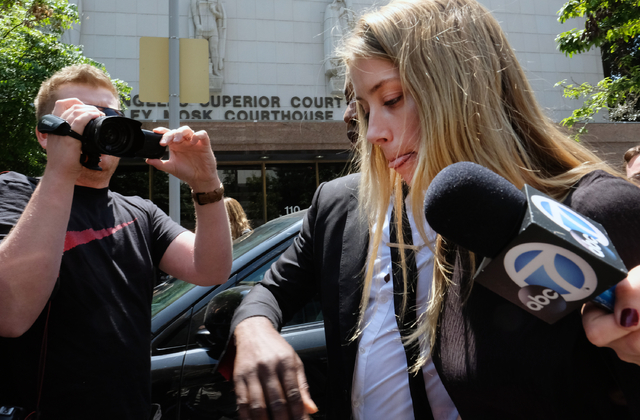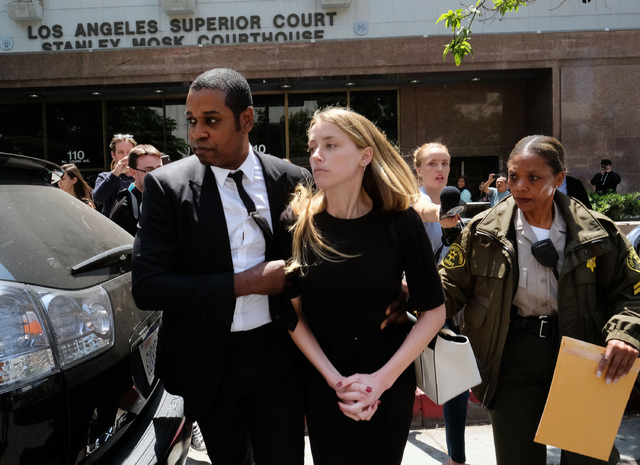 LOS ANGELES — A judge ordered Johnny Depp to stay away from estranged wife Amber Heard after she accused the Oscar-nominated actor of repeatedly hitting her during a recent fight and leaving her face bruised.
Los Angeles Superior Court Judge Carl H. Moor also ruled that Depp shouldn't try to contact Heard until a hearing is conducted on June 17.
Heard said in a sworn declaration that Depp threw her cellphone at her during a fight Saturday, striking her cheek and eye. She submitted a picture of her bruised face when she applied for a restraining order Friday. She also wrote that the actor pulled her hair, screamed at her and repeatedly hit her and violently grabbed her face.
She appeared at a Los Angeles court on Friday and had a bruise on her right cheek below the eye.
Los Angeles police responded to Depp and Heard's residence on Saturday, but were asked by the person reporting domestic violence not to take a report and did not provide evidence. "Officers' investigation determined that a crime did not occur," Los Angeles police officer Aareon Jefferson said Friday.
Heard's filing alleges a history of abuse throughout her relationship with Depp, which started after they met on the set of the 2011 film "The Rum Diary."
"During the entirety of our relationship, Johnny has been verbally and physically abusive to me," Heard wrote. "I endured excessive emotional, verbal and physical abuse from Johnny, which has included angry, hostile, humiliating and threatening assaults to me whenever I questioned his authority or disagreed with him."
The restraining order was issued on the day Depp's latest film, "Alice Through the Looking Glass," opens in theaters. A Walt Disney Pictures spokesman declined comment on Heard's allegations.
Heard's filing Friday said the actor was high and drunk when Saturday's alleged abuse occurred.
"I live in fear that Johnny will return to (our house) unannounced to terrorize me, physically and emotionally," Heard wrote in a sworn declaration.
She also submitted a declaration from a friend who wrote that she shot pictures of Heard's bruised face shortly after Depp left.
Moor rejected Heard's request that Depp attend a year's worth of anger management classes and the protective order extend to her dog, a Yorkshire terrier named Pistol. The status of the couple's other dog, Boo, was not immediately known. (The dogs received worldwide publicity last year when Heard brought them into Australia without proper documentation. Heard and Depp released an awkward video last month apologizing for the action.)
Heard's Friday filing states the May fight was preceded by an incident in April in which the actor skipped her birthday party and showed up later high and drunk and pushed her to the floor. After that incident, Heard wrote she did not see the actor for another month.
Moor did not conduct a hearing on Heard's requests, and she waited for the judge's ruling in an office where a member of her private security team stood guard. She emerged from the courthouse into a crush of photographers who mobbed the model-actress and her attorney, at times blocking their paths to a waiting vehicle.
The filing came five days after Heard filed for divorce.
Depp's attorney, Laura Wasser, declined to comment. Depp is in Portugal for a performance with his band Hollywood Vampires.
Wasser wrote in a court filing that Depp was out of the country and would agree to a mutual stay-away order. She contended that Heard's filing, along with requests for financial assistance from the actor "appears to be in response to the negative media attention she received earlier this week after filing for divorce."
Heard's divorce filing cited irreconcilable differences and said the pair separated the day before. She is seeking spousal support from the "Pirates of the Caribbean" star, but Depp's response filed Wednesday asked a judge to deny the request.
RELATED
Johnny Depp surprises fans at Disneyland dressed as Mad Hatter: VIDEO
Johnny Depp's wife apologizes for smuggling dogs into Australia: VIDEO
Johnny Depp makes fun of his apology to Australia over dog smuggling