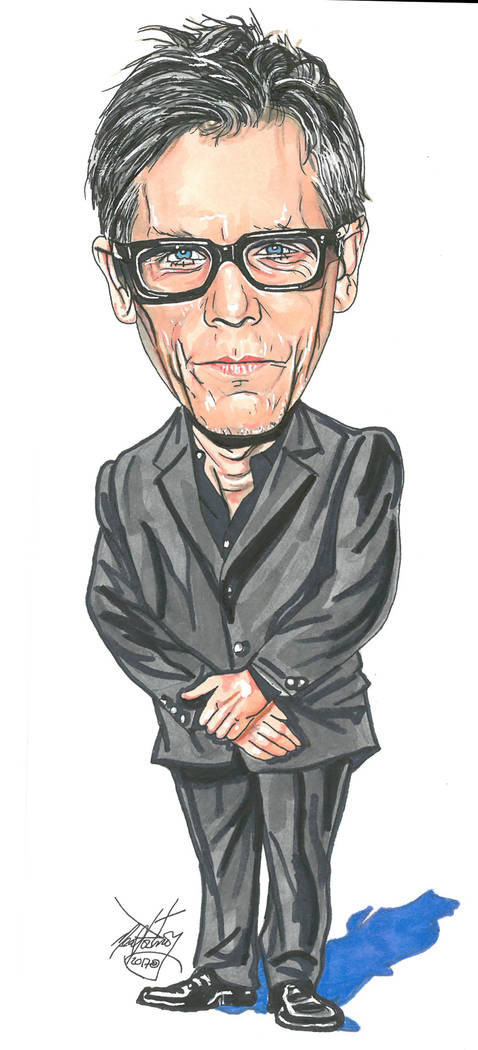 He still has those boyish good looks, but don't expect Kevin Bacon to kick off his Sunday shoes even if it's the seventh day. At age 58, the former "Footloose" star and prolific actor prefers to be a little bit more low-key. After 65-plus movies including "Diner," "JFK," "A Few Good Men," "Mystic River" and the series "The Following," he deserves some R&R. "Sunday, if I'm not working, is a day to meditate, kick back, hang out with my family," he says. "And I love a 15-minute nap."
Bacon, married to actress Kyra Sedgwick, stars in the Amazon series "I Love Dick," revolving around a married couple's relationship, which is tested when they both fall for the same professor. Bacon plays Prof Dick in the comedy by Jill Soloway ("Transparent").
Review Journal: Sundays at the Bacon house sound pretty laid back.
Kevin Bacon: "You might find me on a couch on my back with my feet up and my hands crossed over my chest taking a little nap. Then I'm good to do activities like go to the gym or for a bike ride with my wife. Maybe we'll go to a little pizza joint and get a slice."
You've been married to Kyra since 1988. And the secret is …
"Whatever you do, don't listen to celebrities who give advice on how to stay married. That's the secret."
With such a long filmography have you ever filmed in Vegas?
"I'm thinking … and no. But I do come to Vegas with my band, the Bacon Brothers. We've played Vegas quite a few times and it has been great since the audiences are really high energy. It's a nice party atmosphere."
So, if the Bacon boys are in Sin City, are you hitting the Strip before a show?
"No, I remember staying just a bit outside the Strip when we came to town. On one of our days off, we went for a relatively short, but beautiful drive to go for an incredibly beautiful hike in Red Rock country. I just loved it. We hiked all day. I know that story doesn't involve dice, but Vegas has more to offer."
Did anyone need to send out a search crew to find you?
"(Laughing) Nope. No search crews. We brought enough water with us and we're pretty good at hiking, so there wasn't any emergency."
Your new show has a very interesting title.
"It's a fun title. It forces people to say those words, but you have to be careful. People do these internet searches for the show and … I think there should be a one-day pass for couples where you can Google the name of my show and no one gets in trouble for what might end up on your search list."
Wasn't your wife Kyra instrumental in you saying yes to the show?
"Yes, Kyra said, 'You should do this because of Jill. You don't even need to read the script.' She knew the title and who was involved. Then Jill told me, 'You gotta do this one.' So many people told me that I had to do it."
Tell us about your character.
"He's a complex man. You can say he is a jerk or a misogynist. I think as the new season plays out, you will see some confusion and some vulnerability. He's basically struggling through a period in a man's life where you think about mortality and your power as a man. It was a great place to explore a character and find what makes him tick. Jill and I talked about him being at a crossroads. Maybe he has made some decisions about his life and now it's a bit upended. He also has to deal with the presence of these people in a small town."
He's a star in his small town. You said that thinking about celebrity helped you in this case.
"In this small pond, he's a major celebrity. Everyone in town knows something about him, which is something I've had experience with for a large part of my life."
It seems impossible that you're past 50. How have you handled it?
"It's okay. The only thing about aging I don't like is the 9's. They're always bad for me. But I think it's different for everybody. It's not like I want to go back in time."
You've been acting for over three decades. How does one achieve that kind of career longevity?
"Gratitude. I'm very grateful to have had any kind of career as an artist. If you can make a living in the arts you should be grateful. It's not just that I've been able to work, but I've been given a lot of different types of parts. Indie films, big movies, TV. The things that come my way have always been varied. That's what attracted me to being an actor. I wanted to walk in a different man's shoes every time out."
Any advice for the acting and music community of Vegas, especially for those starting out?
"Address the fear and then you can pretty much deal with anything. I think a lot of struggles that creative people have are emotional ones based in fear. Maybe it's a fear of failure. A lot of really well-known people struggle with this notion that whatever they've done makes them kind of a fraud or there is nothing valuable about it. So I say, 'Don't be afraid to create and open your heart.'"
And finally, how do you react to that game. … Six Degrees of Kevin Bacon?
"At first, I was horrified by it. I thought it was a giant joke at my expense. I do appreciate it now, but I was very resistant to it at first. I started to hear about it in strange ways. People would come up to me and touch me and say, 'I'm one degree.' I really didn't know what was going on."
Maybe it's a testament to such a long, amazing career.
"Or maybe it's just that my movies are on a lot. Just grab your remote."