Las Vegas magician performs for TV audiences, his rescue dogs — VIDEO
August 8, 2017 - 10:25 am
Updated August 8, 2017 - 10:48 am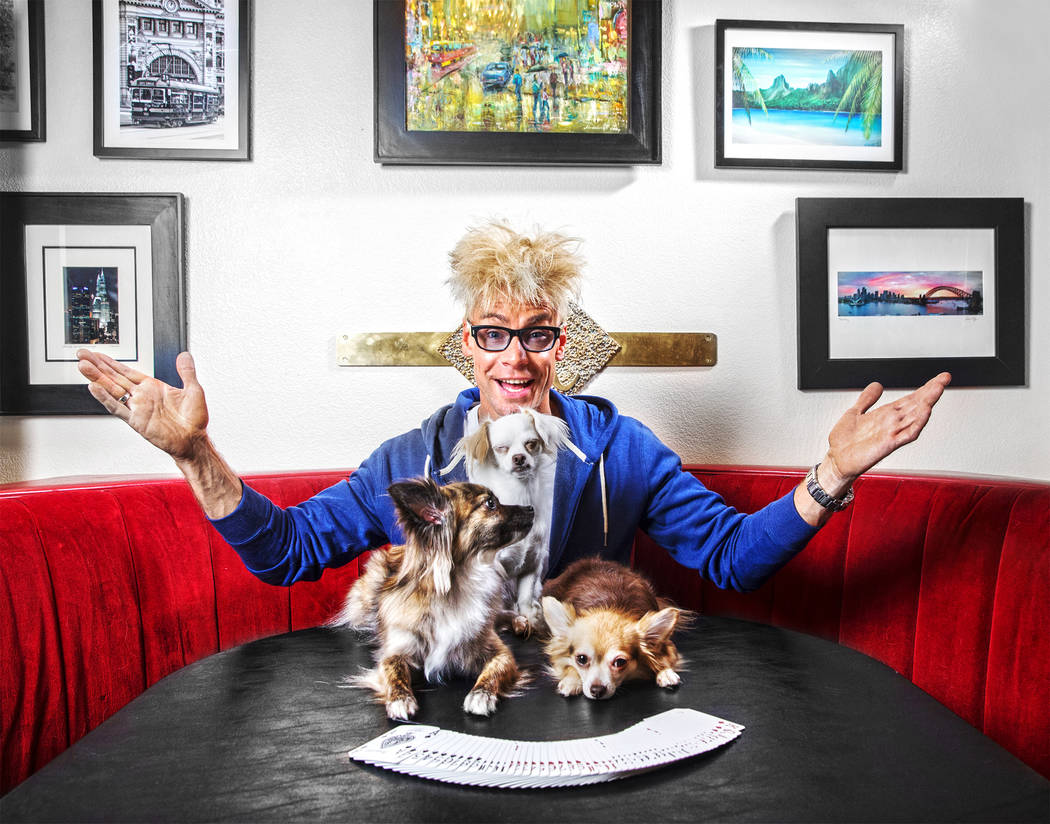 Vegas Voices is a weekly series highlighting notable Las Vegans.
Murray SawChuck, aka Murray The Magician, began preparing for the rigors of performing on the Strip at an early age.
As a 7-year-old growing up in Burnaby, British Columbia, his parents gave him a Siegfried & Roy magic set. Then in high school, whenever there was a local talent competition, he'd find himself competing against a Burnaby singer named Michael Bublé. "He'd always win the vocal category," SawChuck says, "and I would always win the variety category."
The SawChucks are a railroad family, and he's the first of his relatives to break away from that. He's basically Hermey the Elf from "Rudolph the Red-Nosed Reindeer." "Exactly. Totally. 100 percent," he says. "I even look like him. I just need the hat is all I need. And those awesome pants."
SawChuck, 43, moved to Las Vegas in 2002 and is perhaps best known for his 2010 run to the semifinals of "America's Got Talent." He's also the magic expert on "Pawn Stars" and is in his fourth season as a regular on "Masters of Illusion" (8 p.m. Fridays, The CW). And he can be seen live at 4 p.m. Saturdays through Mondays and Thursdays in Planet Hollywood Resort's Sin City Theater.
Review-Journal: You've done a lot of reality TV, everything from "What Not to Wear" to "Wipeout" and "Top Gear USA" to "Blind Date." Is that just about getting your brand out there? Or do you actually like being on reality shows?
Sawchuck: First of all, yes, it's getting my brand out there. A hundred percent. (Then when William Hung became a sensation thanks to "American Idol") I went, "Wait a minute, if he can be crap and be on TV, I can be just as crap and be on TV."
What does it mean to have a weekly showcase for magic like "Masters of Illusion"?
TV still is king. I know the internet's going to take over any second now, and it's doing that now. But there are internet stars who still want a TV show. It's still television. And to be on TV every week is a very powerful thing.
Speaking of your entertainment resume, according to IMDb, you had an uncredited role as a scientist in something called "Zombie Strippers." Please tell me that's true.
That's funny! Yes, it is. Can you believe that? It was Jenna Jameson and Robert Englund. I'm a huge fan of Robert Englund. I grew up watching "Nightmare on Elm Street." … I enjoyed the set more than the whole thing because the set was (the Linda Vista Community Hospital). It's the actual original hospital where they shot the pilot episode for "ER." It's a closed-down hospital. When they shut it down, they shut it down. They didn't take anything out of it. They just shut the sucker down, and that's it. … We walked up and down the different corridors. And let me tell you, if anyone's scared of ghosts and stuff, this is not a place to be. But if you love that stuff like I do, it was amazing.
You've got the hair and glasses, Penn & Teller have their suits, Criss Angel has whatever you call that. How helpful is it for a magician to have a recognizable look?
Huge. See, I'm old school. Maybe it's because my parents had me when they were later in the game. My dad was 43 when he had me. So when I grew up, I was watching Johnny Carson and Lawrence Welk. … So I saw a lot of people on TV that they appreciated when maybe someone my age would have been listening to Motley Crue or Iron Maiden, because that's when they were all coming up. And I was watching Conway Twitty and George Strait. … I grew up watching Phyllis Diller, Dean Martin, Don Rickles and Liberace. And they were all talented in their own right, but when they walked into a room, you knew it was (them).
And as for your look?
So when I dressed myself, my glasses are a bit more oversized, my hair's a little bit more ridiculous, because even though you're good at something — especially in this day and age now where everyone's an Instagram star and everyone's a YouTube star — I think you need a look more than ever now. Because everyone's good-looking. Everyone's young it seems. Everyone can Photoshop themselves to look like anybody they want now. … I know a lot of good magicians. There are five I could mention right now. They're very good online, but all five of them could walk down the street, and you'd never recognize them.
Your social media is full of photos of your dogs. Are they all rescues?
Two of the dogs are rescues, Bailey and Smudge. And then Kahlua, which is the littlest one, I got her about six years ago from a dear friend in Colorado.
What is it about rescues?
I'm a huge fan of rescuing animals. You have to have a bit more patience, because they've been abused or they've been neglected. But, man, when you rescue a dog, you just cannot understand why someone wouldn't want them. And it just makes you want them even more.
What's something people may not know about you that might surprise them?
People always see me with the hair and the glasses and the eyeliner and all this other crap. And, realistically, if I could, I'd wear ripped jeans, cowboy boots, a baseball cap, and I wouldn't shave. That's really who I am. I grew up like that. My parents had a ranch for 28 years, so I grew up on the weekends cleaning horse stalls and riding horses, cutting down trees and all that. But you look at me, and it looks like I can't even hold a hammer.
Getting to know: Murray SawChuck
What did you want to be when you grew up?
"For real jobs, I wanted to be a chiropractor, a firefighter or a marine biologist. I love all those fields. I think they're great. I love the responsibility."
What do you do when you aren't performing or hanging out with your dogs?
"I love working on my classic cars. I have a '73 Corvette Stingray, and I have a '69 Pontiac Grand Prix, which was my dad's car. He brought me home from the hospital in it."
What was the most recent concert you saw?
"George Strait at the T-Mobile Arena (two weeks ago). I was raised on country music. I always wanted to see him, because he's just that country star that's the Elvis of country music. … The one before that was Bruno Mars on New Year's. I was blown away. I'd go see Bruno Mars every time he's in town. He's the new Prince. He's the new Michael Jackson."
What's your favorite indulgence?
"Going for sushi and sitting on the patio like at Kona Grill. I love doing that. Just chilling out, having a beer and some sushi."
What's your everyday ritual?
"I get up, make my coffee, walk up my driveway, pick up the paper. I love doing that. I usually sit here for an hour before I start my day, check my messages on my phone and read the newspaper."
Contact Christopher Lawrence at clawrence @reviewjournal.com or 702-380-4567. Follow @life_onthecouch on Twitter.