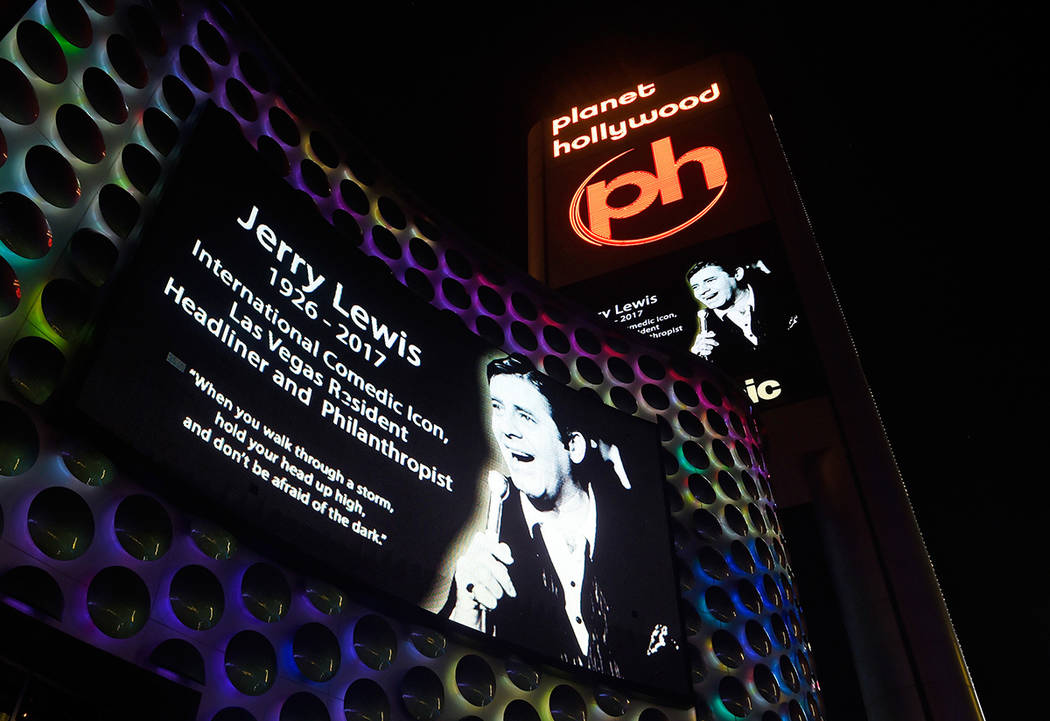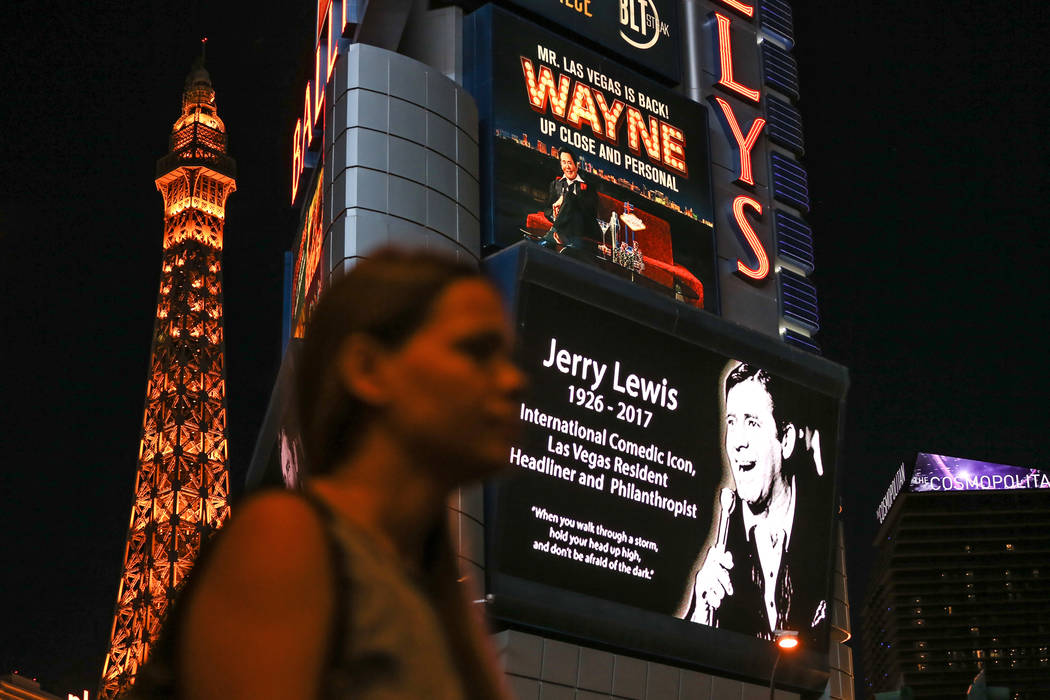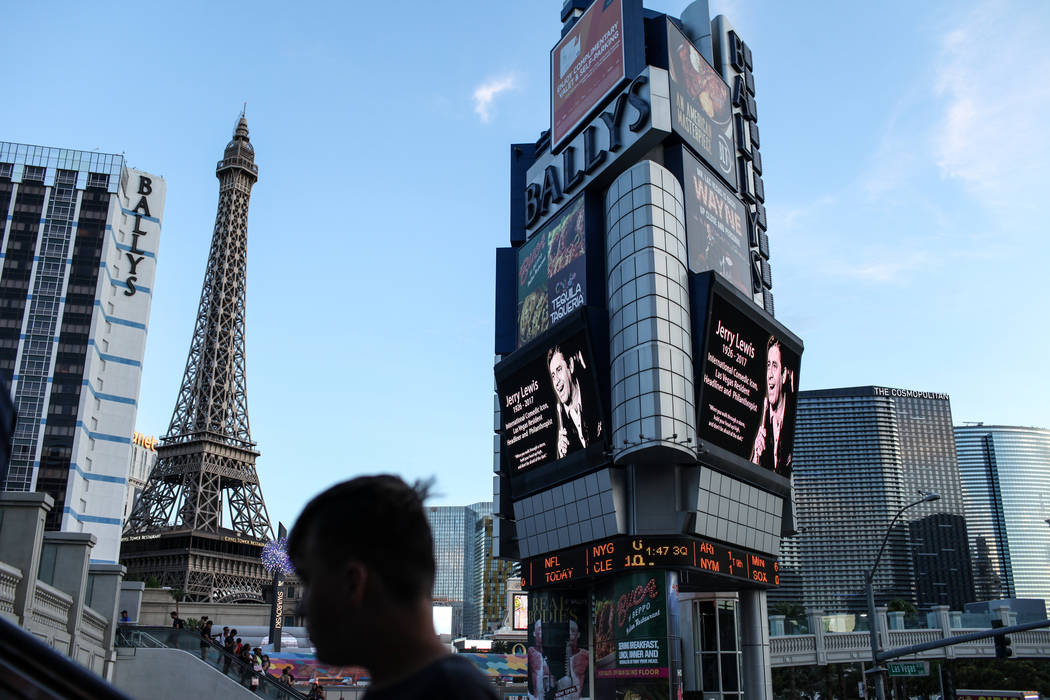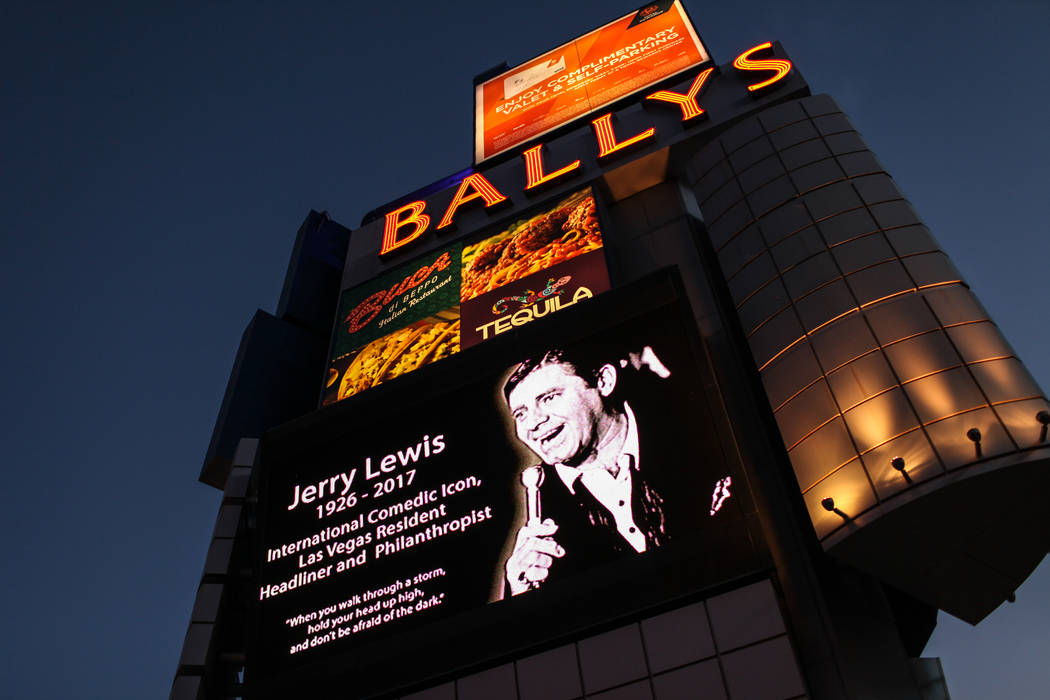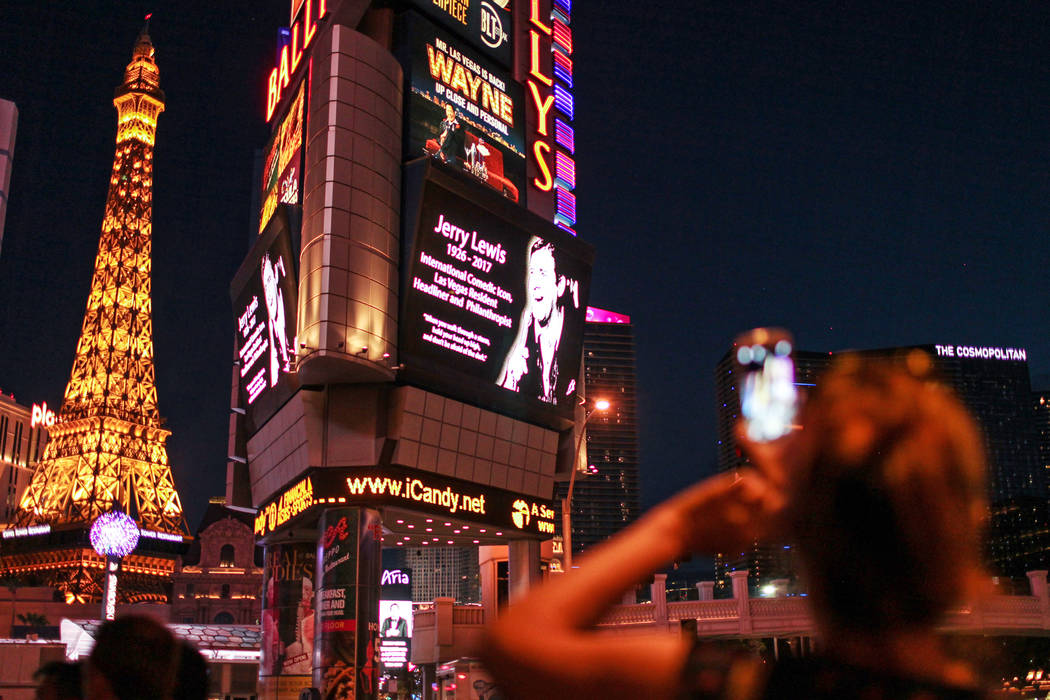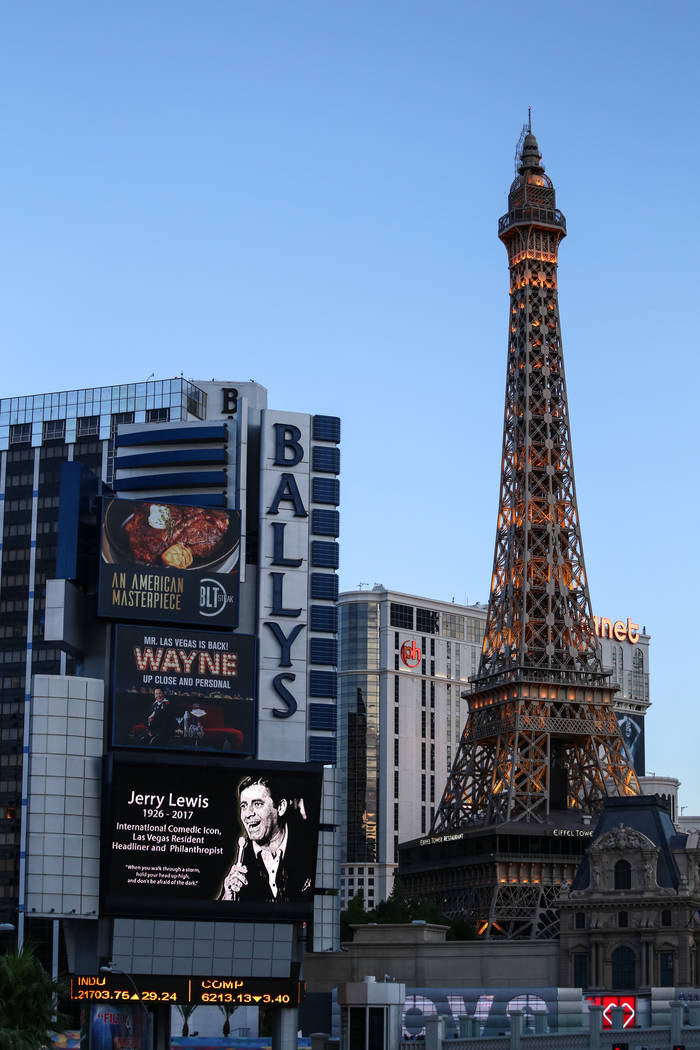 On Eclipse Day, as twilight gave way to darkness, a different kind of light show illuminated the Las Vegas Strip.
Interrupting the jumbo, sunlight-bright sales pitches, on marquees where casinos tout their Cirque du Soleil shows — and their Starbucks locations — still photos, in glorious black and white, briefly interrupted the advertising barrage.
Suddenly, there was Jerry Lewis — who died Sunday at age 91 — back on the Strip, beaming from marquees of casinos that didn't exist, in a Las Vegas that didn't exist, when he and former partner Dean Martin made their Flamingo debut.
These days, Donny and Marie Osmond occupy the Flamingo showroom, but at 7:49 p.m. Monday — 19:49 in military time, the same year Martin and Lewis hit Las Vegas — Lewis' image flashed across multiple Strip marquees.
Accompanying the image of the tuxedoed, beaming Lewis at the microphone: the words "International comedic icon, Las Vegas resident, headliner and philanthropist."
The tribute also quoted a few lyrics from the Rodgers and Hammerstein classic "You'll Never Walk Alone," which Lewis sang during the annual Jerry Lewis MDA Labor Day Telethon he hosted from 1966 to 2010, raising about $2.5 billion for the Muscular Dystrophy Association and "Jerry's kids."
Telethon memories loomed large for some visitors who aimed their smartphone cameras at the strangely still image, which provided striking contrast to the flashing, perpetual-motion promotions continuing on other Strip marquees.
"The only Jerry Lewis I know is from the telethon," said P.J. Fanberg of Big Lake, Minnesota, who remembered the Labor Day fixture as a time "when I didn't get to watch anything I wanted on TV."
Richard Cory of Kent, Washington, also recalled that "it hacked me off" when Lewis' telethon "would take over the TV," he admitted. "I was a little kid. What did I know?"
When Fanberg learned about the Lewis marquee tribute on the Fremont Street Experience's Facebook page, a half-hour before it began, he decided "I've got to run down and see this," he noted. "It's kind of a cool moment."
At least for some Strip visitors.
Others, however, focused their smartphones on other eye-catching sights, including the endlessly morphing lineup of three-dimensional Roman statues on the Forum Shops at Caesars marquee. Or the feather-bedecked showgirls and scantily clad cowboy (decked out in chaps, G-string and Stetson) offering photo ops for a price.
As a group of young, dressed-to-party visitors hurried past the Caesars Palace fountain, one looked up.
Unlike Heather Riou of Ottawa, Ontario, who captured the marquee memorial with her mobile phone's camera. She's been watching Lewis all her life.
"I was here when I was a child; I saw him at the Sahara," Riou said. "He was an incredible entertainer, with the best heart."
She and her husband Denis — who are here celebrating their 25th wedding anniversary — went to see Lewis perform in 1992, while they were honeymooning in Las Vegas.
"He was a genuine man," Heather Riou said of Lewis. "I know he's had a good life, but it just broke my heart" when she heard the news of his death.
The Lewis tribute remained in place for 11 minutes; some casinos planned to repeat the tribute, with five-minute breaks, through 6 a.m. Tuesday.
But the initial salute ended promptly at 8 p.m. Monday, as Lewis' image disappeared, making way for marquees to tout the now, and The Mirage's trademark volcano roared back to life.
Contact Carol Cling at ccling@reviewjournal.com or 702-383-0272. Follow @CarolSCling on Twitter.
Related
Jerry Lewis died of end-stage heart disease, coroner says
Jerry Lewis was magic on and off the stage
Fans who grew up in Las Vegas share memories of Jerry Lewis
Entertainment legend Jerry Lewis dead at age 91