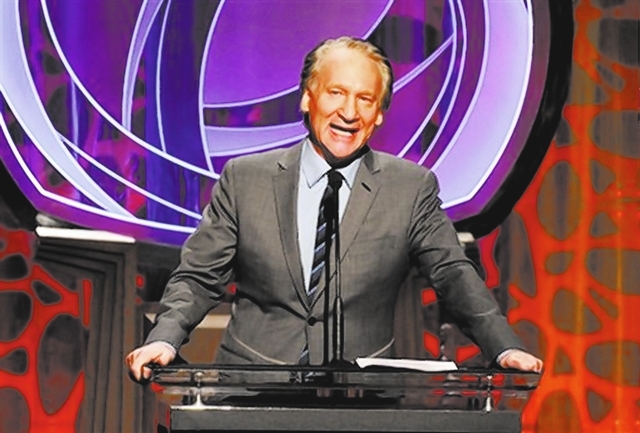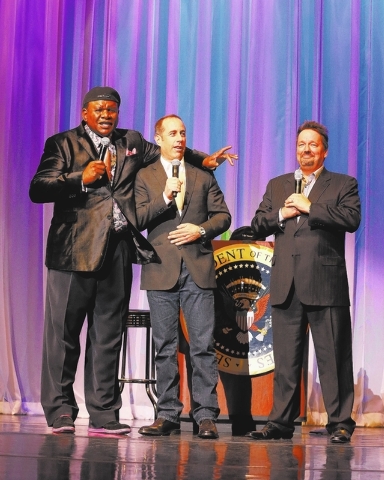 Bill Maher's admission last week that a Las Vegas club stopped him from smoking marijuana reminded me of a first: The first, and only, time I saw illegal drug use at a headliner's party was not long after I arrived here in 1999.
A veteran headliner and his wife invited me to join them at the Foundation Room atop Mandalay Bay for the aforementioned headliner's after-party.
We were led to one of the backrooms. We were early. Only a handful of invitees were there.
The headliner showed up, shook hands and settled into his seat as others arrived. After some small talk, he pulled out a small metal pipe and held it up.
"Any objections if I smoke?" he said. None were heard.
Then he fired up his pipe and said, "I've never been arrested, but this might be the night."
In the 10 minutes I was there, I didn't see anyone else join in or leave, other than the couple I came in with.
The man with the pipe was Bill Maher, who told my colleague Doug Elfman he would ask for "the rapper treatment" because "you let rappers do it because 'it's just their culture.' Well, it's my culture now. How about that?"
BRENNER TRIBUTE IN WORKS
A David Brenner memorial gathering is in the planning stages, according to his longtime friend and fellow entertainer Tony Sacca.
Brenner, a comedy legend and Las Vegas headliner, died March 15 at his home in New York City. He was 78.
"He was an innovator who will stand alone for what he created," said Sacca, who grew up in Philadelphia during Brenner's rise to stardom.
"We were acquaintances in Philly. We got to be great friends after he moved here 10 years ago," Sacca said.
About seven years ago, Brenner hired Sacca's production company to go through a lifetime of archived TV footage and dub the material on DVDs for his three sons.
"It took to nine months. We had tapes shipped in from Temple University in wooden crates. They were studying how he came up with his comedy."
Three of Sacca's TV interviews with Brenner will air at 8:30 a.m. today on Cozi, channel 3.2 or Cox 123. They were taped in 1988, 1994 and 2005, the year he was at the Las Vegas Hilton.
About four years ago, after Sacca got a booking for Brenner at The Cannery, they met for dinner.
"He reached in his sock to pay me my commission. He said, 'We're going to do it the way we did it as kids in Philly.' "
Sacca, who has been doing a new TV show, "Las Vegas Rocks," for about a year, said he recalled that sock story when he read Brenner's last request: that when died, he wanted $100 in small bills placed in his left sock "just in case tipping is recommended where I'm going."
SCOUTING OUT A PARTY
It was the ultimate spring break: five days of Arizona big-league exhibition games capped by a steak fry with 100-plus baseball scouts. The standouts were two budding superstars who look like they could suit up in the NFL.
Mike Trout's game against the Colorado Rockies got everyone's attention. So did the size and skill of Yasiel Puig, another budding superstar.
The 21-year-old Trout, who hit 30 and 27 homers in his first two seasons for the California Angeles, hit a monster 440-foot homer and, on his next at-bat, was hit in the shoulder by a Adam Ottavino fastball.
Trout responded by stealing second.
If Trout runs like a tailback at 235 pounds, Puig, 23, resembles a 245-pound linebacker. I saw the outfielder unleash a laser to third in the Chicago Cubs new park.
Trout and Puig, along with Las Vegas slugger Bryce Harper, only 21 and in his third season with the Washington Nationals, were popular topics at the scout party.
Actually it was more than a scout party. Organizer David McReynolds, a Denver businessman who has a home in Scottsdale, started it as a scout party four years ago. A dozen people showed up for the poolside party the first year, 30 the next and 75 last year.
This year McReynolds combined it with a memorial for six-time All-Star and manager Jim Fregosi, who died last month, and a 60th birthday party for veteran Chicago White Sox scout Bill "Yogi" Young.
Fregosi's son, Jim Fregosi Jr., a longtime scout, attended the party that grew to more than 200 with wives and girlfriends allowed for the first time.
For a baseball fan, this was a once-in-a-lifetime, fly-on-the-wall opportunity. While the party raged outside, I sat in on a conversation between Bob Schaefer, special assistant to the Nationals' general manager, and longtime super agent Dennis Gilbert.
They were watching a rerun of the Dodgers game that day and raving about pitcher Clayton Kershaw and Puig.
"He (Puig) has a lot of Bo Jackson in him," said Schaefer, who was on the Kansas City Royals coaching staff during Jackson's brief career cut short by an NFL injury.
"You know the story about how Puig got here?" said Schaefer. "He swam here from Cuba and jogged to L.A."
Everyone had a story about Fregosi, especially several of his high school teammates.
Among them was Gary Hughes, currently a special assistant for the Boston Red Sox and former scouting director for the Florida Marlins and Montreal Expos.
He recalled Fregosi's incredible athleticism.
"He was a four-sport star at Serra High (in San Mateo, south San Francisco). There were games where he left our baseball team during a half inning to compete in track," said Hughes. "He ran anchor on the relay team when they needed him," said Hughes, adding Fregosi's long jump record still stands at one of the most prestigious California meets.
Nearby another conversation was heating up over the recent facial hair trend: "Beards are out of control. They're a disgrace. Joe Torre ought to step in," said an oldtimer.
I approached Rockies closer LaTroy Hawkins with a question. I showed him the image on my iphone of Trout getting hit on the shoulder by the pitch a day or two earlier. The ball was still in the air, head high, several feet in front of the plate.
"He's solid. Best body I've ever seen. He's built like an NFL running back, and he's got the speed," Hawkins said.
With scouts, the conversation always turns to hits and misses, like how Albert Pujols was a 13th round selection, the 402nd player taken in the 1999 free agent draft. Pujols enters this season with 492 home runs.
"We all missed on him," said a veteran scout.
SIGHTINGS
Mitt Romney, the Republican presidential nominee in 2012, at the Mr. Boxer store at McCarran International Airport on Friday night, buying items for his wife for their 45th wedding anniversary, which was Friday. … At George Wallace's 10th anniversary party at the Flamingo on Friday: Gladys Knight, singing "Midnight Train to Georgia" while her brother Bubba Knight of the Pips tried to teach Wallace some Pip dance moves. Also there: Jerry Seinfeld, Wallace's former roommate in their starving comedian years; Mirage headliner Terry Fator, Donny &Marie Osmond, bringing in the anniversary cake and singing happy anniversary, the group Mo5aic serenading Wallace and thanking him for a big assist with their career, and Tropicana headliner Murray Sawchuck. Spotted at Wallace's after-party at Chayo Mexican Kitchen &Tequila Bar (The Linq): Donny &Marie, Fator, Frankie Scinta, KSNV-TV and Channel 13 morning anchor Rikki Cheese. … On the blue carpet and the One Drop after-party at Moorea Beach Club outside Mandalay Bay: Cirque du Soleil founder and CEO Guy Laliberté; One Drop CEO Catherine B. Bachand; Kyle Richards, Mauricio Umansky and Camille Grammer of " Real Housewives of Beverly Hills;" TV personality Holly Madison; Blues Traveler; Mary Wilson of The Supremes; "Chelsea Lately" comedienne Heather McDonald; Brendan Fitzpatrick and Morgan Stewart of "Rich Kids of Beverly Hills;" R&B vocal group Boyz II Men; Jabbawockeez; UFC Hall of Famer Forrest Griffin; The Ultimate Fighter Season 10 winner Roy "Big Country" Nelson; Mayor Carolyn Goodman and former Mayor Oscar Goodman; Criss Angel; USA Olympic rowing gold-medalist athletes Esther Lofgren and Susan Francia; renowned "kissing" artist and painter Natalie Irish; celebrity chef Susan Feniger of Border Grill, cast members from "Thunder from Down Under;" the girls of Fantasy; DJ 88; and dancers from the Alvin Ailey American Dance Theatre.
THE PUNCH LINE
"Kobe Bryant told ESPN that he thinks President (Barack) Obama could make the Lakers roster this year. I don't know about that. He's a good shooter but he can't seem to pass anything." — Seth Meyers
Norm Clarke's column appears Sunday, Monday, Wednesday and Friday. He can be reached at 702-383-0244 or email him at norm@reviewjournal.com. Find more online at www.normclarke.com. Follow Norm on Twitter @Norm_Clarke. "Norm Clarke's Vegas," airs Thursdays on the "Morning Blend" on KTNV-TV, Channel 13.