Man 'marries' his smartphone in Vegas — really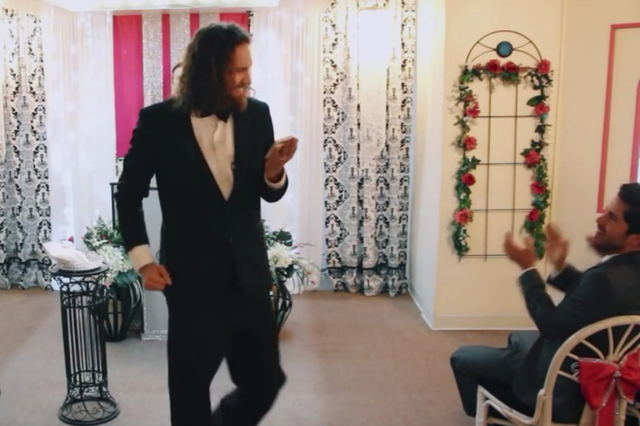 Do you love your mobile phone enough to marry it, the way Aaron Chervenak wedded his new "wife" phone at the Little Vegas Chapel?
The wedding looked like a typical Las Vegas wedding, except for one deviation.
The groom, Aaron Chervenak, wore a tux.
The bride wore a protective case.
The officiant carried on as if everything was normal, delivering the following speech at the altar during "the joining of Aaron and his smartphone":
"Think of all of the love and laughter you have shared, all the good times you've had, all the reasons you're here today at this altar, pledging your eternal love and commitment to each other."
Chervenak stood tall. The officiant continued:
"Do you, Aaron, take this smartphone to be your lawfully wedded wife, and do you also promise to love her, honor her, comfort and keep her, and be faithful to her?"
"I do," Chervenak said, and then the groom placed his wife on his left ring finger, since the wife had a nifty little ring attached to her plastic cover.
"My smartphone has been my longest relationship," artist-director Chervenak explained in a YouTube video.
"We connect with our phones on so many emotional levels. We look to it for solace, to calm us down, to put us to sleep, to ease our minds," he said in the video.
"To me, that's also what a relationship is about."
This day would have to be a symbolic gesture to show how close people are to their phones, since the state won't legally recognize his betrothed.
Chervenak hasn't responded to requests for an interview. We may only assume the lucky couple's consummation, and that he won't trade his wife in for a new model next year.
DIVAS, DIVAS, DIVAS
Can Jennifer Lopez be upset with a good review from a fawning, famous fan?
Celebrity gossip blogger Perez Hilton said on his Saturday podcast he gave Jennifer Lopez's show at Planet Hollywood a good review.
And yet JLo's team "emailed me," indicating unhappiness with Hilton saying he liked Mariah Carey's show better at Caesars Colosseum, he said.
"I'm bummed, too, because I've heard JLo's not happy," Perez said. "I love JLo, I love JLo!"
It's not just the singer who's unhappy.
"JLo fans started hate-spamming me, too," Perez said.
This is what Perez said in his original review:
"I think JLo is a better performer. She's a performer. Mariah is a singer, although I loved (Mariah's) energy that she had onstage. Mariah is not a dancer, but she sounded great, and also gave off this vibe that she was so happy to be there."
To all music critics: As a longtime reviewer of music, TV and video games, let me tell you something. You can't please any subject of a review, or the subject's fans, with any review.
If you don't call them a flawless god saving Bambi's mother with a time machine, they will not be happy with you.
If you want to be friends with musicians and their fans, do not judge them. If you want to be honest, hold nothing back, good and bad, and you will be the star. That's how Perez got his start, as the mean, funny guy. Now he has access.
MORE DIVAS
It appears we have a Britney versus Mariah contest to see who can wear less on the Strip.
On Saturday night, Mariah showed up at 1 Oak nightclub wearing "barely-there" short-shorts, as noted in the RJ on Monday by Kimberly De La Cruz and Mike Weatherford. Mariah's sexy flash came after her show, during which she wore a side-hip flashing outfit.
Meanwhile, over at Planet Hollywood on Saturday, Britney Spears was running around onstage in a new outfit of red bra, red plastic skirt and, once the skirt was gone, the revelation of sparkling red panties.
Alternately, Britney is also rocking a Cher-on-aircraft-carrier-esque green thing that reveals her booty.
There used to be a TV show called "Pants-Off Dance-Off." How has this not happened between Britney and Mariah onstage?
GENIUS FOOTBALL IDEA
The visionaries who want to bring an NFL team to Vegas desire $750 million in taxes to build a stadium, which has led to a slow political process.
Why not designate 150 prime stadium seats as "The Super Amazing Millionaires Club," and sell each seat for $5 million?
Buyers could get those seats for the lifetime of the stadium, plus perks, such as being helicoptered to games.
If there aren't 150 millionaires and corporations around the world who wouldn't jump at this opportunity, I'd eat a chocolate replica of my hat.
Doug Elfman can be reached at delfman@reviewjournal.com. He blogs at reviewjournal.com/elfman. On Twitter: @VegasAnonymous.