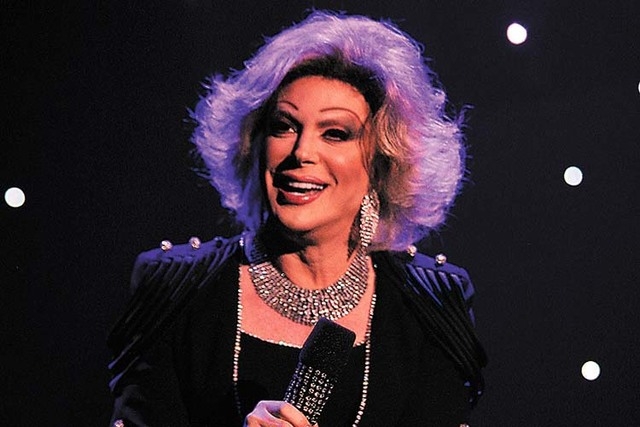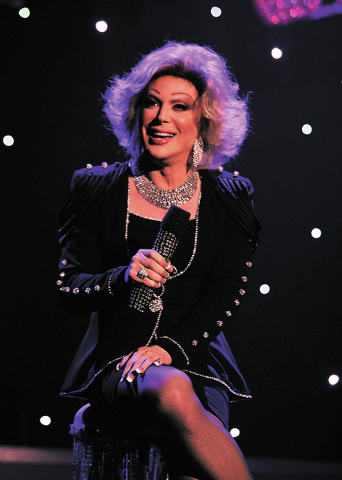 The hardest-working man or woman in show business?
Few could match Joan Rivers' work ethic, according to Frank Marino, longtime star of "La Cage" at the Riviera and of "Divas" at The Quad for the past five years.
Two years ago, Rivers invited Marino to appear on E! Entertainment's "Fashion Police." The comedy legend was a mainstay of the program.
When Marino arrived, he reeled when he saw he had a 5 a.m. call time for makeup.
A notorious late sleeper, Marino said, "As I'm dialing to see if I can come in at 7 a.m., I'm reading the call sheet and I noticed that her call time was 3 a.m.
"I put the phone down. I was being a diva," said Marino, who has impersonated Rivers for three decades in his Las Vegas shows.
"That was her work ethic," said Marino, who appeared on "Conversations with Norm" Sunday at Cabaret Jazz at The Smith Center for the Performing Arts.
Rivers died Sept. 4 in New York about a week after going in for routine throat procedure. She was 81.
A SWEET FUTURE
Entertainers Domenick Allen and Leigh Zimmerman are back in town after a three-year stay in London.
They were participants in Nevada's 150th birthday celebration last Monday at the Smith Center.
It was a triumphant homecoming for Zimmerman, who won a 2013 Laurence Olivier Award, the British equivalent of Broadway's Tony Award. She was honored as Best Actress in a supporting role in "A Chorus Line" at the London Palladium.
They had moved here in 2006 when Zimmerman, a Broadway favorite, landed the role of Ulla, the Swedish knockout, in "The Producers," which opened in January 2007 at Paris Las Vegas.
When the show ended after a year, they bought a home in Las Vegas and embraced the entertainment community here. She shuttled back and forth to Los Angeles for work.
They'll be moving soon to Carmel, Calif., where they've cooked up a major career change.
They're venturing into the bakery and gift shop business featuring classic French cookies. They've named it Monterey Meringues.
The sweets will be colored and named after classic rock icons.
"We'll have Beach Boys-enberry, Yellow Submergingue, Purple Haze-lnut and Black Berry Sabbath," said Allen, a member of Foreigner from 1991-93 and Liberace's opening act for four years.
They've been preparing for the business move for several years. Zimmerman studied at Le Cordon Bleu cooking school in London and Allen took cooking classes as well.
"We created it from the ground up," said Allen. The plan is to main our careers in show "while we still have our own hair, teeth and muscle tone.
"And if we can help support music education and music rehabilitation — specifically for our Wounded Warriors — it'll be better than applause," he said.
THE SCENE AND HEARD
Singer Avril Lavigne added fuel to divorce rumors when she celebrated her 30th birthday in Las Vegas on Saturday without husband Chad Kroeger or the king-sized rings he gave her. She was presented with a giant cupcake at The Bank nightclub at Bellagio. She didn't appear to be wearing either the 14-carat engagement ring she got from Nickleback's Kroeger or the 17-carat one-year anniversary gift he gave her in July.
SIGHTINGS
At the Bishop Gorman-St. John Bosco prep football game on Friday: UFC president Dana White, UFC co-owners and Station Casinos executives Frank and Lorenzo Fertitta, all of the Imagine Dragons, Snoop Dogg, Flava Flav, George Maloof, University of Arizona's starting quarterback Anu Solomon (former Gorman star) and UCLA football coach Jim Mora. … At SLS over the weekend: pop singer/actor Jesse McCartney and Luxor headliner Criss Angel at Life nightclub; Twisted Sister frontman Dee Snider at Katsuya before heading for The Sayers Club; Holly Madison and husband Pasquale Rotella, also at Katsuya before heading for Life and former "Saturday Night Live" star Andy Samberg, with friends at Foxtail Pool Club and Bazaar Meat. … Baseball Hall of Famer Greg Maddux, dining at Crush (MGM Grand) on Saturday…Alex Pettyfer of "Magic Mike" and members of the rock band Kings of Leon, at UFC 178 on Saturday at the MGM Grand Garden on Saturday.
THE PUNCH LINE
"Snoop Dogg is investing in a new app that helps people trade stocks more easily. It's the first stock app that encourages people to both buy and sell high." — Jimmy Fallon
Norm Clarke's column appears Sunday, Monday, Wednesday and Friday. He can be reached at 702-383-0244 or email him at norm@reviewjournal.com. Find more online at www.normclarke.com. Follow Norm on Twitter @Norm_Clarke. "Norm Clarke's Vegas" airs Thursdays on the "Morning Blend" on KTNV-TV, Channel 13.