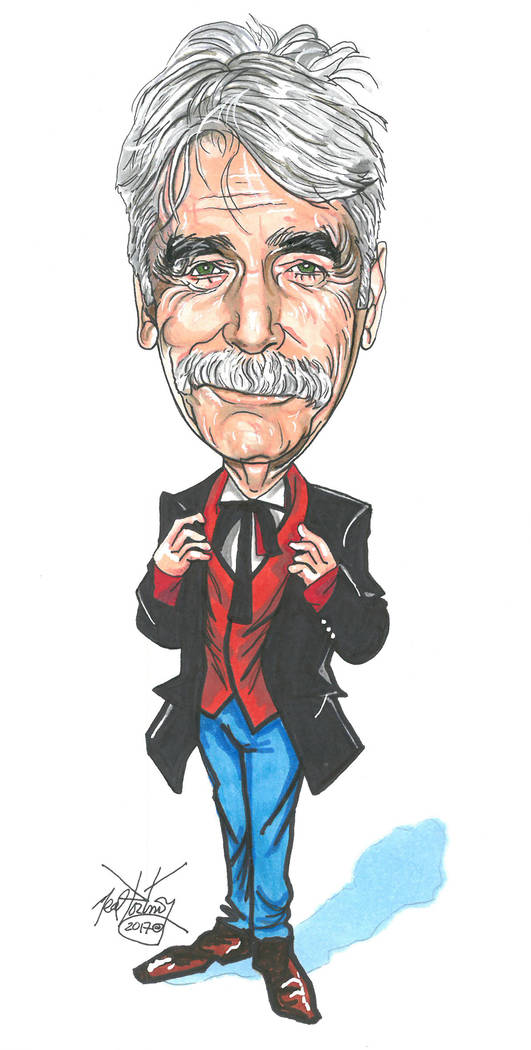 Our heroes have always been cowboys, and if that's true, then Sam Elliott rises to the top of the pack. Back at his ranch in Malibu, the gravel-voiced actor, known for wearing a Stetson on screen, is as tender as he is tough. When asked how he keeps his multi-decade marriage with actress Katharine Ross going strong, the grit softens as he says, "Ma'am, we're still deeply in love with each other."
Audiences are also loving his new movie "The Hero," in which a potentially Oscar-bound Elliott, 72, plays an actor coping with aging and a possible second chance at life and love. Best known for roles in a slew of Westerns and films including "Lifeguard" (1976), "Tombstone" (1993) and "Gettysburg" (1993), the legend is currently filming "A Star is Born" directed by and starring Bradley Cooper and co-starring Lady Gaga.
RJ: Tell us about a typical Sunday in Malibu with you and the lovely Katharine Ross.
Elliott: "I can't sit still. Always been that way. Even if it's Sunday and you're supposed to relax, I'm one of those people who has to keep moving. I was raised with this work ethic that you have to be productive. So on a Sunday, you might find me on our land digging in the ground and planting. Or maybe Katharine sends me to the market for a few things to make breakfast. I love to have a job."
So you go to the local market. Even without the cowboy hat, you're so tall and lanky, plus you have that amazing voice. Any chance you don't cause a fan frenzy in the Cheerios aisle?
(Laughs) "Early summer means tourist season. Thanks to cellphones, everyone becomes a photographer. So, you might think that you're going to the market for 20 minutes, which turns into 45 after some posing. Nothing against the fans. I'm lucky to still be in the game."
Your credits are endless. Ever film in Las Vegas?
"I don't think so, but I went to Vegas recently for a Coors convention and was blown away at how big it has become and how it features something for just about everyone. It's so built up now."
What are your earlier memories of Vegas?
"Oh, I have a good one from the '60s when I wandered into Vegas and found myself at the Flamingo. I went to Nevada with a gentleman who was in the music business. He was part of the Newman family and they brought talent into Vegas. So, there we were at the Flamingo and I was wandering around one night and found myself in some little side room. The room was no big deal. It didn't have a stage, but there was a very young Sonny and Cher performing for just a few people. I couldn't leave. They were really good."
And then you worked with Cher later on "Mask."
"Over the years, I became a huge Cher fan and then I did have the opportunity to work with her on the movie. I still have the greatest respect and love for her. She's just one of those gals. Iconic."
In "The Hero," you play Lee Hayden who is an older actor longing for that next role. You've always worked, but how did you deal with the eventual down times in a long acting career?
"I always kept busy even if it was just working my land, plus I was always very cautious about spending my money. We own one house and that was a house I built. I wanted to be an actor since I was a young boy. It was never about an image or working for the money. I saved because I never wanted to have to take a job just for the money. I wanted to take jobs I believed in and that moved me."
You have love scenes in your new movie with a much younger woman played by Laura Prepon. What do you think about the age difference?
"We've all seen the older guy with the younger girl on his arm. You wonder why she is there. Most of the time, I think it's financial. For this movie, I talked at length with the director about the need for my character Lee to earn the relationship. It's angst-ridden, painful and uncertain, let alone far-fetched. Laura is in her mid-30s and I'm 72. But we still connected. And Prepon and I worked well and connected as actors as well, and when that happens you realize why acting is magic."
How did you deal with rejection in the show biz world over the years?
"You just can't take it personally. If you're going to go down that road then you're going to spend a lifetime blaming yourself and you will be miserable forever. You got to let it go. That part is your choice. Remember that there is more than one thing out there. The flipside is that you never know what's around the corner. That's the wonderful thing about this game."
Finally, you still star in one of the great real-life love stories. It goes like this: Katharine Ross and you had roles in 1969's "Butch Cassidy and the Sundance Kid," but you never met until you did the 1978 film "The Legacy." You married in 1984. What's the secret to a lasting relationship in Hollywood or anywhere?
"We're still deeply in love with each other. But we also know that a marriage takes work. It takes mutual respect and all those trite things that people talk about, but are true. … Two actors living with each other is hard, especially when one is working and the other is not. We both want to work and knew early on that we had to face the reality that there would be times when only one would work. The key is we're truly happy for the other. Other than that, we're all thick as thieves – Katharine, our daughter and me. Above, all we know how lucky we are. We're survivors."