NBA SUMMER LEAGUE PACKS THE HOUSE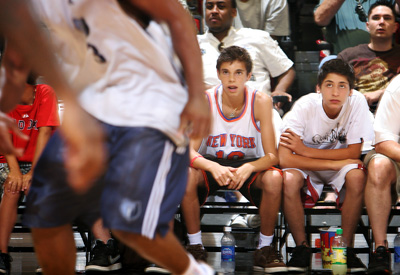 The Who's Who of the NBA have been part of big crowds turning out for the NBA Summer League in Las Vegas, with one more week remaining.
Spotted in stands at Thomas & Mack Arena and Cox Pavilion: Ron Artest, (Kings, Pacers, Bulls), Quentin Richardson (Suns, Knicks, Clippers), Nick Van Exel (Lakers, Nuggets, Spurs, Trail Blazers, Warriors), Stacey Augmon (UNLV, Hawks, Pistons, Trail Blazers, Hornets, Magic, Nuggets), Leon Powe (Celtics), Marcus Camby (Nuggets, Knicks, Raptors), Stephon Marbury (Suns, Knicks, Nets) Byron Russell (Jazz, Lakers, Wizards, Nuggets), Mike Brown (Jazz, Timberwolves, Sixers, Suns), Patrick O'Bryant (Warriors, Celtics), Shareef Abdur-Rahim (Kings, Atlanta, Portland, Vancouver Grizzlies), Maurice Evans (Magic, Pistons), Kevin Martin (Kings), Beno Udrih (Kings, Spurs), Anthony Parker (Raptors), Sean May (Bobcats), Gabe Pruitt (Celtics), Gerald Wallace (Bobcats, Kings), Danny Granger (Pacers) J.R. Smith (Nuggets), Andre Iguodala (Sixers), Howard Eisley (Jazz, Knicks, Mavericks, Timberwolves, Nuggets, Suns), Jerome Williams (Knicks), and Jay Humphries (Suns, Jazz, Buck).
Also there: Floyd Mayweather, Jr. and NBA owners Paul Allen and Donald Sterling.