North end of Strip hoping for bonanza with Rock in Rio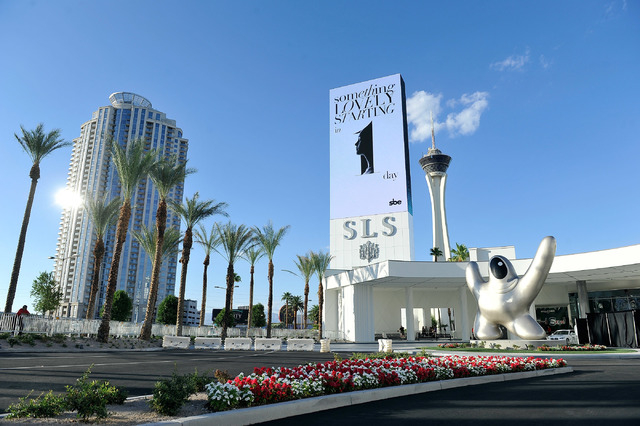 It's the weekend SLS Las Vegas has been waiting for.
With a predicted 10,000 music lovers streaming through the former Sahara hotel, the debut of the Rock in Rio festival couldn't come soon enough for SLS.
Crowds have been few and far between since a wall-to-wall opening night crush on Aug. 22.
This figures to be a happy dilemma. SLS could stand for Some Long Shifts with more than 150,000 festivalgoers expected over the next two weekends.
"The good news is we anticipate we will capture guests before, during and after because their tickets allow them to leave once," said Matt Erickson, senior vice president of restaurant operations at SLS.
He said the hotel, which is located across the Strip from the festival's north entrance and main stage, is anticipating its best month since opening. In fact, Las Vegas may be in the process of racking up its biggest revenue month ever.
The Floyd Mayweather Jr.-Manny Pacquiao fight got May off to a record-breaking start Saturday with a New Year's-like weekend crowd.
"The fight was really good for us. We were sold out," Erickson said. "We have Rock in Rio the next two weekends and then Memorial Day weekend."
Having the Las Vegas Monorail station behind SLS should pay off with big numbers during the festival, which runs from 3:30 p.m. to 1:30 a.m.
Erickson said several SLS restaurants have come up with "grab and go" food items for the massive invasion. Cleo, the Mediterrean restaurant, will offer shawarma and hummus; Jose Andres' Bazaar Meat will be selling sloppy Joe sandwiches; and Katsuya, the Japanese restaurant, has sushi boxes.
SLS won't be the only business "getting an uptick" at the intersection of Sahara Avenue and the Strip.
Bonanza Gifts, which is billed as the world's largest gift shop, anticipates a windfall.
"We're ready for an onslaught," said Angie Hurt, the store manager.
Be forewarned: "Our biggest issue," she said, "is anybody that parks is going to get towed."
She is expecting a big demand for water and sunscreen, which will be sold in the parking lot.
"It's a great thing for our corner and the economy," she said. "It will spread the wealth."
Another beneficiary of the big crowds will be the new Walgreens that opened two weeks ago on the site of the former Holy Cow Brewery and Casino. After its closure in 2002, a 70-story residential tower called Ivana, after Ivana Trump, was proposed but never got off the ground.
THE SCENE AND HEARD
Singer-actor Tony Darrow, who appeared in the classic mob film "Goodfellas," got married Thursday at the Little Church of the West. Darrow, 76, played Sonny Bunz, the mob-linked club owner in "Goodfellas" and had a recurring role in "The Sopranos." He married Mary Corallo, 64. Darrow regularly performed in Las Vegas for years. …
One of my favorite Riviera sightings came from former "Crazy Girls" cast member Karen Raider, who is married to well-known colorist and salon operator Michael Boychuck. "When Jim Carrey was filming (the Andy Kaufman biopic) 'The Man in the Moon,' he came in and sat in the crowd dressed in character as Tony Clifton. He didn't crack a smile during the whole show," she said. Clifton was an fictional obnoxious show business character created by Kaufman, who often played Clifton. So did Kaufman associate Bob Zmuda.
SIGHTINGS
Two-time Super Bowl champion head coach Mike Shanahan, at the Las Vegas Outlaws-Los Angeles Kiss Arena Football League game Monday at Thomas & Mack Center. Shanahan and his wife, Peggy, had dinner with Outlaws owner Vince Neil and general manager Bob Hewko at T-Bones inside Red Rock Resort on Sunday. Hewko became the Florida Gators' starting quarterback for Shanahan, who was hired as offensive coordinator in 1980. … At the Italian American Club on Wedneday: Larry Ruvo of Southern Wine and Spirits and his family, dining at the club's membership meeting. Ruvo addressed the club members and talked about growing up in an Italian family and how the Cleveland Clinic Lou Ruvo Center for Brain Health came about. Club members were so moved they donated $10,000 to the center, club President Angelo Cassaro said.
THE PUNCH LINE
"Hillary Clinton made a campaign stop in Las Vegas (Tuesday). She said she wants citizenship for undocumented immigrants. But after seeing Americans celebrate Cinco de Mayo yesterday, immigrants said, 'You know what, we're good. We're gonna head back now. We had enough.' " — Jimmy Fallon
Norm Clarke's column appears Sunday, Monday, Wednesday and Friday. He can be reached at 702-383-0244 or email him at norm@reviewjournal.com. Find more online at www.normclarke.com. Follow Norm on Twitter: @Norm_Clarke