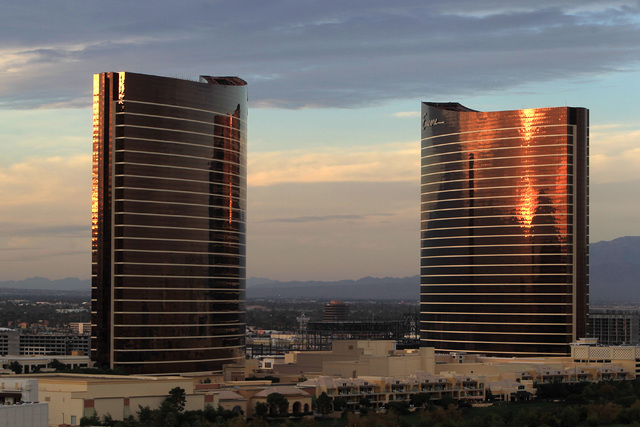 Actor George Clooney stormed out of a business meeting with Las Vegas hotel developer Steve Wynn during a heated exchange over President Barack Obama, sources said Sunday.
The blowup took place last week, when Clooney was in town to promote Casamigos tequila with partners Rande Gerber and Michael Meldman during the Wine & Spirits Wholesalers convention.
Sources said Clooney took exception when Wynn continued to slam Obama. Clooney walked away.
The incident possibly could complicate a business relationship between Clooney, his partners and Wynn. The launch of Casamigos was hosted in January 2013 at Andrea's, a just-opened restaurant Wynn named after his wife.
Wynn has been a frequent critic of Obama.
Neither Wynn, Clooney nor Gerber could be reached for comment.
A Wynn rep said Wynn was out of town.
ROONEY REMEMBERED
Pint-sized Mickey Rooney wasn't one to worry about his size when it came to speaking up.
Longtime Las Vegan Mike Kennedy said he was in the audience during a Sammy Davis Jr. performance during the segregated days.
"He was a feisty little guy," said Kennedy, who turned 70 this month.
After watching Davis' show, Rooney turned around to the audience and said, "You all just paid money to see this man entertain you, and he has to walk through the kitchen.
"You all walked through the front door. I'll never come back, and I recommend you do the same," Kennedy recalled.
Rooney doesn't get a lot of credit for being one of the first to speak out against the local hotels' segregation policies.
Mirage headliner Terry Fator said Rooney came to his show in 2010 and, when introduced, went into "full-on show mode, cracking jokes and getting laughs for about five minutes."
Rooney died last week at the age of 93.
MOVING ON
Larry Joe "LJ" Harness, the founder of the Las Vegas Underground entertainment movement, is moving to Florida.
Harness, a former professional drummer, brought together the music and entertainment community for a weekly jam at the Tap House on Charleston.
Harness was also active in organizing charity events.
He moved here to become marketing and promotions director of Cadillac of Las Vegas and is returning to Florida to rejoin his former company, he said.
the scene and heard
The High Roller observation wheel officially will receive the Guinness World Record for being the tallest of its kind in the world this week.
SIGHTINGS
At the Manny Pacquiao-Timothy Bradley Jr. World Boxing Organization welterweight title fight Saturday at the MGM Grand Garden: Jack Nicholson, posing for photos with boxer Ruslan Provodnikov, known as the "Siberian Rocky" for his background of taking 10-hour trips to train at a gym; rapper 50 Cent, Pamela Anderson, Charles Barkley, Lance Armstrong, Jake Gyllenhaal, Evander Holyfield, Donald Driver, DJ Pauly D, Stephen Baldwin, Miguel Cotto, Shane Mosley and Mario Lopez and his wife, Courtney. Ashanti and Jessica Sanchez performed the national anthems of the fighters' native countries. …Chapelle went out of his way to take photos with 10-year-old Floyd "Cashflow" Diaz, a protégé of boxing champion Floyd Mayweather. Diaz' father, Michael, is an assistant coach in Mayweather's camp. …At Crush (MGM Grand) on Saturday: Brad Garrett, sports-talk host JT the Brick, Claude Le Tohic, executive chef at Restaurant Joel Robuchon (MGM Grand), and Felice Garcia of the "Million Dollar Quartet" with her boyfriend Eric Nielson, a former Toronto Blue Jays draftee. … Pamela Anderson, dining at Lavo (Palazzo) on Saturday. … John Stamos, treating his mother, Loretta Phillips, to an elaborate 75th birthday party at Fizz (Caesars Palace) on Saturday before attending Elton John's show. Also at Fizz: actor Chris O'Donnell and "Baywatch" star Jeremy Jackson. … Denver Broncos tight end Julius Thomas and safety Duke Ihenacho, with San Diego Chargers running back Ryan Mathews at Tao Beach (Venetian) on Saturday. … At Olivia Newton-John's opening night on Friday: Marie Osmond, RuPaul, Joey Lawrence and Dot Jones of "Glee." … RuPaul and Larry Edwards, at Elton John's show on Saturday. … Mario Lopez, pulled on stage during "Vegas Nocturne" at Rose.Rabbit.Lie (Cosmopolitan) on Saturday. … Actor Alex Pettyfer, while going shirtless at Beacher's Madhouse on Friday at the MGM Grand, was joined by Jeff Beacher, who provided his version of "Magic Mike." Whipped cream was involved. It was Pettyfer's 24th birthday celebration.
THE PUNCH LINE
"It's Derek Jeter's final year in baseball. Don't you hate it when a guy announces his retirement a year in advance? And then spends every day milking it for cheap sentimentality?" — David Letterman
Norm Clarke's column appears Sunday, Monday, Wednesday and Friday. He can be reached at 702-383-0244 or email him at norm@reviewjournal.com. Find more online at www.normclarke.com. Follow Norm on Twitter @Norm_Clarke. "Norm Clarke's Vegas" airs Thursdays on the "Morning Blend" on KTNV-TV, Channel 13.