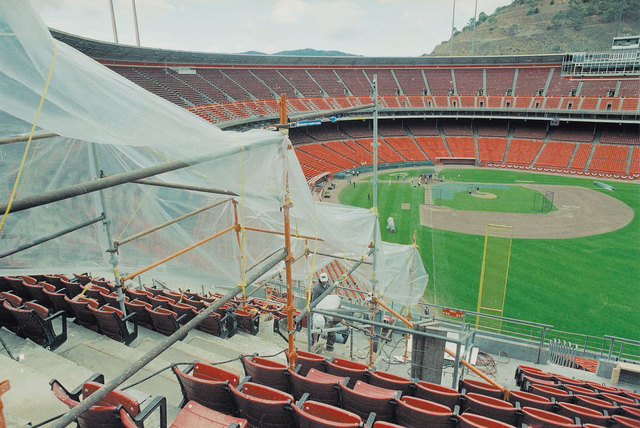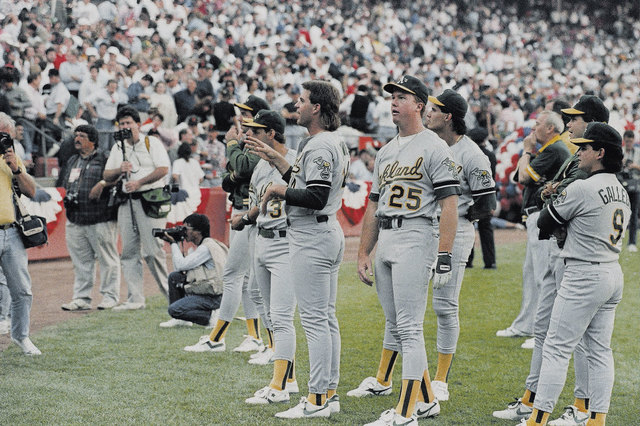 Two thoughts occurred at 5:04 p.m. Thursday, on the eve of the 25th anniversary of the deadly Loma Prieta earthquake that hit San Francisco.
At 5:04 p.m., Oct. 17, 1989, it was just minutes before the start of Game 3 of the World Series in San Francisco.
Candlestick Park was creaking and swaying from the most powerful earthquake since the 1906 temblor that nearly flattened the city.
I was among hundreds of media jammed into the two press boxes atop Candlestick Park.
The first thought, of course, is self-preservation. But where do you go? Where are you safe?
In a quake that strong, elevators could jam. Stairs could be death traps from falling debris.
When the quake ended after 20 seconds, cheers and applause erupted from a relieved crowd on hand for the Giants and Oakland A's rivalry.
I burst into a nervous laugh. A gallows humor moment, maybe. What was so funny?
I was thinking of one of the tourist attractions I saw on Pier 39 a day or two earlier: the earthquake "experience" that simulated the super quake of 1906.
With Candlestick Park being pulled apart at the seams, I couldn't help but find humor in what was happening a couple of miles away at the fake quake tourist joint.
I visualized a guy turning to his girlfriend and saying, "Wow, that was worth every penny!"
The quake measured 6.9 on the Richter scale.
Other memories:
■ Eyewitnesses speaking in awe of seeing the quake generate wavelike action in the parking lot, lifting buses and cars like they were toys.
■ While walking through a blacked-out part of town, on my way to the Nikko Hotel to dictate my story back to the Rocky Mountain News in Denver, I heard clanging noises. I looked down an alley. Men with crowbars were beating down an aluminum door. Looting had begun.
■ I interviewed a florist who was passing out roses to motorists. Why this random act of kindness? Because his electricity was cut off. The flowers would soon die without refrigeration. He wanted to do what he could to lift people's spirits.
■ In the hard-hit Marina District, I found firefighters who saved a woman buried in rubble, disregarding the danger of a gas leak.
■ The most unforgettable interview, though, was with an 89-year-old man who arrived at his Marina District apartment hoping he could remove some treasured personal belongings. It was too dangerous; the building was on the verge collapse. It wasn't his first Big One. He survived the 1906 quake at the age of 6, he said. His mother walked him to school, taking long detours so he didn't see the stacks of bodies.
■ Despite damage to the opera house, the San Francisco Opera went ahead as scheduled to a packed house. The emotional standing ovation was a tribute to the opera members and their show-must-go-on spirit.
THE SCENE AND HEARD
Donny Osmond will host the Danny Gans Memorial Champions Run for Life on Saturday morning at Town Square. Information: 702-735-8434 or info@nvccf.org.
SIGHTINGS
Siegfried Fischbacher and Roy Horn, on hand for the dedication of a park in their name north of McCarran International Airport. It is part of the Terminal 3 expansion. … "X-Men" and "30 Rock" actor James Marsden, having lunch with a friend on Tuesday at Sunset Station's Grand Café. … It was "Georgia on My Mind" night at Kelly Clinton's Open Mic Cabaret on Monday. The big turnout of cast members included Take 6's Claude McKnight and Mark Kibble, who joined saxophonist Kirk Whalum and Clint Holmes jamming with members of the house band, Musical (Michael Clark, Jess Gopin, Tony Drake) and guest artist Jeff Neiman. … Holmes, performing a jazz set as the opening act at Green Valley Presbyterian Church on Sunday for the Las Vegas Master Singers and UNLV Jazz Ensemble, who performed Duke Ellington's "Sacred Concert." The event was a scholarship fundraiser for UNLV music students.
THE PUNCH LINE
"It's hard to believe, but they say we have more rats here in L.A. than they have in New York City. I guess we're so focused on taking care of the Kardashian infestation that we forgot about the rats." — Jimmy Kimmel
Norm Clarke's column appears Sunday, Monday, Wednesday and Friday. Reach him at 702-383-0244 or norm@reviewjournal.com. Find more at normclarke.com. Follow @Norm_Clarke on Twitter.