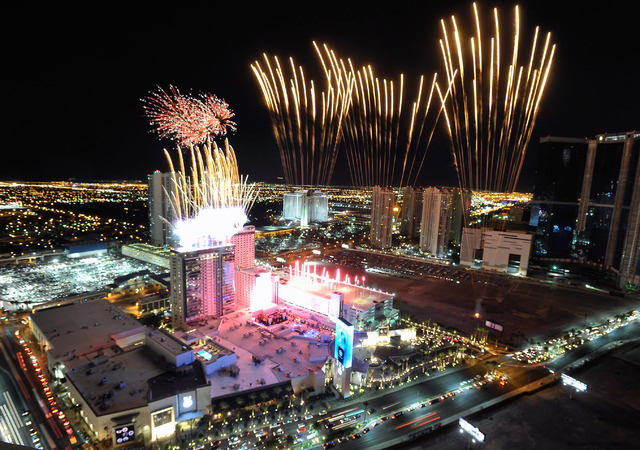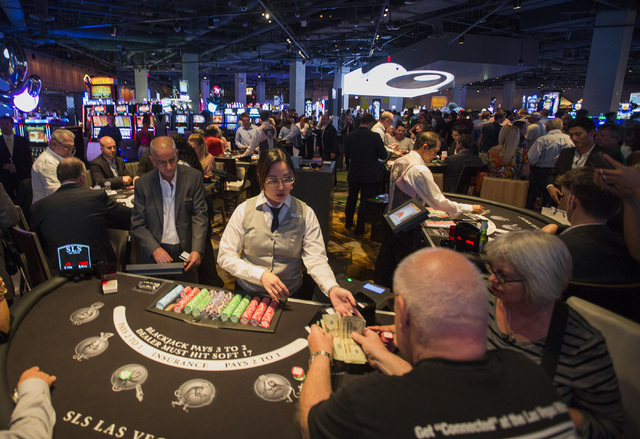 Snippets and sound bites from the opening night gala at the SLS Las Vegas on Friday:
■ You won't have to look very far to find nods to the Sahara's history in the newly opened resort. "Our grand ballroom is called the Conga ballroom in remembrance of all the telethons here with Jerry Lewis and all the big names that played in that room," said SBE Hotel Group President Arash Azarbarzin. It was in the Conga Room, the Sahara's showroom, where one of the great moments in television history took place: the live reunion between Lewis, who was hosting his 11th Muscular Dystrophy Telethon, and Dean Martin, who had split with Lewis 20 years earlier. Frank Sinatra brought them together for the emotional reunion on Sept. 5, 1976. The carpets in SLS Las Vegas have supersized images of icons with Sahara connections: The Beatles, Sean Connery of 007 fame and numerous sex symbols of the 1960s. On the wall near the back valet is a classic photo of Marilyn Monroe forming a big pink bubble with her gum. One of the coolest features will be the S door handles that adorned the entrances. They will be turned into a chandelier that will be placed above the entrance to The Sayers Club, the 200-seat performance venue.
■ As Iggy Azalea and Rita Ora, the evening's headliner duo, were starting down the red carpet on Friday, a celebrity wrangler announced a ban on questions about superstar DJ Calvin Harris. Ora and Harris recently had a messy breakup, with Harris reportedly attempting to block her performance at the 2014 Teen Choice Awards and the release of her new album. He had produced and co-written her latest single, the deliciously titled (in this case), "I Will Never Let You Down."
■ Best red carpet fashion statement: U.S. World Cup Jermaine Jones' white bejeweled shoes, reportedly made by Louboutin. He scored an equalizer goal against Portugal in just his second World Cup game, which ended in a 2-2 draw on a miraculous late goal by Portugal's Silvestre Varela on basically the last touch of the game.
■ The stunning 14-foot high Cleopatra in front of Cleo, the Mediterranean restaurant at SLS, is a re-creation of Vivian Leigh's portrayal of Cleopatra in the 1945 movie "Caesar and Cleopatra." That's fashion model Emina Cunmulaj, longtime girlfriend of Sam Nazarian, founder and CEO of SBE, parent company of the SLS brand.
■ Susie Spanof of Las Vegas, proudly proclaimed during the VIP party that she was the perfectly named invitee. "My initials are S.L.S."
MEDIA NOTES
Here's a new twist on a "Just Married" announcement written in white shoe polish on a car window: Dayna Roselli, co-host of KXNT's morning show with Joe Gillespie, posted a photo Sunday on her Twitter feed of a black SUV with "Just Divorced" on the rear window. The vehicle had California license plates and was spotted near Sahara and Interstate 15. …
Vegas magazine's Fall issue party featuring cover girl/actress Jaime King at Vdara at CityCenter was canceled Saturday on short notice. Invitees received an email notification about 10 a.m. Friday that King would not be attending the event tomorrow night because of illness. King is back in "Sin City: A Dame To Kill For" in her double role as Wendy and Goldie, prostitutes and identical twins. …
Former Las Vegas-based Associated Press writer Ryan Nakashima took to Facebook on Sunday to break some personal news: Triplets arrived on Saturday. Two girls and a boy.
Political commentator and tea party champion Wayne Allyn Root was shaken out of his sleep early Sunday in San Francisco by the earthquake that rattled the Bay Area. "It was like being in a blender," he said via email. "It felt like my bed was going to slide out the window of my hotel suite!" He was in San Francisco as the closing keynote speaker for The Money Show. The 3,000 attendees got their money's worth out of the trip. Root had lived in Malibu for 13 years and never experienced an earthquake.
The website www.artbell.com for paranormal radio host Art Bell has been reporting he will return (Internet only) when his noncompete with SiriusXM ends in July 2015.
SIGHTINGS
Kelly Monaco, the first winner of "Dancing with the Stars," and Shanna Moakler, executive director of Miss Nevada USA, at Beacher's Madhouse (MGM Grand) on Saturday.
THE PUNCH LINE
"Starbucks in New York City is now selling liquor. I was in Starbucks earlier today. I got a grande cappuccino with five pumps of Wild Turkey." — David Letterman
Norm Clarke's column appears Sunday, Monday, Wednesday and Friday. He can be reached at 702-383-0244 or email him at norm@reviewjournal.com. Find more online at www.normclarke.com. Follow Norm on Twitter @Norm_Clarke. "Norm Clarke's Vegas," airs Thursdays on the "Morning Blend" on KTNV-TV, Channel 13.