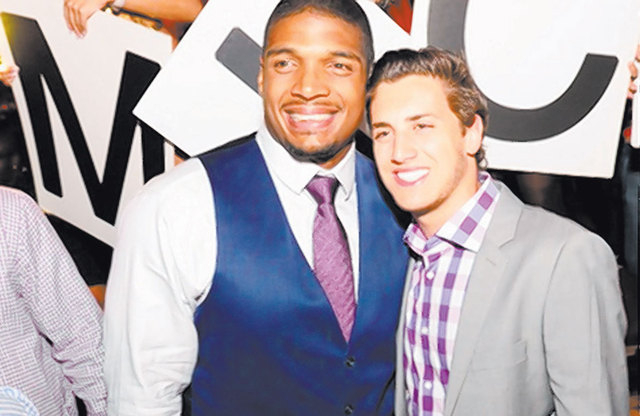 Michael Sam, the NFL's first openly gay draft pick, celebrated the barrier-breaking day by partying with supporters Saturday in Las Vegas.
Hours after being taken in the seventh round by the St. Louis Rams, with the 249th selection, the Missouri defensive end arrived at Tao with his boyfriend, Vito Cammisano, and a large group of friends.
Tao staffers greeted Sam, 24, with flashing lights and super-sized letters forming his name at his VIP table.
Sam spotted Richard Sherman of the Seattle Seahawks near his table and went over and chatted. Sherman had voiced support for Sam after he came out in February.
Sherman, who was celebrating his four-year $57.4 million extension, knows something about playing with a chip on his shoulder.
He was the 154th player taken three years ago, in the fifth round. Now he's the highest-paid cornerback in the league.
Sam was the Southeastern Conference's Defensive Player of the Year in 2013 with 11.5 sacks and 19 tackles for loss.
Mike Snedegar, who handles entertainment marketing for Tao, said the club was contacted by a mutual acquaintance "who reached out to us about (Sam) coming to Vegas to celebrate.
"We were very honored and wanted to make it a special day for him," he said.
Sam was welcomed by DJ Vice, who introduced the NFL trailblazer to cheers.
BRITNEY OFFERED BIG RAISE
Britney Spears has been offered a one-year extension worth a reported $12 million to continue her show at Planet Hollywood Resort through December 2016.
Caesars Palace President Gary Selesner told the New York Daily News that Spears has had "great success for the company and will be extended, if she wants to do it, and I cannot see why not."
Her original contract was reportedly a two-year $30 million deal from December 2013 until December 2015.
PIA'S PALS
Drop-ins of all ages are joining Pia Zadora to show off their chops in the lounge at Piero's Italian Cuisine.
Willie Nelson impersonator Roy Hammock was there on Saturday, along with longtime vocal impressionists Bob Anderson and Rich Little.
A regular of late has been teen jazz singer Ira Hill, a rising talent and winner of the prestigious Joe Williams Scholarship. He was in with his father on Saturday.
"He sings his songs," he said, "and I say, 'Now it's past your bedtime. Time to go home.' "
THE SCENE AND HEARD
Correction: Clint Eastwood and Sondra Locke had a long relationship, but they never married.
SIGHTINGS
Country star LeAnn Rimes and her husband, Eddie Cibrian, dancing after romantic toasts and dinner at Hakkasan (MGM Grand) on Saturday. … Tommy Lee of Motley Crue and Billy Corgan of Smashing Pumpkins, dining together at Guy Fieri's Vegas Kitchen &Bar (The Quad). … "Modern Family" actress Sarah Hyland, dining at Crush (MGM Grand) on Saturday before heading to Beacher's Madhouse. Also at the Madhouse: Johnny Knoxville. … Jessica Alba, at the Little Church of the West for the wedding of her aesthetician Shania Darden, 39, to Anthony Ferrari, 42. … "Divas Las Vegas" headliner Frank Marino, backstage with Olivia Newton-John after her show on Friday.
THE PUNCH LINE
"A new report says that global warming could cause Boston to end up completely underwater. Bostonians say, 'We're OK with that as long as it happens when the Yankees are in town.' " — Conan O'Brien
Norm Clarke's column appears Sunday, Monday, Wednesday and Friday. He can be reached at 702-383-0244 or email him at norm@reviewjournal.com. Find more online at www.normclarke.com. Follow Norm on Twitter @Norm_Clarke.