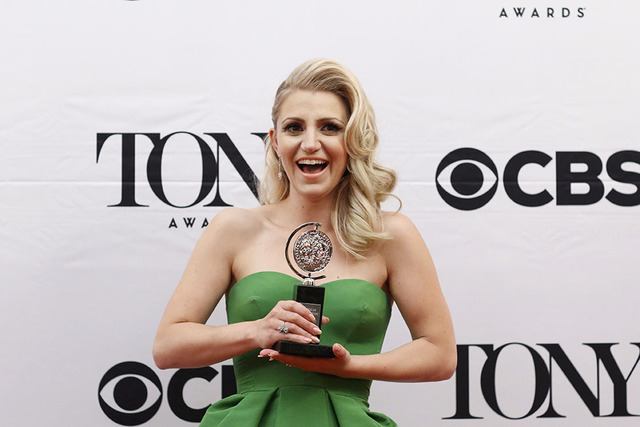 Timing is everything.
Just ask the folks over at The Smith Center for the Performing Arts.
Myron Martin, The Smith Center's president and CEO, started recruiting Broadway star Annaleigh Ashford about a year and a half ago, after her Tony Award nomination for the role of Lauren in "Kinky Boots," the 2013 Tony-winning musical.
Ashford became the toast of Broadway on Sunday when she won a Tony for best featured actress in a play for her role in "You Can't Take It With You."
The Denver native is bringing her "Annaleigh Ashford: Lost in the Stars" lounge-centric show to Cabaret Jazz on June 27 and 28.
Martin said he was rooting for her Sunday and voted for her, "and now we get to introduce her to our friends here in Las Vegas. She's something really special."
"I met her first time about the time that we were talking with the producers about launching the tour of 'Kinky Boots' here. I was in New York and went to a fundraiser the cast was putting on for Cindy Lauper's charity. It was at the Birdland Jazz Club, and Annaleigh came up and sang something not from 'Kinky Boots' and she absolutely knocked everybody out. I said, 'You've got to come to Las Vegas.' "
Ashford's tour show is a collaboration with "Kinky Boots" associate conductor Will Van Dyke.
They cover a bit of everything, from Judy Garland at Carnegie Hall, to Donna Summer's disco hit "Hot Stuff" and songbook classics from Stephen Sondheim.
Ashford will be celebrating her 30th birthday on the 25th.
FANTASY AUCTION ITEMS
Want to spent four nights and five days in Italy, including a visit to the Sistine Chapel, with Andrea Bocelli as your tour guide?
How about a week on Sir Richard Branson's private island in the British Virgin Islands?
Two tickets to a Victoria's Secret fashion show?
They're all up for grabs at Saturday's Power of Love gala at the MGM Grand Garden.
Bidding for the Bocelli package starts at $200,000. Bocelli and his wife are honorees of the event.
There are lunch packages with downtown visionary Tony Hsieh and TV sitcom creator Norman Lear (in Beverly Hills) plus a day in the life of Cirque du Soleil performer.
There's a sailing trip on legendary architect Frank Gehry's 74-foot sailboat that includes a personal tour of his studio.
THE SCENE AND HEARD
Washington Nationals slugger Bryce Harper, a Mormon, in an interview on the MLB Network Tuesday didn't mince words when asked for his favorite incorrect Mormon stereotype. After saying, "C'mon, that's brutal," he told "Intentional Talk" co-hosts Chris Rose and Kevin Millar, "That everyone likes BYU that's Mormon." Then he added, "I hate BYU." …
Bob Anderson, the star of "Frank: The Man. The Music." at the Palazzo, has been extended through Frank Sinatra's birthday celebration on Dec. 12 birthday. Anderson, Pia Zadora and Vinnie Falcone will join me June 21 for a "Conversations With Norm" Sinatra salute at Cabaret Jazz at The Smith Center. The show starts at 2 p.m. Zadora was Sinatra's opening act, and Falcone served as his conductor. Anderson will share details about that goes into channeling Sinatra. …
Zadora is taking a two-month break at Piero's Italian Cuisine to work on a project. After performing this weekend, she will be off until Sept. 11. She's working on some "surprise endeavors." …
Downtown dive, and proud of it, The Beauty Bar celebrates its 10th anniversary on Friday with a long musical lineup.
SIGHTINGS
Mirage headliner Terry Fator, with cast members Taylor Makakoa and Ben Harris and friends at Vegas Indoor Skydiving on Sunday. Fator's characters, Duggie, Winston and Emma watched from the observation deck.
THE PUNCH LINE
"Chipotle has announced plans to provide paid vacation, tuition, reimbursement, and sick days for hourly workers, which is great. But now if you want guacamole, it's $400." — Seth Meyers
Norm Clarke's column appears Sunday, Monday, Wednesday and Friday. He can be reached at 702-383-0244 or email him at norm@reviewjournal.com. Find more online at www.normclarke.com. Follow Norm on Twitter: @Norm_Clarke