Tiffany Haddish on living in her car, to living the dream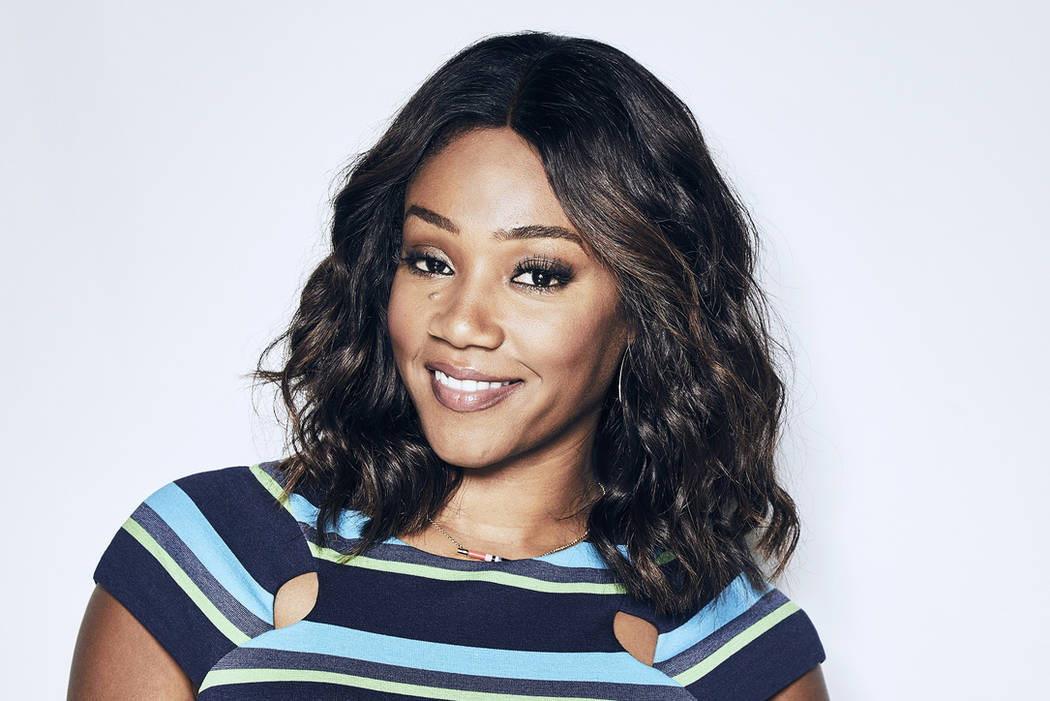 Before she was an "overnight success," the only bright lights Tiffany Haddish knew were under a street lamp in Beverly Hills. Living in her Geo Metro car wasn't just a way to experience the artist lifestyle. "I was dead broke and one night at a comedy club Kevin Hart passed my car," the star of "Girls Trip" said. "He said, 'Are you living in there?' I was trying to keep it a secret, but he knew and gave me $300. Kevin said, 'Hopefully this can do something for you.' "
It did. She got a room and made a plan. Now the stand-up comedian, actress and bestselling author is everywhere including in the new film "Uncle Drew" where she plays Dax's ("Lil Rel" Howery) girlfriend who tosses him out of her apartment. He loses everything including his street ball team to his rival (Nick Kroll) and is desperate to win them back. Haddish, 38, also acts up with her old friend Hart in the comedy film "Night School," coming this fall.
Review-Journal: How do you like to spend Sunday?
Haddish: I'm constantly writing, interviewing, posting and traveling. It's a very busy life for me and I wouldn't have it any other way. So, I hope my day off involves taking a nap! But the thing is I don't really like to relax. My body is like, "Go to sleep! Take a day off!" But my mind is like, "No, we gotta get this money!"
You grew up as the oldest of five in Los Angeles' South-Central with a schizophrenic mother and not much more than some dreams.
All true. But I did have dreams thanks to the movies. I remember sitting in that movie theater as a kid wondering, "How do they do that? I want to do that." I remember watching TV shows and I'd want to be in that little box. I would be so depressed, but just watching Pee-Wee would make me laugh, and those few moments with him would change my mood and my day.
The bottom dropped out when you were 9 and your mom was in a car accident. While she learned to walk, talk and eat again, you took care of your little brothers and sisters.
I had to grow up fast, take care of these kids and help my mom get back on her feet.
This culminated in you going to foster care.
I ended up in a group home for girls. Every night, I heard my (expletive) would be whupped, but I would clown around to get out of it. I remembered how much I loved that movie "Who Framed Roger Rabbit." That film made me laugh until I hurt. Then I thought, "If I could make people laugh then they wouldn't beat me up." Comedy literally saved me until my grandmother could take us in.
How did your grandmother inspire you?
My grandmother used to tell me, "The state of California is paying me a lot of money to make sure you don't die." I could have taken that in a negative way, but I took it positively. Yeah, I'm valuable! There must be something great I'm supposed to do here!
How do you keep believing in your dream when you're living in your car?
I believed in my comedy. And people believed in me. I heard that laughter from the stage and I didn't care about where I was living. I was home and it felt right. You always bring yourself as a performer. You put a bit of your soul out there and people were loving it. I never heard, "Girl, you can't do that." I heard, "Go for it." But that's not enough. I say, "If you want it, then work for it."
What was the best result of the success of "Girls Trip?"
When you have four black women starring in a movie that tops the box office then it's good for everybody.
Your name is above the title in projects from "The Temp" to "The Kitchen" to "Night School." Your IMDB page needs another IMDB page. How does that make you feel?
It's enough to make me cry. I'm super-grateful and thankful to everyone who helped me get to this place today.
You're divorced and joke a lot about finding the perfect guy. What qualities does he need?
First of all, I'm ovulating, which means there's nothing, but opportunity! My perfect man? I like dudes with jobs!
You've said that you want to be a role model for young women. Why is that so important?
I'm a beautiful woman, but I didn't always see it that way. I went through my times when I felt ugly. I felt like I wasn't enough. I just want to teach other women and girls to feel like beautiful women. I want to spread the joy and inspire millions.
What's your best advice for someone going through tough times.
Someone told me to take a bath. Seriously, you sit in the tub in hot water for 45 minutes. Dump a little baking soda in. Then you remember all the pain you're feeling in your heart. You remember the neglect and rejection of the past. Then you pretend it's all coming out of your mind and body and pores. It's going down the drain. The advice to take that bath changed my world.