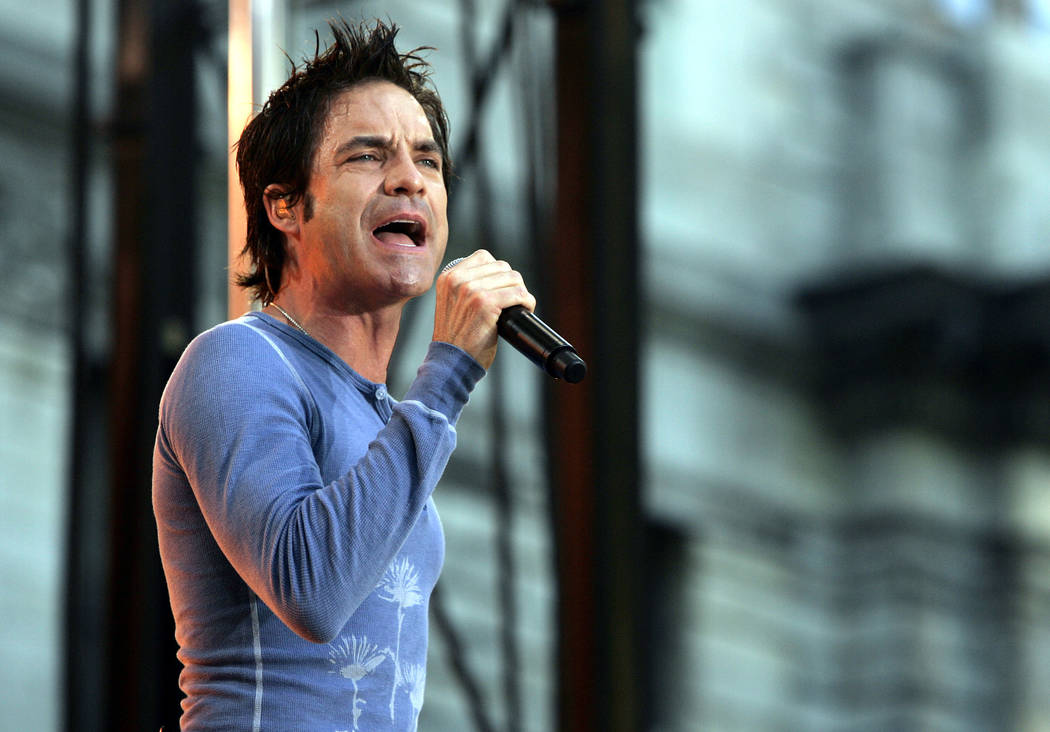 Pat Monahan was living a quiet life owning and running a business painting houses and hanging wallpaper in Erie, Pennsylvania. But he never let go of his dream to be a rock star, so one day he hung up his brushes and blade scrapers and moved to California. He became the lead singer of Train, which performs May 12 at the MGM.
Review-Journal: What is a typical Sunday for you?
Pat Monahan: Well, we're on tour now, so I would have to say sleeping in. If I'm home, it's all about hanging with the family. If I have time, I'll play some golf. I'm not great at golf. But sometimes I'll hit a ball and it will be so good.
What's your take on playing Vegas?
It's always fun to play in what I like to call an adult play land. Las Vegas is like no other place. I'm looking forward to going outside with no coat.
Do you have a favorite Vegas memory?
Years ago we played something called Tiger Jam with Don Henley … just hanging out with him backstage was a thrill. Then another time, I did a Tiger Woods golf event that was memorable. We played blackjack after. There was Tiger and his friends putting down $25,000 chips and I was doing $25 chips.
Your hit "Play that Song" is so infectious. Was there a song growing up in Pennsylvania that you played over and over again?
With 'Play that Song,' you are either really into it because it's so fun or you're really mad at me because you're old enough that you want to protect the song 'Heart and Soul.' In that case, you want to kill me. As for my song that I played over and over again, I was a massive Led Zeppelin fan. 'Going to California' was my song because as kid raised in Western Pennsylvania, all I knew is that when I was old enough I was going to California.
When did your own music enter into it?
(Laughing). "I don't know what I was thinking. I was this blue-collar kid who as a kid begged his parents for a drum set. As a teenager, I started bands. No boys were courageous enough to sing. Everyone was afraid of being criticized. I finally sang out of default and girls seemed to like me better. Bam, I said, 'I'm switching to a better lifestyle.'
You moved to LA first and then San Francisco. Were there a lot of odd jobs in the early days?
Oh man! I updated law books for law firms. Then I worked as a house painter and hung wallpaper. I got good enough at painting that I started my own company. I even bought a house. I was living a so-called real life while trying to pursue music. But I was miserable. I was working 18 hours a day. I'd work nine hours painting houses and then drive to San Francisco trying to find any open coffee house that would have me.
You have two teenage kids and two young kids with your wife Amber, Autumn, 8, and Rock Richard, 5. Do they think that Dad is cool?
I don't know about cool. They do think my life is fun. We played the Radio Disney Awards and my little kids got to go. My daughter was so adorable about it. But it has nothing with my coolness, so the answer to your question is probably not.
You recently inducted Journey into the Rock and Roll Hall of Fame. What was that like?
We have a lot of similarities in the way people view us. Just like Train, their music was for the music fans and not the critics. That's the thing I'm always trying to do. I'm not trying to impress people who don't here. I'm here for the music fans.