UNLV hoping Sanchez hire not a Hail Mary
December 12, 2014 - 12:36 pm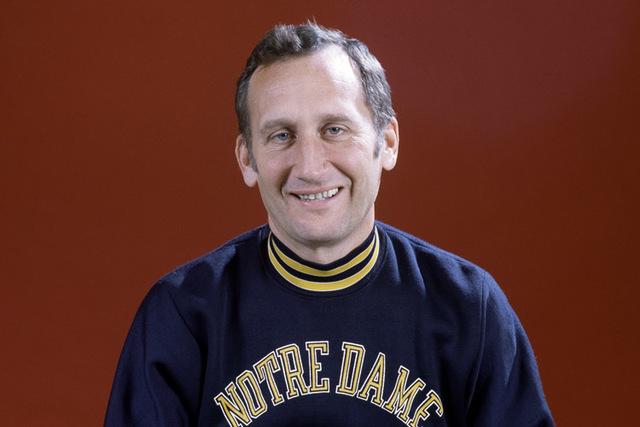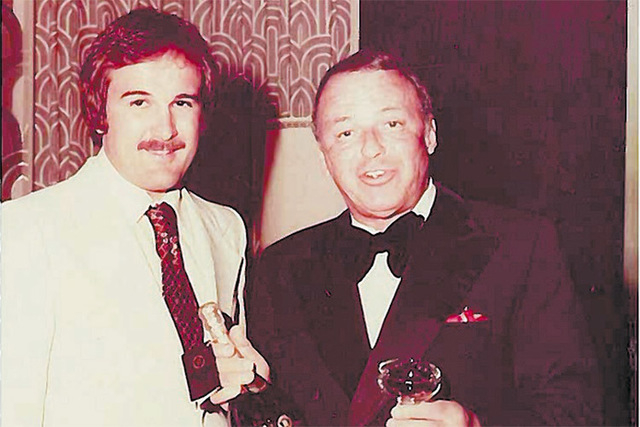 Long before going over to the dark side, leaving sportswriting for the celebrity realm, I found myself on the sidelines with the most famous high school football coach in the country.
His name was Gerry Faust, a hellfire and brimstone guy who would soon make the big jump from Ohio prep powerhouse Moeller of Cincinnati to head coach at the University of Notre Dame.
Working for The Associated Press in Cincinnati during the 1970s, I was working on a story about Faust and the dynasty he built. He invited me to join him on the sidelines.
Early in the game, a Moeller drive bogged down, and Faust sent in the field goal team.
As the field goal kicker headed toward the huddle, Faust raced after him to, I thought, impart some last-second advice. Instead, he gave him a game plan from God.
"Say Hail Mary! Say Hail Mary! Say Hail Mary!" Faust screamed.
After UNLV announced the hiring of coaching phenom Tony Sanchez on Thursday, UNLV athletic director Tina Kunzer-Murphy walked by. During our conversation, I mentioned I had been in Cincinnati when Faust got his call from Notre Dame.
"Oh, don't talk about that," Kunzer-Murphy said semi-playfully.
"We looked at that," she said, referring to homework on Faust and Todd Dodge, the Texas high school coach who washed out at North Texas State.
"We found out why they didn't succeed," she said.
Sanchez, who coached Bishop Gorman to six straight Nevada state titles, will be allowed to surround himself with what it takes to succeed, Kunzer-Murphy said.
UNLV backers hope the hire is not a Hail Mary.
HAPPY BIRTHDAY, FRANK
On the eve of what would be Frank Sinatra's 99th birthday, good pal Larry Ruvo cleared up an urban myth.
As the story went, when Sinatra came to town to perform at Caesars Palace, sales of Jack Daniels went through the roof.
"There's no question he drank Jack Daniels," Ruvo said Thursday. "But when Frank came to town, he brought in a very affluent and worldly crowd. If you went to see Sinatra, you were celebrating with Champagne."
And it was usually Champagne from Ruvo's Southern Wine & Spirits because of their friendship.
"Sinatra put Las Vegas on the world stage," Ruvo said.
"He did more to help my liquor business more than anyone besides Steve Wynn,'' Ruvo's ex-partner who left to develop hotels and casinos.
RAVES FOR THE WAYNER
A Wayne Newton item he read in this space on Wednesday spurred a memory for Ted Whitson, a Las Vegas resident since 1990.
In the 1980s, he moved to Fort Worth, Texas, and became marketing director for Billy Bob Barnett's World's Largest Honky Tonk, "where every major act in the nation appeared at some time."
"We booked Wayne Newton for a 'special.' He set an attendance record for the event," Whitson said.
A couple of days after his performance, Newton took out a full-page ad in the Fort Worth Star-Telegram thanking the city of Fort Worth and the fans who came to his show.
"Class," Whitson said.
THE SCENE AND HEARD
So what brings Broadway icon Neil Patrick Harris to town? A hint might be the fact that he was sighted at La Cave Wine and Food Hideaway at the Wynn, and we know Steve Wynn loves all things Broadway. I'm hearing mixed reviews on "Steve Wynn's Showstoppers," currently in previews for a Dec. 20 opening. Super talent on a small stage, with Wynn voiceovers introducing each segment of Broadway musical classics. One spy, a regular showgoer who deeply wants it to succeed, gives it a 5.5 on a scale of 10. Prediction: Wynn will find a way to make it sing. …
What a week for high-flying Jon Gray, who is leaving the shadow of the world's tallest observatory wheel to join shoe and apparel giant Nike. The vice president of The Linq announced Tuesday on Facebook that he was leaving Caesars Entertainment for Portland, and then he became a father for the second time on Wednesday. Wife Ruth delivered Knox Bradley Thunder Gray, who joins Nash Edward Danger Gray, who turned 3 in June. All they need is a third child with the name Lightning to complete the Danger, Thunder, Lightning trifecta.
SIGHTINGS
Steffi Graf and Andre Agassi, having lunch with a party of 15 at Dom DeMarco Pizzeria & Bar in Summerlin. … Former baseball slugger Jose Canseco, at Shania Twain's show at the Colosseum (Caesars Palace). In the past week, he proposed to Twain, who is married, in a tweet. Yup, the same guy who recently shot off a finger with his gun. … Nicolas Cage and Jerry Lewis, and their wives, having dinner at Piero's Italian Cuisine this week. … Scott Yancey of "Flipping Vegas" at Fast Lap Indoor Kart Racing on Thursday.
THE PUNCH LINE
"Reindeer populations are falling fast, according to a study. We are three years away from Santa using Uber." — Conan O'Brian
Norm Clarke's column appears Sunday, Monday, Wednesday and Friday. Reach him at 702-383-0244 or norm@reviewjournal.com. Find more at normclarke.com. Follow @Norm_Clarke on Twitter.
Related Stories:
Sanchez promises to tackle UNLV job with energy, drive
UNLV's bold coaching experiment could blow up