Wynn, Clooney exchange barbs, again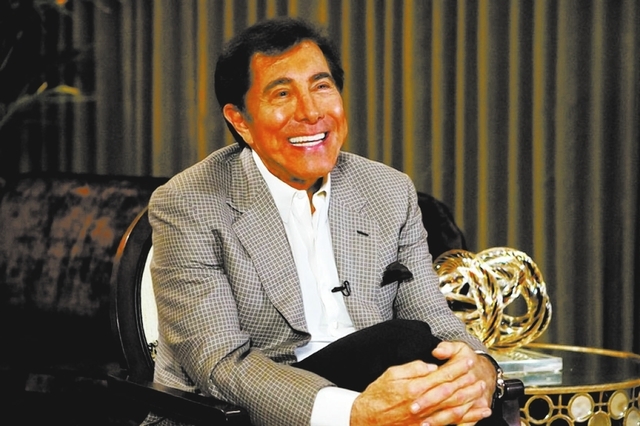 Steve Wynn and George Clooney are taking shots again — the verbal kind.
Wynn told Bloomberg News that Clooney took some liberties when he claimed Wynn called President Barack Obama a nasty name during a dinner-gone-bad last month.
"I didn't call the President an (expletive). And George didn't call me an (expletive)," Wynn told Bloomberg on Friday.
The story first surfaced here on April 22, with detailed comments from both.
Clooney responded to Wynn's remarks to Bloomberg in a statement to People magazine that read:
"Steve Wynn and I have met three times, two times for dinner. That is the extent of our knowledge of one another, so I will refrain from trying to categorize him based on the little time we've spent together, but I will not let his version of the truth go unchallenged.
"He now says he didn't call the president an 'a———.' That is false. He bellowed 'I voted for the a———,' and then called him the same thing several more times as the dinner came to an abrupt end."
"Again there were eight people at the table, eight witnesses. I did in turn, call him the same body part, and walked out. Again he can make up whatever story he wants, but these are the facts. He said I drank 16 shots of tequila. I didn't drink one shot of tequila, not one. We were drinking but it was early and we still had two events to attend."
"He said I live in a bubble. More of a bubble than Las Vegas? Honestly? He says I'm 'molly coddled,' that I'm surrounded by people who coddle me. I would suggest that Mr. Wynn look to his left and right and find anyone in his sphere that says anything but 'yes' to him. Emphatically. I did not attend a private boys' school, I worked in tobacco fields and in stock rooms, and construction sites. I've been broke more of my life than I have been successful, and I understand the meaning of being an employee and how difficult it is to make ends meet.
"Steve is one of the richest men in the world and he should be congratulated for it, but he needs to take off his red sparkly dinner jacket and roll up his sleeves every once in a while and understand what most of the country is actually dealing with … or at least start with the fact that you can't make up stories when eight people who are not on your payroll are sitting around you as witnesses."
GANS MOVED TO FOREST LAWN
The family of Las Vegas headliner Danny Gans has moved his remains from the Palm Mortuary on Eastern Avenue to Forest Lawn in Glendale, Calif.
Gans died unexpectedly at his Henderson home on May 1, 2009, less than three months after beginning his residency at the Wynn Las Vegas. He was 52.
His death was ruled an accidental overdose of pain medication.
When Gans was interred at the Palm-Eastern his marker featured a likeness of his signature red socks and black-and-white spectator shoes.
At Forest Lawn, he will be in good company with such Las Vegas legends Sammy Davis Jr., Red Skelton, George Burns and Gracie Allen, and Nat King Cole. Also buried there: Clark Gable, Jimmy Stewart, Humphrey Bogart and Errol Flynn.
The relocation of Gans' remains was reported on Twitter Saturday by Alicia Jacobs, a close friend who has been a Las Vegas TV entertainment reporter for years.
She said Gans' father, Sid, and mother, Alta, were also moved to Forest Lawn in the last few months.
THE SCENE AND HEARD
Actor Ben Affleck has been forbidden from playing blackjack at the Hard Rock Hotel over concerns that he's a card counter. The flap surfaced last week after Affleck won big at the Hard Rock. He's not banned from the property. They're OK if he plays other games. Back in 2000, I reported Affleck had won $600,000 at the Hard Rock while playing three hands of blackjack at $20,000 per hand. Less than a week later, he entered rehab. The Hard Rock responded to my coverage of Affleck's 2000 big score by banning this reporter from the property for about a year before new chief operating officer Don Marrandino lifted the ban.
SIGHTINGS
Khloe Kardashian and rapper French Montana, on a date at Beacher's Madhouse with 10 friends Friday. They were seated next to Joe and Nick Jonas. Kardashian split earlier this year with former NBA player Lamar Odom. … Theresa Caputo, the star of TLC's "The Long Island Medium," with Frank Marino at Britney Spears' show on Friday at Planet Hollywood Resort. Caputo, who has been in town filming segments for her show, showed up with her TV crew at Marino's "Divas Las Vegas" show at The Quad on Saturday. "The reason we get along so well," Marino said, "is we both believe there are no shoes too high or hair too big."
THE PUNCH LINE
"Toronto Mayor Rob Ford checked himself into rehab. I didn't see that coming." — Craig Ferguson
Norm Clarke's column appears Sunday, Monday, Wednesday and Friday. Reach him at 702-383-0244 or norm@reviewjournal.com. Find more at normclarke.com. Follow @Norm_Clarke on Twitter.