Channel 3 faces cloudy future after Jim Rogers' death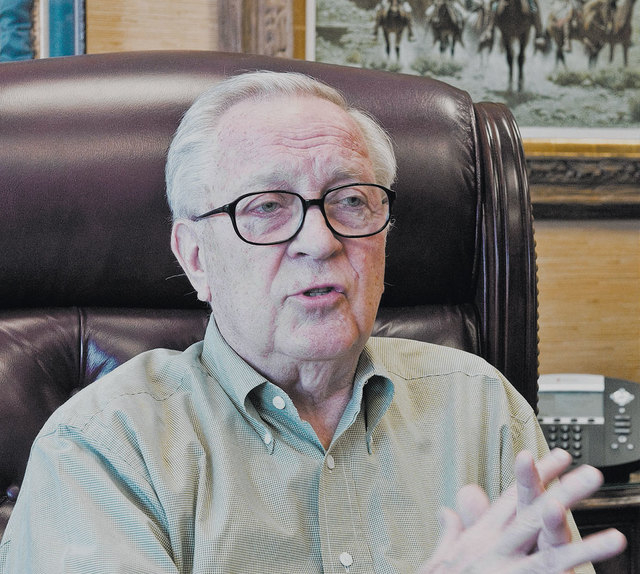 Jim Rogers vowed to a crowded KSNV-TV, Channel 3, newsroom last December that "whatever happens, the station will not be put up for sale."
Now, with the death of Rogers on Saturday, and a recent unnerving visit by a prospective buyer, employees at the NBC affiliate are less certain about their futures.
Rogers, 75, may have changed his mind during his latest battle with cancer.
Channel 3 employees were shaken by the visit of Sinclair Broadcast Group executives, which included chairman, president and CEO David D. Smith, according to Channel 3 vice president and general manager Lisa Poe-Howfield.
"They raised a lot of eyebrows," said a station employee who spoke on the condition of anonymity.
Channel 3 is the last remaining station from Rogers' one-time empire of 14 stations. Rogers owned Channel 3 since 1979 and turned it into a powerhouse until a decline in recent years amid a high turnover of anchors and other on-air personalities.
If Sinclair were to purchase Channel 3, it likely would have major political implications.
"It could go from liberal ownership to conservative," said a source at the station. "Jim more than leaned left and these guys more than lean right."
The Federal Communication Commission could look into monopoly issues. Sinclair owns three stations in Reno.
In an interview published here on Jan. 5, Rogers said he had told his employees that selling the station was "never part of the plan and so they are rest assured that their jobs are intact."
He added that when he "goes, everything goes to (wife) Beverly, and when she goes, everything goes to the colleges." He was referring to his long history of philanthropy, mostly to educational institutions.
Tributes continued to pour in for Rogers, a graduate of Las Vegas High School.
"We will never again see the likes of a Jim Rogers in Nevada broadcasting," said Bob Fisher, president of the Nevada Broadcasters Association.
"His cowboy spirit, his strong belief in what was right and what was wrong, his fearless outspokenness, his deep loyalty to his friends and his extraordinary generosity to strangers."
ESPN radio talk-show host Colin Cowherd credited Rogers and Channel 3 general manager Rolla Cleaver with giving him his first job.
"Jim loved tough and honest coverage. I often went upstairs to his office just to ask him questions about the business and he never turned me away. Not once," said Cowherd, who won Nevada Sportscaster of the Year five times while at Channel 3.
"Maybe he was intimidating to some but he also loved to laugh and appreciated a sense of humor," Cowherd said. "He was frank, which can turn people off, but you walked away from any conversation with Jim knowing how he felt and what mattered to him. Just a hell of an American success story."
MISS USA RESPONDS
Responding to questions being raised over whether Miss USA Nia Sanchez complied with residency requirements, the Miss Universe Organization sent me the following statement on Sunday:
"Nia Sanchez was issued a Nevada driver's license in January of 2013, a full year before she competed at the Miss Nevada USA pageant.
"The Miss Universe Organization (the parent company of Miss USA organization) has no reason to question her residency and we are thrilled to welcome her to the organization and look forward to working with her in the coming year."
THE SCENE AND HEARD
Billionaire resort developer Steve Wynn was spotted giving an impassioned one-man standing ovation to Mirage headliner Terry Fator last month. Fator has two years left on his contract at The Mirage. Wynn hired vocal impressionist Danny Gans in 2009 after his contract expired at The Mirage. Gans died three months later in what was ruled an accidental death due to a toxic reaction to a painkiller.
SIGHTINGS
George Clooney, back in town for the first time since his blowup with Wynn, joined tequila company partner Rande Gerber in a cabana at the Red Rock Resort on Saturday. They later dined at T-Bones Chophouse. … Kim Kardashian's ex, Kris Humphries of the Boston Celtics, among a birthday party group at XS nightclub Saturday. … TV talk show host Chelsea Handler, taking in Beacher's Madhouse at MGM Grand on Satuday after performing at The Cosmopolitan. She and her entourage of comedians chatted with featured Madhouse little person Donnie Davis, who subs for Chuy, a co-host on Handler's show.
THE PUNCH LINE
"You know who's on the show tonight? Regis Philbin. This guy is difficult to book. We had to trade five Taliban prisoners to get Regis." — David Letterman
Norm Clarke's column appears Sunday, Monday, Wednesday and Friday. He can be reached at 702-383-0244 or email him at norm@reviewjournal.com. Find more online at www.normclarke.com. Follow Norm on Twitter @Norm_Clarke.