Character Study: Britney Spears starts her Vegas run at Planet Hollywood
December 26, 2013 - 5:06 pm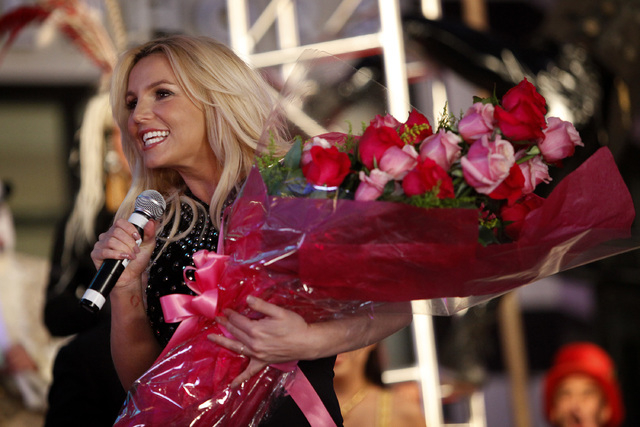 You may call her Brit, Britters, Brit-Brit or, as her new album title suggests, Britney Jean.
By whatever name, the pop superstar says the Britney Spears we see onstage is "a character" that has to be maintained and sustained.
"Know what it is? It's kind of like meditation and like a prayer. When you do any type of performance that you do and really feel the character," says Spears, who unveils her two-year resident show "Piece of Me" on Friday at Planet Hollywood Resort.
"It's why we do what we do because we love doing that. I think artists get off on that," she added. "It's really fun when you find it and you go there. That's when you have your best performances. It's something that I strive for every day."
In a brief phone interview last week, Spears said it takes a lot of training to be the pop princess everyone knows.
"With the lights and stuff onstage, it adds a couple of extra pounds," she explained. "I'm just really working on my posture and holding myself right, because a lot of that has to do with the way you present yourself. And when you do that, things look really, really good.
"But like halfway through the show, you kind of lose your train of thought and you kind of let yourself go and you let it all out and then you don't look as good. It's about having a consistency with your character throughout the show. Keeping that character. Which is actually a little bit harder than what you think when you have so much going on."
Spears is signed for 48 shows per year at Planet Hollywood in the next two years. She could be just the right — and perhaps the only — pop star to test the viability of a pre-baby boomer star as Las Vegas headliner.
The singer turned 32 on Dec. 2, but she has the years of hits needed to cast a wide net beyond the pop currency of new radio and nightclub challengers.
Spears suggests the importance of timing in doing this now, instead of sooner or later. "They came to us about this like, four years ago and we just never really thought that much of it," she says of herself and career-long manager, Larry Rudolph.
But during her "off-time" after leaving "The X-Factor" early last year, "I thought about it again and I thought it would be (good) to revisit the idea.
"It just seemed really ideal and convenient. Being on the road for a long time and being in different hotels, it's just nice to have a situation where it's just kind of one confined place, which is really healthy."
Spears said not to expect the new show to be drastically different from what she would present on tour, though "Piece of Me" will include at least three tunes from the new album.
"I definitely wanted to see stuff in the show that was really different to the eye and really fun and exciting and included the audience as well."
It's been an eventful 15 years since Spears' debut album "… Baby One More Time" was released in early 1999. And Las Vegas has been entwined in much of that saga — for better or worse.
She has long been associated with George Maloof, the original impresario behind the Palms. Way back in 2003, there was talk of a residency in the casino's Rain nightclub after she did a surprise three-song concert there.
Las Vegas was at least partly responsible for Spears' notorious one-day wedding chapel nuptials to childhood friend Jason Alex Alexander in early 2004. And the Palms played host to her infamously zombielike performance on the MTV Video Music Awards in 2007.
Asked today if Vegas has been a bad town for her, Spears isn't having it.
"I love Vegas. I think it's one of the funnest places you can go to," she says. "There's always something to do and everybody is here to have a good time. That element is really cool to add to my show."
Introducing the new album to fans, Spears wrote on her website that she poured her "heart and soul" into "Britney Jean": "I have been through a lot in the past few years and it has really inspired me to dig deeper and write songs that I think everyone can relate to."
On the phone, she elaborates. "As we're older, we're more open to share our personal experiences with people. We don't take things too seriously and it's more of a therapeutic thing to do that.
"As we get older, we need therapy," she adds with a laugh. "So I think it's a really good transition for me."
When it comes to that stage character though, Spears says she isn't ready to start thinking about what kind of performer she will age into, and just what that will be.
"Unfortunately I've set the bar kind of high for myself. I kind of compete with myself and my past stuff and my past work and the way I looked and the way I did things is really top-notch. I really don't see how I did it.
"It's just something I have to meditate on every day and really go for it. I have to kind of unfortunately keep that ideal of myself, because as a performer that's what people expect of me. I have to try and deliver that."
With "Piece of Me" as the two-year anchor tenant, Caesars Entertainment decided to go all-in on the club vibe. The Spears show prompted a significant remodeling to the stage and front seating area of the 7,000-seat theater at Planet Hollywood.
The venue that long-timers remember as the Aladdin Theatre for the Performing Arts was leased to an independent producer and underutilized for much of the Planet Hollywood era, before Caesars Entertainment took the venue back into the fold this year.
About 20 rows of the original seating were removed to create a VIP area that puts two standing-room "pits" and two semicircles of booth seating just a few feet from Spears' thrust stage.
Nightclub entrepreneur Victor Drais will oversee bottle service in the VIP area that will give the show a visual club vibe, even for those in the traditional auditorium seats that remain in place.
To stagger the sight lines — so the standing-room crowd doesn't block the views from the seats — contractors had to dig out ground that hasn't been touched since the theater opened in 1976.
"We basically cut into the slab and excavated the slab and a few feet of dirt," says Brett Robillard, of Gensler Architecture. "That was one of the trickiest parts. We knew we couldn't modify 90 percent of the seating, but the 10 percent we were modifying would have a dramatic effect on the rest."
No dead mobsters were excavated, "but we found an abandoned sewer line. Huge. You could almost walk in the thing."
Contact reporter Mike Weatherford at mweatherford@reviewjournal.com or 702-383-0288.
Preview
Britney: "Piece of Me"
9 p.m. Friday-Saturday, Monday; 10 p.m. Tuesday
Theater at Planet Hollywood Resort
$59-$179 (800-745-3000)