Characters on the fringe of society populate 'The Hot L Baltimore'
October 7, 2010 - 11:00 pm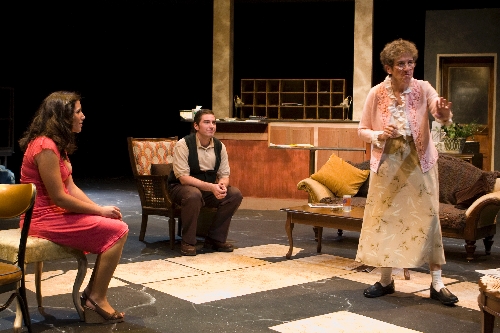 Can't imagine hearing this in the Wynn Las Vegas lobby:
"What's wrong with the water?"
"It's cold."
"No, last night it was cold. This morning it's cold and it's orange."
■ ■ ■
Decrepit daily life at the ramshackle Hot L Baltimore — the "e" long ago burned out on the "Hotel" marquee — where a motley crew of misfits living on society's margins joke, feud, fret and bond before a wrecking ball obliterates their decaying domicile.
"It's kind of like our economy right now," says Robert Brewer, director of Nevada Conservatory Theatre's interpretation of 1973's "The Hot L Baltimore" that opens tonight in the Black Box Theatre at the University of Nevada, Las Vegas. "I said, 'Let's do "Hot L" ' because I was driving and I saw that the stores were all closed in Green Valley in one shopping center. I was so saddened that I thought, that's the play."
Well-worn prostitutes, a crotchety old man, a sweet but off-kilter ex-waitress who sees ghosts, a young man just out of prison for selling weed, a put-upon manager and his desk clerk are a few of the characters most people shunt off to society's sidelines in the Lanford Wilson play, for which The New York Times' Ben Brantley, in a 2000 review of a revival, admitted an odd affection:
"This group portrait of dispossessed American souls in a seedy hotel on the eve of its demolition has always sounded impossible to stomach and been equally impossible to resist," Brantley wrote about mining humor and drama from a grab bag of mixed nuts. "Its more irritating aspects were transformed by Mr. Wilson's … marrow-deep compassion and respect for the lives portrayed. Such unconditional liking is contagious."
Carefully constructed to convey a careless atmosphere, the hotel lobby set looks like a collection of flea-market furniture — paint peeling off chair legs and coffee tables, a dumpy sofa, a ratty shawl draped over one chair, an ugly green lamp perched atop one table, wrinkled newspapers, dog-eared magazines and empty Coke bottles strewn about in a room that could fit the Bette Davis quip, "What a dump."
A planned touch: genuine '70s Baltimore graffiti, culled from a website.
■ ■ ■
Can't imagine hearing this from the Bellagio front-desk clerk:
"Last time he sold the telephone in his room. Tried to sell it back to us. Said there was no phone in his room."
■ ■ ■
Portraying exasperated manager Mr. Katz, Nevada Conservatory vet Taylor Hanes admires the rhythm of Wilson's writing. "He set up the play musically," Hanes says. "He even describes the voice qualities of each character. With the overlapping dialogue, it reinforces that."
Comparing it to the naturalistic, streetwise banter of David Mamet, co-star John Maltese points out the challenge of ensuring the audience doesn't get lost amid the spirited cross talk that creates the hubbub of the Hot L Baltimore lobby. "There are four conversations going on at any one time," says Maltese, who plays Paul, the ex-con grass peddler. "You have to use your volume and your control to make sure all the storylines are being told at the same time, harmoniously."
Assuming the role of the ding-batty ex-waitress Millie, Sherri Brewer, the director's wife, says she's impressed by the richness of Wilson's characters. "They refuse to be losers," she says. "For Millie, she's just not quite of this world, she believes in spirits, she's outside peering in. She has not grounded herself in reality, and I love that about her. But she's nonjudgmental."
Yet "Hot L" seems deceptively, well, plotless. Temporarily. "It's the writing that's brilliant, rather than the idea," Robert Brewer says. "For the first two acts, you're not sure if anything happens in this play. It all happens in the third act. But it's so Chekovian in its feel that you don't care. It's about character development. They're such wonderful people."
■ ■ ■
Can't imagine hearing this among business professionals critiquing the guest-room aesthetics at Caesars Palace:
"If you spent as much time (as she does) looking at the ceiling, you'd care what it looks like."
■ ■ ■
Whether plying a trade vertically or horizontally, it's the characters' humanity that Wilson wanted to define. "We tend to be very judgmental about these characters," says assistant director Annamarie Kaufman. "People are put into these situations where they have to be prostitutes or homeless, but what if they'd had different opportunities in life? They have a tenderness toward each other, and they want to help and fight for each other."
■ ■ ■
Can't imagine any of this on the Las Vegas Strip.
Unless you inexplicably wind up in some alternative Vegas universe, staying at, say, The Hot L at Mandalay Bay.
Contact reporter Steve Bornfeld at sbornfeld@ reviewjournal.com or 702-383-0256.
Preview
"The Hot L Baltimore"
8 p.m. today, Saturday, Wednesday and Thursday; 2 p.m. Sunday
(through Oct. 17)
Black Box Theatre,
University of Nevada, Las Vegas,
4505 S. Maryland Parkway
$15 (895-2787; pac.unlv.edu)