Cherry at Red Rock Resort offers promotions to keep residents coming back
January 23, 2009 - 10:00 pm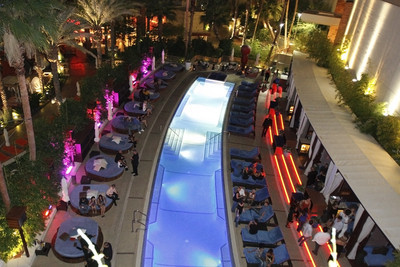 When it comes to the Las Vegas Strip and nightclubs, the prevailing thought used to be that you couldn't have one without the other.
Then Cherry at Red Rock Resort came along.
The club strives to provide everything you would get at a Strip nightclub and then some, says general manager Brian Buechner. There's the pulsing music spun by resident DJs, the slick dance floor, the intimate spaces, raucous party atmosphere, even bottle service.
But it all comes with a level of service designed to cater to a local crowd, as more than 80 percent of Cherry's clientele leave the club to go to their valley homes and not a hotel, Buechner says.
So the key to success for a nightclub that isn't fed a constant diet of fresh tourists is to treat guests in a way that will keep them coming back, week after week. In other words, you've got to give a little to get a little.
They do just that every Friday and Saturday night, offering a Stimulus package promotion that even has been enticing tourists to Cherry, Buechner says.
On Fridays, guests who arrive between 10 p.m. and midnight can get a Bottle Bailout, which is $100 bottles of Skyy vodka.
"For that price, you might as well get a table and order a bottle," Buechner says. "It's our way to give a little back to locals. We realize it's rough out there and folks can't afford to be dropping (thousands) on a couple bottles of liquor."
Not surprisingly, that promotion has been very popular, Buechner says.
On Saturdays, 50 guests can win a prize just for showing up. The giveaways rotate each month, but it's usually a clothing brand. January's giveaways are Vestal watches, wallets and shirts, Buechner says. But the promotions are only one part of the whole package, Buechner says.
At 13,000 square feet, Cherry features an outdoor area with a pool setting. During the summer days, it turns into Cherry Pool, where guests can engage in European sunbathing. At night, the outdoor patio provides a romantic setting with private cabanas.
Inside is a loud, party setting, Buechner says.
Resident DJ Krooked or DJ Scooter spin a mix of house, mash-ups and other popular music Friday nights. On Saturdays, resident DJ Dig Dug presides over the sound system. Cherry is open from 10 p.m. to 5 a.m. Fridays and Saturdays. Admission is free until midnight on Fridays; cover charge is $20 after midnight and on Saturdays. Local ladies always get in free.
Contact reporter Sonya Padgett at spadgett@ reviewjournal.com or 702-380-4564.
Las Vegas Club Scene